Chiang Mai w 3 dni. Zobacz perłę północnej Tajlandii
Chiang Mai w 3 dni. Zobacz perłę północnej Tajlandii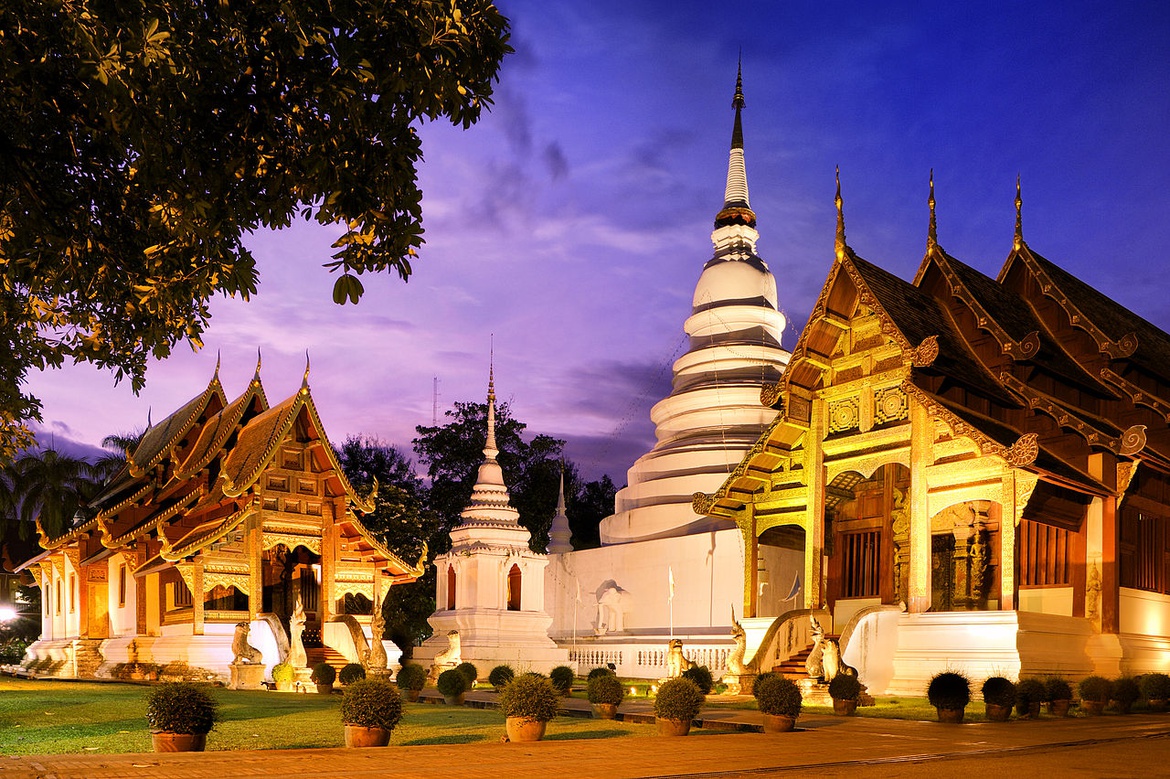 Przejdź się po parku tygrysów, pokonaj ponad 300 stopni w drodze do kultowego sanktuarium oraz przejedź się na grzbiecie słonia.
Przyjazd do Chiang Mai
Zwiedzanie Chiang Mai rozpocznij od wizyty w Wat Phra That Doi Suthep – jednej z najważniejszych świątyń w mieście, umieszczonej na wzgórzu. Turyści, którzy pokonają 309 stopni wiodących do drzwi sanktuarium, mogą nie tylko podziwiać jego oryginalną XIV-wieczną architekturę, ale też rzucić okien na rozprzestrzeniającą się wyjątkową panoramę miasta. Osoby, które nie są w stanie wejść na szczyt wzniesienia, mogą skorzystać z komunikacji miejskiej.
Następnie udaj się do sklepu Mesimu. To wyjątkowe miejsce, w którym można kupić ubrania, wykonane przez miejscowych projektantów. 
Co powinieneś zaplanować na popołudnie? Najlepiej spacer. Chiang Mai słynie z licznych świątyń, przepięknego górskiego krajobrazu, ale też z kilku ogrodów zoologicznych. Jednym z nich jest park tygrysów, którym można zobaczyć prawdziwą chlubę Tajlandii – tygrysa bengalskiego. Zobacz na własne oczy, jak prezentują się te cudowne zwierzęta.
Park słoni, odpoczynek w SPA i Wat Umong
Dziś zajrzyj do rezerwatu dla słoni. Spędzisz tam co najmniej kilka godzin. Podczas zwiedzania parku dowiesz się, jak wygląda opieka nad słoniami, zobaczysz, jak pracownicy kampusu karmią i myją te zwierzęta, a także będziesz mieć okazję odbyć krótką przejażdżkę na grzbiecie jednego z nich! 
Po południu skorzystaj z zabiegów SPA w jednym z miejscowych ośrodków relaksacyjnych, po czym udaj się do Wat Umong, czyli kompleksu świątynnego. Zobaczysz tam wysokie, rzeźbione relikwiarze (Chedi) oraz niszczejące pozostałości po posągach Buddy.
Wyjazd z Chiang Mai
Dziś musisz koniecznie zobaczyć stare miasto Chiang Mai. W jego sercu znajduje się XIV-wieczna świątynia Wat Chedi Luang Worawihan, która uznawana jest za jeden z najważniejszych obiektów religijnych w północnej Tajladnii.
Udaj się następnie na krótki spacer po świątynnym kompleksie Wat Phra Singh. Nie przeocz ozdobnej statuy Buddy, która znajduje się w głównej świątyni.
Możesz również wybrać się do zoo, gdzie zobaczysz między innymi pandy. Ogród zoologiczny Chiang Mai posiada ponad 400 gatunków różnych zwierząt.
Zamiast zwiedzania możesz udać się również na krótką trekingową wyprawę. Chiang Mai to miejsce wyjątkowo popularne wśród amatorów górskich wędrówek. Alternatywą może być również wizyta na jednym z bazarów, gdzie będziesz mógł kupić jakieś pamiątki (np. wyroby rękodzielnicze, herbaty, przyprawy...).