Samarkanda w 2 dni. Tropem najważniejszych postaci z Uzbekistanu
Samarkanda w 2 dni. Tropem najważniejszych postaci z Uzbekistanu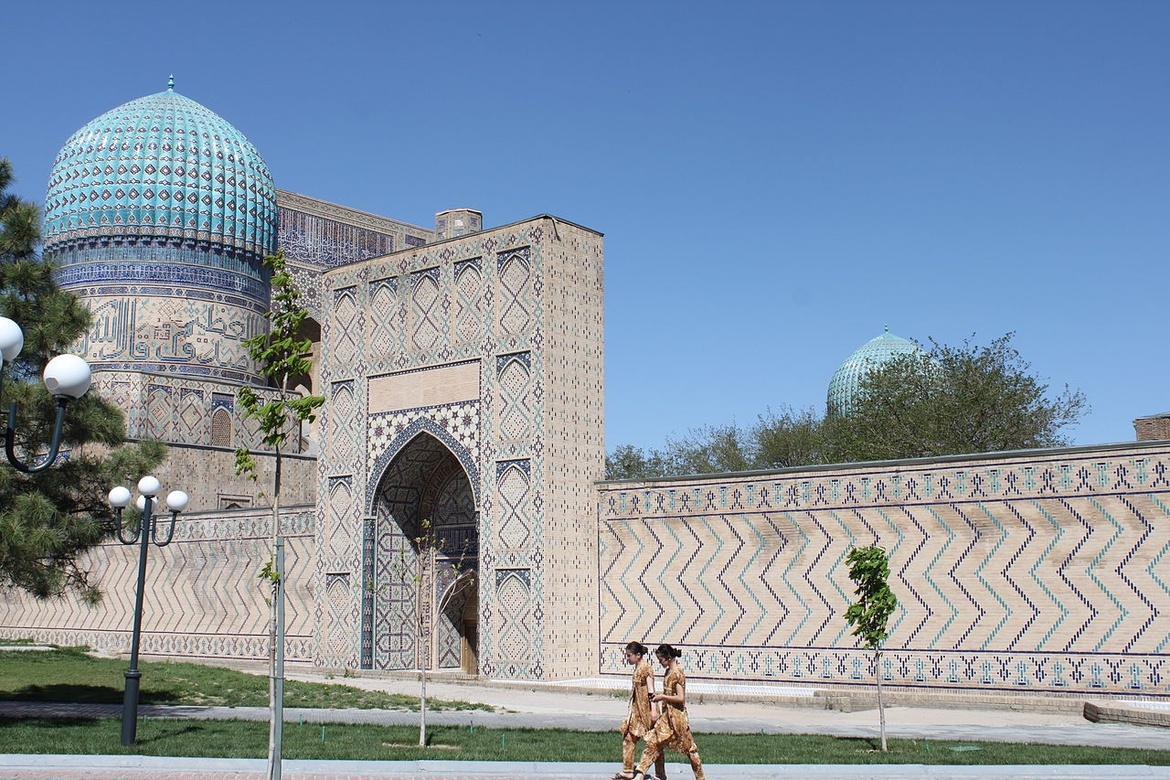 Zajrzyj do Obserwatorium astronomicznego, zobacz mauzoleum jednego z najważniejszych władców Uzbekistanu i udaj się na bazar w poszukiwaniu najbardziej aromatycznych przypraw. 
Przyjazd do Samarkandy, Mauzoleum Gur Emir oraz Obserwatorium Uług Bega
Przed tobą dwa bardzo aktywne dni w Samarkandzie. Dziś zobacz koniecznie Mauzoleum Gur Emir. To miejsce pochówku Tamerlana – założyciela dynastii Timurydów, który zdołał podbić wraz ze swoimi wojskami tereny dzisiejszych Indii, Iraku oraz Iranu. Tu poznasz wiele interesujących anegdot z życia władcy. Zwróć uwagę na sam budynek – jego charakterystycznymi elementami są błękitna kopuła, wąska brama oraz ściany pokryte ozdobnymi mozaikami.
Następnie odwiedź Meczet Bibi Chanum. Wybudowany na zlecenie żony Tamerlana budynek stanowi przykład tutejszej architektury XIV-wiecznej. Przez wieki popadał w ruinę, jednak od końca lat 60. XX wieku trwają w nim prace renowacyjne.
Kolejnym punktem wycieczki po Samarkandzie jest kompleks Shah-i-Zinda. W jego skład wchodzi kilka grobowców, wybudowanych między XI a XIX wiekiem. Większość z nich ma niebieskie kopuły. Wynajmij przewodnika, który oprowadzi cię po najciekawszych miejscach. Przygotuj sobie wygodne buty i sporą ilość wody, ponieważ czeka cię dość długa wędrówka po stromych schodach i wąskich korytarzach.
Na koniec dnia polecamy zwiedzić Obserwatorium Uług Bega. W XV wieku to właśnie tutaj przyglądano się ruchom słońca i księżyca. Zobacz, w jakich warunkach wiele lat temu uczeni próbowali zrozumieć funkcjonowanie naszego świata. Wewnątrz obserwatorium znajduje się niewielkich rozmiarów muzeum.
Mauzoleum Buchariego, wizyta na bazarze i wyjazd z miasta
Drugi dzień rozpocznij od wizyty w Mauzoleum Al-Buchariego. To miejsce poświęcone perskiemu uczonemu i autorowi najwyżej cenionego przez sunnitów zbioru tradycji Proroka. 
Dziś wybierz się też do samego serca miasta, gdzie znajduje się plac Registan. Otaczają go m.in. medresy Uług Bega i Szir Dar,  wybudowane XV i XVII wieku.
Tuż przed wyjazdem zajrzyj również na centralny bazar. Tu zaopatrzysz się w aromatyczne przyprawy, sery, różne rodzaje herbat, kolorowe tkaniny oraz suszone owoce. Jeśli masz zamiar coś kupić, przećwicz wcześniej swoje umiejętności negocjacyjne. Tutejsi kupcy są prawdziwymi mistrzami targowania się!