- No nie, nie po to harowałem przez całe życie, skończyłem studia, żeby teraz grzebać w gównie! Śmierdzi tak, że rzygać się chce. Masz coś? Mam dosyć, idziemy do domu. Tu niczego nie ma. Kit ci ten twój Maciuś wcisnął - irytował się czterdziestolatek, księgowy. Jego żona była znacznie cierpliwsza.  - Mam, mam! Zobacz, to jest chyba ze złota. Będziemy bogaci - wyszeptała podekscytowana kobieta, wyciągając spod szpitalnych odpadów znajdujących się na tym wysypisku wspaniały klejnot.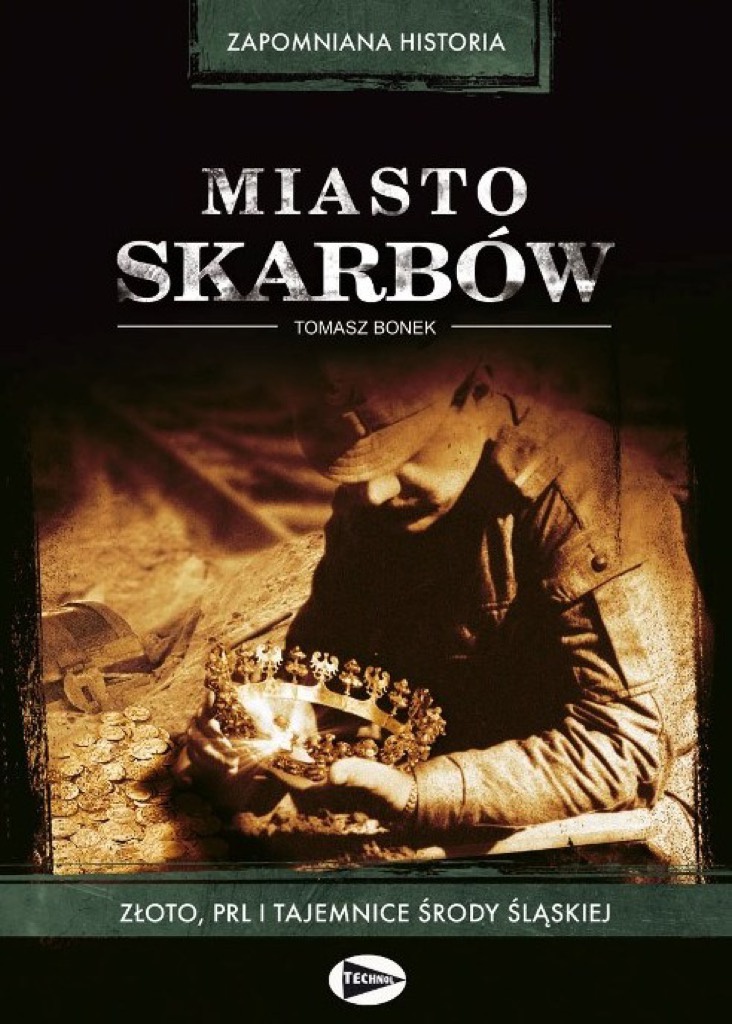 A było ich znacznie więcej na tym składowisku gruzu, zużytych strzykawek, ziemi przywiezionej z likwidowanego cmentarza wraz z kośćmi pochowanych gdzieś tam Niemców 
Przez kilkanaście dni, mieszkańcy Środy Śląskiej, małego miasta tuż pod Wrocławiem, znajdowali skarby na terenie zamkniętego ośrodka sportu i rekreacji, który przekształcono na śmietnik. Wszystko to działo się pod osłoną nocy w czerwcu 1988 roku. Ośrodek nosił dumne imię: "XXX-lecia PRL".      
Poszukiwaczy było tu mnóstwo. Po ciemku taplali się w ściekach pełnych fekaliów, które przez długie miesiące zalewały zdewastowane "Miejsce Wypoczynku Świątecznego". Wieść gminna niosła opowieści o dolnośląskim Eldorado w świat, więc w pewnym momencie zaczęło się tu robić tłoczno. Trzeba było uważać, by nie wpaść na sąsiada. A ludzie znajdowali coraz to wartościowsze okazy: złote i srebrne monety, brosze, zapinki, pierścienie, kawałki złotych taśm; a wszystko to wysadzane drogimi kamieniami.  Większość doskonale wiedziała, że działa wbrew prawu. Kopali przecież po zmroku, tak aby ich nikt nie widział. Wszystko, co ukryte w ziemi od dawien dawna należy do państwa. Nawet w PRL ustawy miały chronić zabytki i dzieła sztuki. Tyle że ludzie stojący na straży uregulowań niezbyt sumiennie przykładali się do swoich obowiązków.      
Nie udało im się uchronić "śmietnika tysiąclecia", jak potem prasa nazwała miejsce, gdzie w lecie 1988 roku w Środzie Śląskiej znajdowano fragmenty najcenniejszego, polskiego znaleziska archeologicznego, skarbu średzkiego, średniowiecznych klejnotów, których wartość oszacowano na sto milionów dolarów.   
 Prawie wszystkim udało się też uniknąć kary. W postanowieniu o częściowym umorzeniu śledztwa, które 20 kwietnia 1989 roku (10 miesięcy po zatrzymaniu poszukiwań na śmietniku) wydał Tadeusz Majda, wiceprokurator Prokuratury Wojewódzkiej we Wrocławiu. Tak oto śledczy opisywał to, co działo się na tym magicznym, śmierdzącym, śmietniku, ozdobionym średniowieczną biżuterią: 
"W toku śledztwa stwierdzono nadto, iż niżej wymienione dalsze osoby, w wyniku podjętych poszukiwań odnalazły na wysypisku wspomnianego Ośrodka Sportu i Rekreacji, wyroby ze złota lub ich fragmenty oraz złote i srebrne monety.

 Czesław W., w dniach 5-6 czerwca 1988 r., przy pomocy swego szwagra Bogusława Z. i jego żony Grażyny oraz przy wykorzystaniu wykrywacza metalu - dwie zausznice, podstawę diademu, fragment pierścionka i inne, a także dwanaście monet złotych i dziewięć srebrnych łącznej wartości, jako kruszcu, 3.168.100 zł. Wszystkie te wyroby oraz część złotych monet Bogusław Z. przechowywał w swoim mieszkaniu, a następnie zabrał je ze sobą do miejscowości, gdzie spędzał wczasy, skąd powrócił w dniu 28 czerwca, natomiast pozostałe złote monety (w ilości siedmiu) i monety srebrne znajdowały się w mieszkaniu Czesława W.

Po przyjeździe Bogusława Z. z urlopu, postanowili ukryć wspomniane przedmioty, wobec czego Czesław W. zakopał je w rowie melioracyjnym obok polnej drogi, natomiast monety umieścił w piwnicy i w lodówce. Nadto Czesław W. ukrył, również przez zakopanie w rowie w pobliżu średzkiej obwodnicy, część złotego pasa, którą otrzymał od Grażyny Z. jeszcze w dniu 5 czerwca 1988 r. podczas pobytu na terenie wysypiska.

Jak ustalono, Grażyna Z. dokonała podziału pasa wspólnie z Tadeuszem O., który w trakcie poszukiwań wyrzucił go wraz z ziemią z wykopu w ten sposób, iż upadł on obok Grażyny Z., ta zaś podniósłszy go, zaproponowała podział na dwie części. W dniu 1. lipca 1988 r. Czesław W., na wezwanie funkcjonariuszy MO, apelujących o zwrot ewentualnie posiadanych przedmiotów, złożył oświadczenie informujące o fakcie odnalezienia wyrobów ze złota i monet, a następnie wskazał miejsce ich ukrycia. Podobne oświadczenie złożył także Bogusław Z.

Jak wynika z zeznań Czesława W., powodem dla którego postanowili wraz z Bogusławem Z. ukryć posiadane przedmioty była obawa przed odpowiedzialnością za podzielenie złotego pasa na dwie części, o którym to wyrobie - na podstawie zasłyszanych pogłosek - wiedzieli, iż stanowi przedmiot znacznej wartości. Nadto wiedzieli oni o licznych przypadkach dokonywania przeszukań u różnych osób, a także o fakcie tymczasowego aresztowania Andrzeja K., w związku z czym bali się posądzenia o chęć przywłaszczenia znalezisk. Czesław Z. zeznał także, że  nie działał w zamierzeniu ich przywłaszczenia, a zaistniałą zwłokę w przekazaniu tych przedmiotów funkcjonariuszom RUSW tłumaczył niezdecydowaniem."
Zeznania Czesława W. w zakresie okoliczności znalezienia wyrobów ze złota oraz monet, jak również motywów jego postępowania znalazły potwierdzenie w zeznaniach Bogusława i Grażyny Z. Świadkowie ci również zaprzeczyli, by działali w zamiarze przywłaszczenia tych przedmiotów, powołując dodatkowo, jako przemawiający na ich korzyść fakt niezwłocznego przekazania do miejscowego muzeum fragmentów wyrobów ze złota, w postaci orła i kulki, które przypadkowo, przez nieuwagę, zawieruszyły się w ich mieszkaniu i nie zostały wydane w dniu 1. lipca 1988 r."    
Podobnych spraw, jak ta było prawie trzydzieści. Większość zakończyła się umorzeniem, albo ze względu na niską szkodliwość społeczną czynu, albo - jak uznał prokurator - ze względu na niepopełnienie przestępstwa, bo znalazcy przecież oddawali. 
Problem mieli już tylko muzealnicy  
- Byłem wstrząśnięty. Przede mną leżały zdewastowane fragmenty przepięknej biżuterii. Pogięte, połamane kawałki złota wysadzane drogimi kamieniami. Misternie wykonane. Artyści, którzy je tworzyli musieli w swoją pracę włożyć serca. Trzymałem w rękach kilka milionów dolarów, drogocenne dzieła sztuki, które znaleziono... na śmietniku. Już wówczas podejrzewałem, że przedmioty te wykonano w średniowieczu dla któregoś z władców. Ale kto je nosił? Kto i dlaczego schował w podwrocławskiej Środzie Śląskiej? Jakim cudem trafiły na wysypisko gruzu, odpadów szpitalnych i wszelkich innych nieczystości? Te pytania długo spędzały sen z moich powiek. Tak o swoim pierwszym spotkaniu ze Skarbem Średzkim opowiada historyk sztuki Rainer Sachs, dziś attache kulturalny w Konsulacie Generalnym Republik Federalnej Niemiec we Wrocławiu. Jako jeden z pierwszych specjalistów badał średzkie precjoza.
Dokładnej ceny złotej korony, zawieszek, zapony, bransolety, pierścieni oraz monet nie można ustalić. To nie tylko kruszec, z którego je wykonano. To przede wszystkim dzieła sztuki, w dodatku zabytkowe. Niestety, przeklęte... To przez nie stracił życie bogaty Żyd o imieniu Mojżesz, do króla - ojca miał żal syn – następca tronu, skończyły się najlepsze przyjaźnie, kilku ważnych urzędników straciło stołki, a kolekcjonerzy trafili za kratki. 
Do napisania cyklu artykułów prasowych na ten temat przyczynił się anonimowym telefon do redakcji, w której kiedyś pracowałem.  -Napisałeś pan w "Gazecie Wrocławskiej", że gdzieś zapodziały się dwie bardzo cenne monety ze Skarbu Średzkiego i złoty pierścień – mówił mężczyzna telefonujący do redakcji. - Ponoć Muzeum Narodowe ich szuka, bo wydrukowało zdjęcia w książce o skarbie, a potem okazało się, że tych przedmiotów nie można obejrzeć, bo ich po prostu nie ma. Panie, tego było znacznie więcej – opowiadał. - Są nawet na to papiery. Trzeba zająć się sprawą. Pewnie nie uda się już wszystkiego odzyskać, ale chociaż kilku skurwysynom, którzy są za to odpowiedzialni zrobi się ciepło. Zresztą, to nie pierwszy skarb znaleziony i rozgrabiony w Środzie. Przyślę panu dokumenty...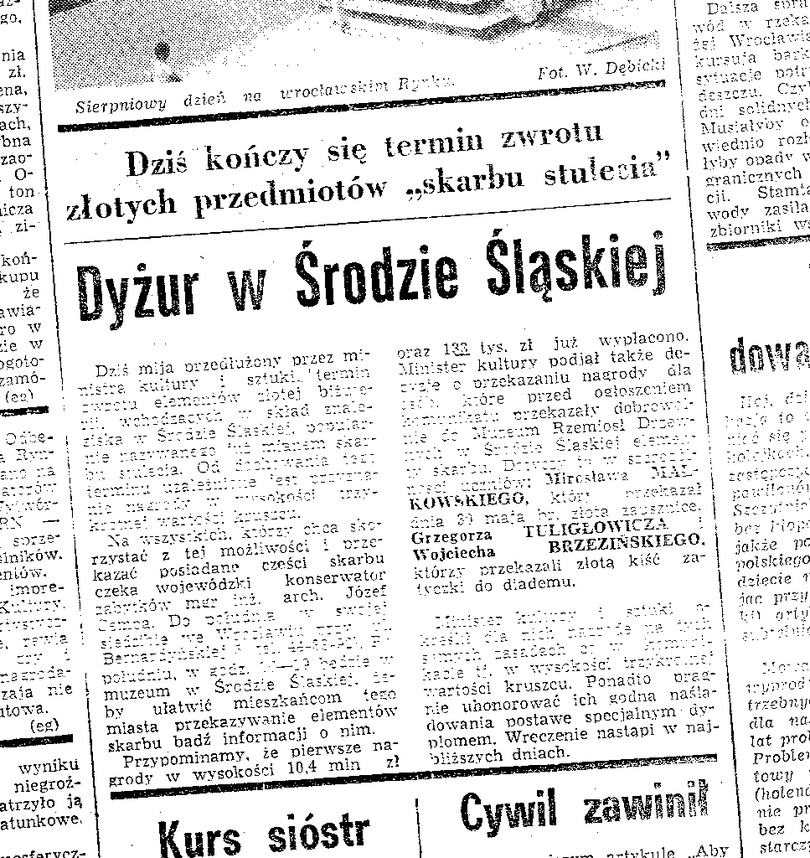 Rozłączył się. Dwa dni później przyszła poczta, a w niej kopie protokołów sporządzonych przez Najwyższą Izbę Kontroli, zapisy narad w Rejonowym Urzędzie Spraw Wewnętrznych, rekonstrukcja wydarzeń z 1988 roku oraz list wysłany przez mieszkańców Środy do marszałka Senatu Karola Modzelewskiego. Dokumenty potwierdzały telefoniczne opowieści anonimowego informatora. 
W piśmie D-41200-69-88 Delegatury Najwyższej Izby Kontroli we Wrocławiu, mieszczącej się przy ul. Świerczewskiego 15/17 (dzisiaj Piłsudskiego) sporządzonym 10 grudnia 1988 roku napisano:  
"Następstwem rażących zaniedbań i lekceważącego stosunku do ustawowych obowiązków było stworzenie możliwości do rozgrabienia, uszkodzenia, a nawet zniszczenia znacznej części zabytkowych monet i wyrobów ze złota. Nie można również wykluczyć i tego, że pewna ilość przedmiotów zabytkowych uległa bezpowrotnemu zaginięciu."  
Skarb Karola IV u bogatego Żyda 
Hipotezy dotyczące pochodzenia skarbu średzkiego Środa Śląska w późnym średniowieczu była bardzo prężnym ośrodkiem handlowym. Leżała na szlaku handlowym, odbywały się w niej jedne z największych targów w tej części Europy. W mieście osiedliło się też kilku zamożnych bankierów - Żydów.  Niektórzy mieszkańcy miejscowości robili międzynarodowe kariery. Tak jak na przykład Jan, proboszcz kaplicy Wszystkich Świętych na praskich Hradczanach.
Śląsk był wówczas pod panowaniem Karola IV Luksemburskiego, który popadł w kłopoty finansowe. Tak duże, że w niektórych miastach był uznawany za persona non grata. Marzyła mu się jednak korona cesarza. Jan ze Środy postanowił mu pomóc. Obiecał, że załatwi władcy pożyczkę u jednego ze średzkich Żydów. Muscho, czyli Mojżesz, najbogatszy z nich dysponował odpowiednią gotówką. Postawił jednak kilka warunków. Po pierwsze, zażądał zastawu w postaci klejnotów, po drugie zapewnienia trzyletniego prawa pobytu na Śląsku i zwolnienia z podatku. Karol IV na to przystał. 3 września 1348 roku we Wrocławiu wystawił nawet na to dokument.  Karol IV koronował się na cesarza niemieckiego, Jan ze Środy został kanonikiem cesarstwa, a na Śląsku wybuchła epidemia czarnej śmierci. Dżuma dziesiątkowała ludność. O przywleczenie zarazy oskarżano Żydów. Uciekali przed pogromem. W pośpiechu pakowali tylko niezbędne rzeczy. Majątek, między innymi złoto, chowali.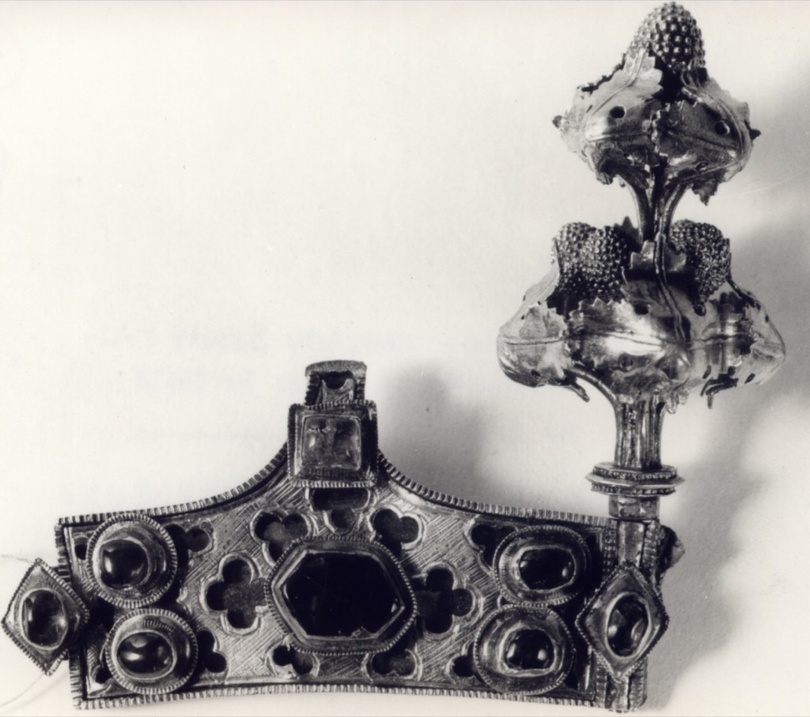 Muscho klejnoty Karola IV zakopał pod swoim domem, bo myślał, że kiedyś po nie wróci. Tak przetrwały ponad 650 lat, aż odkryła je koparka.  Gdzie jest reszta skarbów ukrytych przez Muscho pod swoim domem? Prawdopodobnie nadal u znalazców, którzy na śmietniku kopali w 1988 roku. Co jakiś czas biżuteria ta gdzieś wypływa. Tak, jak w 2004 roku, kiedy to dwaj mężczyźni próbowali sprzedać orły z korony Blanki w Olsztynie. Wpadli jednak dzięki czujności antykwariuszki. Klejnoty miał też pewien cinkciarz, który zmarł w niewyjaśnionych okolicznościach.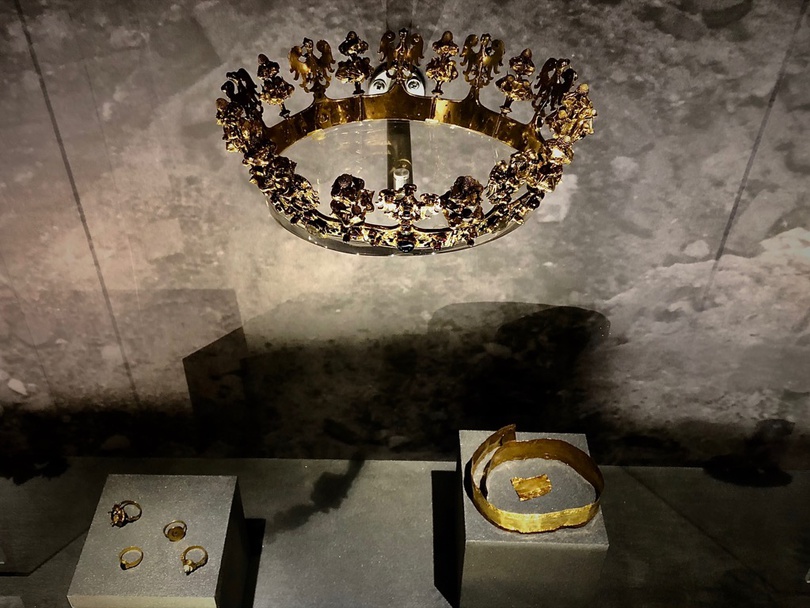 Skarb obejrzycie natomiast od 2 października do 30 grudnia 2018 roku w Muzeum Narodowym we Wrocławiu. Później wróci do Środy Śląskiej, gdzie w Muzeum Regionalnym wystawiany jest na co dzień.