Kojarzy się ją głównie z solonymi lub suszonymi rybami. Tymczasem na wyspie serwuje się między innymi zupę z mięsa wielorybiego, piwo warzone na wodzie z roztopionego lodowca lub sałatkę Cezar z ziemniakami, wyhodowanymi na polu z widokiem na góry lodowe.
Warzywa
"Jest w tym jakiś fascynujący paradoks: móc obserwować wykopki ziemniaków posadzonych na polu w pobliżu fiordów południowej Grenlandii, a po obróceniu się widzieć góry lodowe, powoli dryfujące po morzu" – zauważa atasteofgreenland.com. Tymczasem rzeczywiście, na wyspie sadzi się między innymi marchewki, rzepę, kalafior, a nawet kapustę. 
Największa uprawa warzyw znajduje się w stacji badawczej Upernaviarsuk. Są tu dwie duże szklarnie, a nawet rozległe pola na świeżym powietrzu. Jednak również w mniejszych gospodarstwach jest miejsce dla "ogródków warzywnych". Oto na przykład Sten Pedersen od kilkudziesięciu lat we własnym pieli między innymi seler lub ziemniaki. 
"Ludziom, którzy niewiele wiedzą na temat tutejszego klimatu, wydaje się wręcz niebywałe, że wyspa ta może być określona mianem rolniczej krainy" – utyskuje portal zauważając przy tym, że przecież już Eryk Rudy, który miał odkryć to miejsce koło X wieku, określił je właśnie mianem "Greenland", a więc zielonej krainy. Wylądował bowiem wiosną, gdy południowe rejony porośnięte były gęstym kożuchem zielonej trawy. 
Kuchnia Grenlandii nie jest więc pozbawiona warzyw, a w książkach kucharskich można chociażby trafić na przepis na sałatkę Cezar z ziemniakami lub mięso piżmowołu arktycznego, podawane z czerwoną kapustą. I chociaż ze względu na stosunkowo krótki okres wegetacji podaje się ich dużo mniej niż w innych rejonach świata, chociażby "ziemniaki uprawiane na południowych krańcach wyspy uznawane są za specjał i serwowane na całym świecie, w restauracjach odznaczonych pięcioma gwiazdkami Michelin" – czytamy na atasteofgreenland.com. Tym niemniej nie da się ukryć, że większość produktów tego typu jest sprowadzana zza granicy i to najczęściej w puszkach.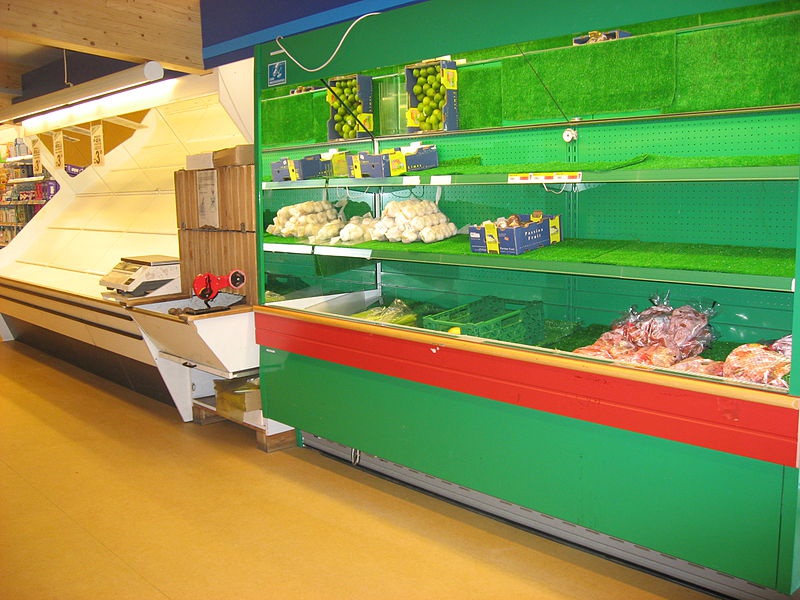 Alkohol
Grenlandia szczyci się przede wszystkim piwami i wódkami, do produkcji których wykorzystuje się tutaj wodę "wprost z pokrywy lodowej, zamrożonej dziesiątki, a nawet setki tysięcy lat temu i zabezpieczonej w ten sposób przed jakimikolwiek zanieczyszczeniami" – dodaje atasteofgreenland.com. W ten sposób powstaje chociażby piwo z największego na wyspie browaru Godthåb Bryghus lub wódka Sïku, której nazwa oznacza po prostu "lód". 
Stworzenia morskie i lądowe
Chociaż komercyjne polowanie na niektóre zwierzęta morskie (na przykład na wieloryby) jest surowo zakazane, społeczności, do których tradycji należą tego rodzaju sposoby zdobywania pożywienia, mogą to w dalszym ciągu robić. Dlatego też w menu Grenlandii znajdziemy na przykład danie zwane mattak. Zawiera ono przede wszystkim skórę wieloryba podszytą zewnętrzną, grubą warstwą tłuszczu, którą niegdyś jadło się na surowo, bez jakichkolwiek dodatków. Obecnie jednak coraz częściej doprawia się grubą solą i ziołami, pociętą na malutkie kawałki (tradycyjna kuchnia nie stosowała wielu przypraw, jednak od kiedy styka się coraz częściej z wpływami z innych stron świata, zaczynają gościć w niej między innymi: papryka, keczup, a nawet sos sojowy).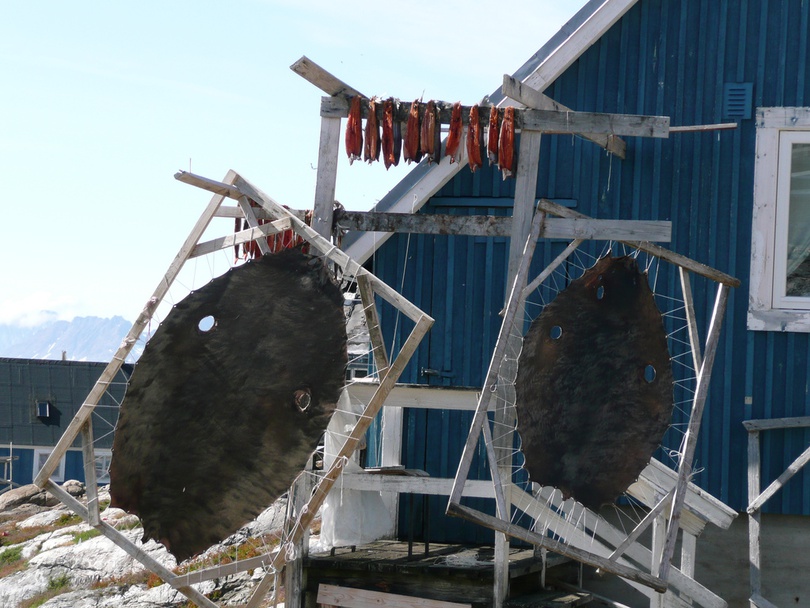 Wieloryb jest wykorzystywany również niekiedy do przygotowania dania zwanego suaasat, "czyli sycącej zupy, gotowanej na bazie tłustego mięsa, serwowanej z ryżem, cebulą i ziemniakami". Zamiast niego częściej nawet korzysta się z mięsa innych zwierząt, na przykład reniferów lub fok. Te ostatnie stanowią (obok ryb – mrożonych, suszonych, lub wędzonych) podstawę kuchni grenlandzkiej. Rocznie zabija się tutaj ponad 170 tysięcy tych stworzeń (z ogromnej populacji liczącej niemal 17,5 mln sztuk). 
Na lądzie mieszkańcy polują z kolei głównie na renifery, pardwy górskie i piżmowoły arktyczne. Te ostatnie, potężne zwierzęta, osiągające niekiedy nawet 400 kilogramów, mają mięso przypominające nieco wołowinę, przy czym jest mniej kaloryczne, ale bogate w białko, żelazo I witaminę B.