Domniemane źródło Nilu. Akwen, w którym żyły ryby osiągające nawet ponad 1,7 metra długości. Miejsce, w którym ludzie przeprowadzili niebezpieczny eksperyment, na zawsze zmieniając afrykański ekosystem. Jezioro Wiktorii, leżące na terenie Kenii, Ugandy i Tanzanii, padało ofiarą wielu pomyłek - mniej lub bardziej brzemiennych w skutkach.
"Mało kto chciałby się spierać, że obejmujące ponad 68 tysięcy kilometrów kwadratowych jezioro będzie czymś innym, niż potężną plamą wody. Jednak kiedy zobaczyłem je po raz pierwszy, miałem zgoła inne skojarzenia. Wyglądało jakby ogromny statek kosmiczny wessał w siebie tony słomy i trawy i wypluł je w jedno miejsce. Zamiast jeziora zobaczyłem zieloną łąkę, ciągnącą się aż po horyzont" wspomina podróżnik Luke Armstrong na łamach Perceptivetravel.com.
Gęsty kożuch pięknych wodnych hiacyntów, pokrywających taflę jeziora, z jednej strony fascynował turystę, a drugiej przerażał, bo to właśnie z jego powodu woda w wielu miejscach akwenu nie jest dostatecznie natleniona, a ryby padają. Amerykańscy naukowcy obawiają się, że miejsce to może w przeciągu kilkudziesięciu lat stać się "największym na świecie martwym zbiornikiem".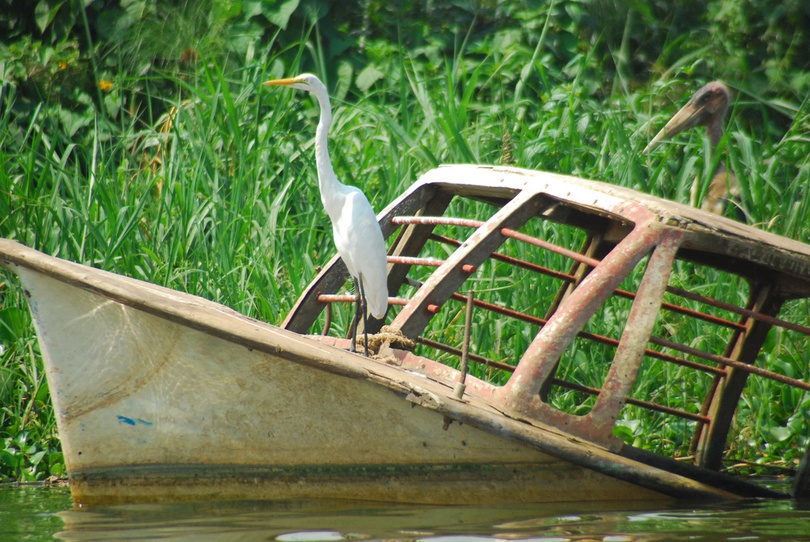 Jednak to nie wodny hiacynt jest głównym winowajcą wyginięcia wielu gatunków zwierząt w tym największym w Afryce jeziorze, a ludzie, którzy w latach 50. postanowili wzbogacić je o tilapię nilową i okonia nilowego - potężne i wyjątkowo smaczne ryby.
Największe miały osiągać nawet 200 kilogramów i wielkość dorosłego mężczyzny. Zajadali się nimi mieszkańcy Europy, Azji, Północnej Ameryki oraz Afryki. W latach 70. po Jeziorze Wiktorii pływało ponad 50 tysięcy rybaków, wyławiając tony tych niezwykłych stworzeń.
Niestety, smaczne okazy okazały się wyjątkowo żarłoczne i znacznie wytrzebiły populację typowych dla akwenu barwnych pielęgnic i planktonu. Same również wkrótce potem przestały osiągać rekordowe rozmiary. Dziś trudno trafić na cięższe niż 10-kilogramowe.
Mimo to głębokie na 80 metrów jezioro nadal zadziwia różnorodnością organizmów, jakie w nim żyją. Oto bowiem chociaż okonie nilowe stanowią blisko 80 procent ryb w jeziorze, to nadal można tu zobaczyć ponad 300 gatunków pielęgnic. Nad brzegami spotkać można flamingi lub hipopotamy, zwłaszcza u ujścia rzek, wpływających do Jeziora Wiktorii, między innymi u brzegów Kagery, uznanej po wielu kontrowersjach za źródło Nilu.
Zmyleni naukowcy
Oto jeszcze w drugiej połowie XIX wieku brytyjski podróżnik John Speke wstrząsnął światkiem geografów i naukowców stwierdzając, że oddalona o setki kilometrów egipska rzeka ma swe początki nie gdzie indziej, ale właśnie w... Jeziorze Wiktorii.
Przez kilkanaście lat teorii tej nikomu nie udało się obalić. Więcej nawet - podpisywały się pod nią kolejne głośne nazwiska poszukiwaczy przygód. Dopiero kiedy brytyjski awanturnik Henry Stanley natrafił na wpływającą do ogromnego akwenu Kagerę stało się jasne, że jezioro tylko leży w dorzeczu Nilu, ale z całą pewnością nie jest jego początkiem.