Samolot delikatnie zatacza łuk nad wyspą. Chmury za oknem powoli odkrywają szczyt wulkanu. "Witamy w raju" - oznajmia pilot. Stewardessy rozdają formularze, w których należy wpisać cel podróży. Możliwości jest kilka: pobyt służbowy, biznes, wakacje... miesiąc miodowy lub zawarcie ślubu. W końcu Hawaje to raj, a nie pierwsze lepsze wyspy na Pacyfiku. Tutaj przylatuje się jak do bajki.
Podróż z San Francisco zajmuje ponad pięć godzin, jednak już od pierwszych chwil lotu atmosfera na pokładzie przypomina szaloną balangę. Stewardesy mają we włosach kwiaty, na ekranach telewizorów pokazy tańca hula, drinki serwuje się z parasolkami, a pasażerowie rozwiązują konkursy. Do wygrania jest wielki kosz kawy, czekoladek i butelek ginu, ulubionego napoju Pele - najważniejszej, hawajskiej bogini. Lądujemy na Wielkiej Wyspie. Za chwilę otworzą się wrota krainy szczęśliwości.
Bóg zwany Cookiem
Hawaje to jeden z najpiękniejszych archipelagów Oceanu Spokojnego. Położony około 4 tysiące kilometrów od wybrzeży Kalifornii, ponad 6 tysięcy kilometrów od Tokio i prawie 13,5 tysiąca kilometrów od Warszawy. 136 wysp, wysepek i atoli rozciąga się na długości 2400 km, poniżej Zwrotnika Raka. Siedem wysp: Oahu, Hawaii, Maui, Kauai, Molokai, Lanai i Niihau zamieszkuje prawie 1,3 mln ludzi.
Magellan, pierwszy Europejczyk, który przepłynął Pacyfik, nie odkrył tych wysp na swojej trasie. Dopiero w 1778 roku dokonał tego słynny kapitan Cook. Dzika przyroda musiała na nim wielkie wrażenie. Równie poruszeni byli tubylcy. Właśnie celebrowali święto ku czci boga Lomo, kiedy na horyzoncie ukazały się znane z wcześniejszych przepowiedni białe drzewa - europejskie żagle. Cook został przyjęty jak bóg. Dopiero później, kiedy jego marynarze zaczęli traktować wyspy jak własne podwórko, a sam odkrywca posunął się do porwania syna wodza, doszło do otwartego konfliktu. Hawajczycy szybko zorientowali się, że żeglarz bogiem nie jest, a kiedy potknąwszy się zaczął krwawić, rozsierdzony tłum go ukamienował. Nie przeszkadzało to jednak później czcić Cooka i stawiać mu świątyń. Nad Kelakakua, najpiękniejszą zatoką największej z wysp Hawaii Island, króluje dzisiaj potężny, biały pomnik ku czci odkrywcy. Imię Cooka dostają hotele, bary i restauracje. Najsławniejszym Hawajczykiem został człowiek z Europy, a każda plaża przypomina wielkich odkrywców.
Duchy i turyści
Wbrew pozorom i obrazowi wykreowanemu przez znane seriale, Hawaje wcale nie są aż tak zatłoczone. Spragnieni gwaru, szumu, widoku pięknych, roznegliżowanych kobiet na rolkach, mogą oczywiście polecieć do Honolulu na Oahu, stolicy Hawajów i wybrać się na chyba najsłynniejszą plażę świata Waikiki.
Jest tu wszystko. Ogromne hotele, paralotnie, luksusowe restauracje i milionerzy podjeżdżający do brzegu oceanu w filmowych kabrioletach. Na Wielkiej Wyspie natomiast najwięcej turystów można spotkać w Hiltonie, gigantycznym kompleksie hotelowych, który został tak zaprojektowany, by po przyjeździe nie wychodzić stąd przez kolejny tydzień. Kursuje tu nawet wewnętrzna kolejka, ułatwiająca dostanie się z plaży, czy mola do pokojów. Jednak inaczej jest na dzikich plażach. W większości kamieniste i surowe, pozwalają zapomnieć, że jest jakiś XXI wiek.
Tutaj ciągle są czasy, w które wtargnął kapitan Cook ze swoimi okrętami. Kilkumetrowe fale z hukiem odbijają się od skał. Na Zielonej Plaży ocean wdziera się w wysokie wybrzeże, a fale są tak silne, że do wody można wejść jedynie w grupie, trzymając się mocno za ręce. Koło Waipio na piasek spadają trzy ponad stumetrowe wodospady. Plaża niemal przez cały dzień jest zupełnie pusta, dziewicza niemal. Od czasu do czasu turyści z nadmiarem gotówki latają nad nią w niebieskich helikopterach, których piloci mają opinię najlepszych na świecie. Ale na szczęście nie wszyscy mają mnóstwo pieniędzy i w większą część dnia plaże Wielkiej Wyspy wypełnia tylko szum oceanu. Ale....
Hawaje są pełne magii. Można się na nich zamknąć w luksusowym hotelu z kilkoma, lub czasem kilkunastoma basenami, albo udać się w pełną tajemnic podróż w głąb historii. Tradycja i nowoczesność przeplatają się tutaj w niezwykły sposób. W Konie na Wielkiej Wyspie stoją naprzeciwko siebie dwa gigantyczne kompleksy hotelowe. Jeden jest pełen roześmianych turystów, gra tu na żywo muzyka, w wodzie pluskają delfiny, nad skraju oceanu goście popijają drinki. Drugi stoi pusty i ponury, rozbite szyby w oknach złowieszczo odbijają zachód słońca.
- Ten hotel postawiono w miejscu dawnej świątyni poświęconej zmarłym. Nikt nie uszanował praw naszych przodków i oni mszczą się powodując, że to turystyczne centrum co chwila robi klapę - tłumaczy jeden z mieszkańców. Na szyi nosi korale z kukui, specjalnych orzechów. Codziennie rano słucha wiatru i obserwuje chmury. Czyta z wielkiej książki przyrody. Tak było na wyspie od najdawniejszych czasów. Hawajczycy czcili żywioły - ziejące lawą wulkany i majestatyczny ocean. Mieszkańcy archipelagu wierzyli w czterech najważniejszych bogów: w boga wojny Ku, w boga ziemi Lono, w stwórcę Kane i w Kaneolę. Ale bóstwem, przed którym czuli największy respekt była bogini wulkanów Pele, zamieszkująca wulkan Kilauea. Kiedy zbliżał się wybuch, tubylcy udawali się do niego z prezentami. W otchłań krateru rzucali zwierzęta, kwiaty, owoce. Ta tradycja przetrwała do dzisiaj. Pele spełnia marzenia, więc pielgrzymuje się do jej domu z prośbą o męża, lepszą przyszłość, powodzenie w interesach. Sama jest boginią kapryśną i nieprzewidywalną. No i lubi sobie wypić....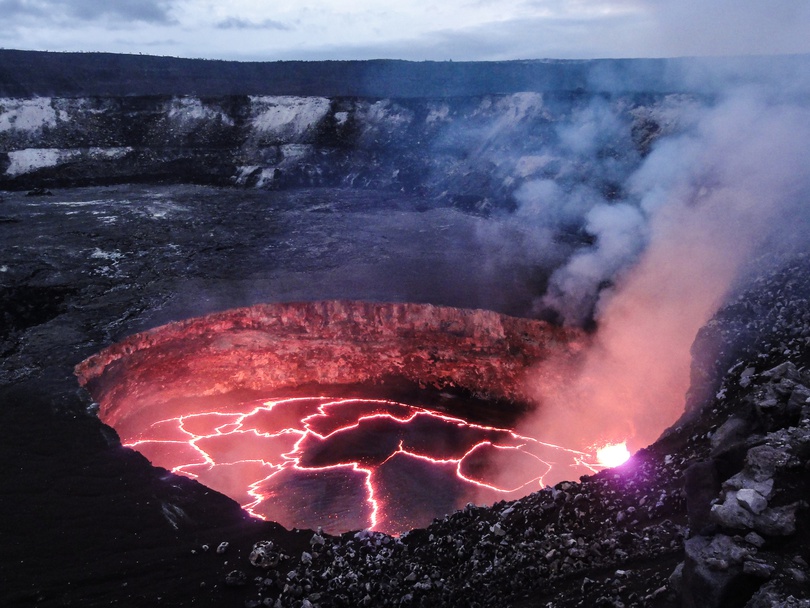 Whisky na dnie wulkanu
Hawajczycy ostrzegają: dokładnie rozważ, o co prosisz Pele, bądź bardzo konkretna. U wrót wulkanu marzenia się spełniają. Prośba o szczęście nic nie znaczy. Prośba, żeby zostać na Hawajach na zawsze, może przez boginię zostać zrozumiana opatrznie.... Zanim wyrazisz życzenie, rozważ wszystkie za i przeciw. Pele, bogini ognista, uwielbia gin i whisky. Wrzucenie pełnej butelki do siedziby boginki, gwarantuje sukces.
Ale droga nie jest prosta. Ścieżka do serca wulkanu wiedzie przez gigantyczny, szary krater. Co kilkanaście metrów ze szpar w skamieniałej lawie wydobywa się ciepły zapach siarki. Gdzieniegdzie widać samotne krzaki o czerwonych kwiatach, ulubionych przez Pele. Niczego stąd nie można zabrać, nie powinno się zrywać listków, kolekcjonować kamieni. Dawno temu jeden z czarowników przeklął wszystkich, którzy zabiorą z wyspy choćby kawałek lawy. Ostrzegają nawet przewodniki. Magia czai się wszędzie, turyści, którzy wywieźli kamienie, potem nagle je odsyłają. Hawajskie "pamiątki" przynoszą pecha, ściągają nieszczęścia. I mimo że podobno inny czarownik pozwolił zabierać kamienie, sprawa jest do dzisiaj niejasna i każdy zastanawia się dwa razy, zanim spakuje bagaż.
Bez strachu zabrać można natomiast orzechy kukui, z których robi się bransoletki i naszyjniki ze sztucznych kwiatów, które są niemal ikoną Hawajów. Koniecznie przed odlotem należy się zaopatrzyć w sok z noni, który nie dość, że wzmacnia, stosowany jest w leczeniu guzów i nowotworów oraz w orzechy macadamii. Wyglądają jak nieco większe orzechy laskowe, ale ich słodkiego smaku nie da się porównać z niczym na świecie.
Wyspy ze smakiem
Dziś na Hawajach rozłożyły się setki szybkich meksykańskich i chińskich barów oraz restauracji. Tu najczęściej serwuje się ryż z warzywami, głównie z fasolką, ciekawostką są naleśniki z ciasta szpinakowego. Hawajczycy najchętniej piją kawę, głównie tę z okolic Kony na Wielkiej Wyspie, uznawaną za jedną z najlepszych na świecie. Jest niezwykle aromatyczna, prażona również z całymi orzechami i świeżą wanilią. 100 gramowe opakowanie tej kawy kosztuje około 12 dolarów.
Rdzenni mieszkańcy wyspy odżywiali się głównie owocami morza i owocami, z tym jednak zastrzeżeniem, że w dawnych czasach kobietom nie wolno było jadać bananów. Za spożycie tego owocu groziła nawet śmierć. Dzisiaj wszędzie można dostać grejpfruty, awokado (można go używać zamiast masła), słodziutkie mango i oczywiście banany, w tym także te o zielonym kolorze, nazywane jabłkowymi. Smaczne są owoce chlebowca, słodkie ziemniaczki o fioletowej barwie, surowa ryba z warzywami. Tradycyjnym napojem jest kava-kava - specjał, który niegdyś był zastrzeżony wyłącznie dla wodzów i szamanów. Początkowo oszałamiał i wyostrzał zmysły, pity w nadmiarze powodował senność.
Rozczaruje się zaś ten, kto na Hawajach liczy na obfitość owoców i warzyw - jabłka w supermarkecie pochodzą z Chile, gruszki sprowadzane są z Brazylii, pomidory z Los Angeles, jedynie ananasy pochodzą z Maui. Jabłko, jako owoc na Hawajach luksusowy, kosztuje około dolara. Jedną z najpyszniejszych przegryzek jest chlebek bananowy z orzechami.
Podziemny ogień
Surfowanie, wodne parki i latanie nad wulkanami to największe atrakcje Hawajów. Dla odważnych przewidziano jeszcze...lawę. Ostatni raz potężna erupcja w 1984 roku pokryła część Wielkiej Wyspy. Droga, na której stoją uwięzione w zastygłej lawie samochody i tablice ostrzegawcze dla kierowców, to prawdziwa sensacja dla turystów. Idzie się tędy do miejsca nad brzegiem oceanu, gdzie czerwona lawa płynie prosto do wody. Wielkie fale uderzają w piekielną otchłań, zmieniając się w kłęby pary. Ziemia pod nogami drży. Płaty drogi rozstępują się w niektórych miejscach, odkrywając strugi gorącej lawy. To miejsce przeraża i fascynuje. Jest też niezłą lekcją dla turysty z Polski. U nas nikt nie przejmuje się źle oznakowaną ścieżką. Na Hawajach zanim zboczysz nieco z drogi, dziesiątki tablic ostrzegą przed ewentualnym niebezpieczeństwem.
"Będziesz teraz szedł około 1 mili" - czytam przed wejściem na zalany szlak - "Upewnij się czy masz na pewno przynajmniej 1,5 litra wody, rękawice ochronne, latarkę, coś małego do jedzenia, płaszcz przeciwdeszczowy i wygodne buty". "W tym miejscu możesz stanąć i sprawdzić jeszcze raz hamulce. Zaraz będziesz jechał pod górę" - informuje inna tablica. "Prosimy nie molestować żółwi. One wypoczywają" - mówi kolejna.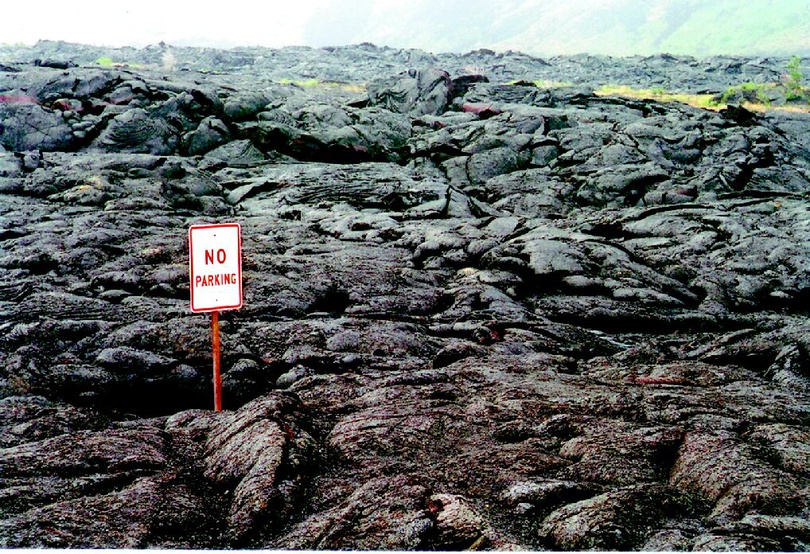 Ludzie na Hawajach są jak te napisy. Uprzejmi, uśmiechnięci, pełni spokoju. Nikt tu nikogo nie pogania, nikt nie podnosi głosu, kierowcy jeżdżą zadziwiająco powoli, przepuszczają uprzejmie tych z podporządkowanej. Wszyscy zatrzymują się, gdy robisz zdjęcie. Panie w sklepach wyglądają na szczęśliwe tylko dlatego, że mogą skasować za towar. Co chwila ktoś krzyczy z samochodu: Aloha. Nawet celnicy i policjanci emanują łagodnością. A jak dobrze mają tu grubasy! W wielkich hipermarketach dostają specjalne pojazdy z silniczkiem, żeby nie męczyć się chodzeniem! Rozmiar XXXXL to zresztą norma. Nasz XXL to najzwyklejsza chudzina. A tylko duże jest piękne. Aż trudno uwierzyć, że takie miejsce rzeczywiście istnieje. Raj został odnaleziony?