Syria, Afganistan, Jemen, Somalia, Libia, Darfur i Timbuktu – to niechlubni liderzy zestawienia, określani jako "ekstremalnie niebezpieczne destynacje". Listę zamykają trzy europejskie kraje, uznawane na wyjątkowo przyjazne.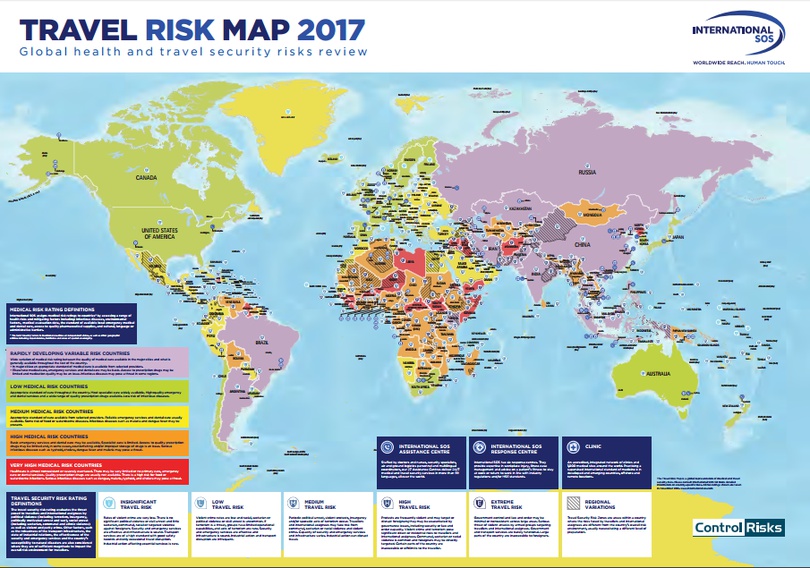 Z najnowszej mapy ryzyka (The Travel Risk Map for 2017 - do pobrania na końcu artykułu) wynika, ze nawet "jedna czwarta globu jest obecnie zbyt niebezpieczna, aby ją odwiedzać. Głównie z powodu nasilającego się terroryzmu oraz wpływów lokalnych gangów" – przekonuje express.co.uk. 
Z powodu działań wojennych turyści przestrzegani są szczególnie przed wyjeżdżaniem do Jemenu, Afganistanu lub Syrii. Z kolei z uwagi na rosnącą lokalną przestępczość powinni unikać Meksyku lub Indii. "Miejsca te stały się szczególnie groźne chociażby z powodu podwyższonego ryzyka porwań dla okupu bogatszych przybyszów z Zachodu" – dodaje brytyjskie medium. Zaś uwagi na bardzo słabą opiekę medyczną oraz szereg groźnych chorób, którymi można się zarazić, ostrzega się podróżnych przez wyjazdami między innymi do: Sudanu Południowego, Iraku, Republiki Środkowoafrykańskiej czy Północnej Korei. Ponadto wśród miejsc, które należy unikać, wymieniono również między innymi: Honduras, Haiti, Algierię, Nigerię, Kolumbię oraz Papuę Nową Gwineę. 
Nawet kraje, które do niedawna uznawane były za popularne turystyczne destynacje, dziś zmagają się z odpływem przyjezdnych – mowa między innymi o Tunezji czy Egipcie. 
Czego boją się podróżni?
Aż 72 proc. ludzi uważa, że w ciągu ostatnich lat podróżowanie stało się dużo bardziej niebezpieczne. I to właściwie na całym świecie. Przepytani przez Ipsos Mori i International SOS stwierdzili, że aż o 50 proc. wzrosło ryzyko podróżowania po Europie. Po Bliskim Wschodzie – o 44 proc. Po Azji Południowej – o 38 proc. Najmniej miało wzrosnąć w Australii i Nowej Zelandii, bo jedynie o 2 proc. Większość badanych (57 proc.) jest ponadto przekonana, że w 2017 roku będzie jeszcze gorzej. Głównie z powodu zagrożeń, których boimy się najbardziej, a więc: terroryzmu, gwałtownych zamieszek oraz klęsk żywiołowych. 
Tym niemniej nadal istnieją miejsca, które uważa się za "wyjątkowo bezpieczne": to między innymi Norwegia, Szwecja, Słowenia, Dania oraz Irlandia.