Nie wierzyłem własnym oczom. Długo gapiłem się w obraz wiszący w bocznej nawie, po prawej stronie ołtarza, w katedrze pod wezwaniem św. Dominka w peruwiańskim Cusco. Niby wszystko było na nim w porządku: i św. Jan młody, jak zwykle, i Jezus z długimi włosami i z brodą, w dłoni chleb, przed nim kielich. Tylko co, do cholery, robił na środku stołu ten upieczony szczur położony na talerzu łapami do góry ? - To nie szczur, to świnka morska - wyjaśnił mi dyskretnie mój zaprzyjaźniony pół Polak, pół Peruwiańczyk, przewodnik o znajomo brzmiącym nazwisku - Marek Zakrzewski. I tak zaczęła się przygoda w Andach.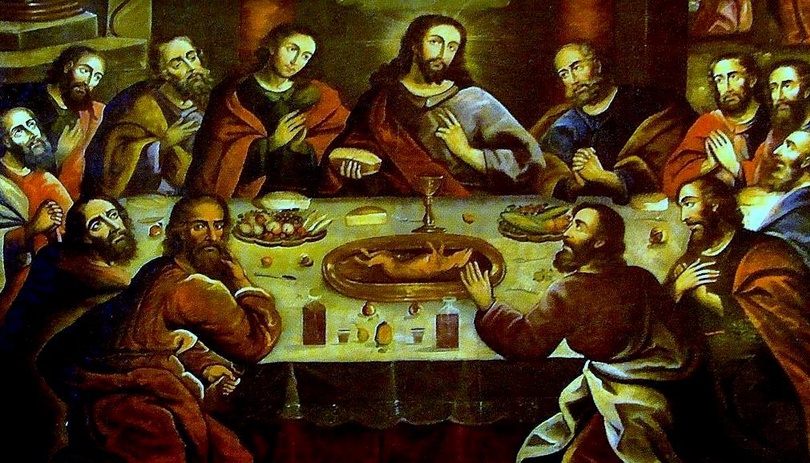 Od tej pory podążałem już tylko śladem gryzoni. W Peru wszystko jest niezwykłe. Mają ponad 4 tys. odmian ziemniaków, z czego uprawiają ponad 400. 54 odmiany kukurydzy. Najgłębszy kanion na świecie - rzeki Colca, najwyżej położone żeglowne jezioro - Ticitaca, źródła Amazonki, rzeki kilka lat temu uznanej za najdłuższą ze wszystkich, no i Machu Picchu, inkaskie miasto na szczytach gór, do którego nigdy nie dotarli konkwistadorzy. 
Ciśnienie atmosferyczne w górach wynosi około 570 hPa (u nas 1000), oddychać więc niezaaklimatyzowanym tu trudno i halucynacje też mogą się zdarzyć. Można więc zastanawiać się długo, czy to zwidy i mary, czy jednak prawda, że gdzieniegdzie, w jakimś niezwykłym kościele, Chrystus jest murzynem, a jeszcze gdzieś indziej ma dredy.
Są tu też przeróżne Matki Boskie - grubo ponad tysiąc, każda inna, w zależności od miejscowych wierzeń.
Są też szamani, którzy przesiadują w katolickiej katedrze. A wszystko to miesza się ze sobą i przenika bez opamiętania. I tak dzieje się od stuleci, do tego stopnia, że nawet konserwatywny kościół katolicki jest tu bardziej liberalny niż gdziekolwiek indziej. 
Ta upieczona świnka morska na "Ostatniej Wieczerzy" w katedrze w Cusco jest więc też prawdziwa i została namalowana, by nadać obrazowi lokalnej wyjątkowości. Poczciwe gryzonie znane nam z klatek, terrariów, filmów i książek, są w Andach lokalnym przysmakiem, jadanym od święta, albo przy szczególnych okazjach. Musiały więc być serwowane i u Jezusa w wieczerniku!
Świnka niemorska lecz górska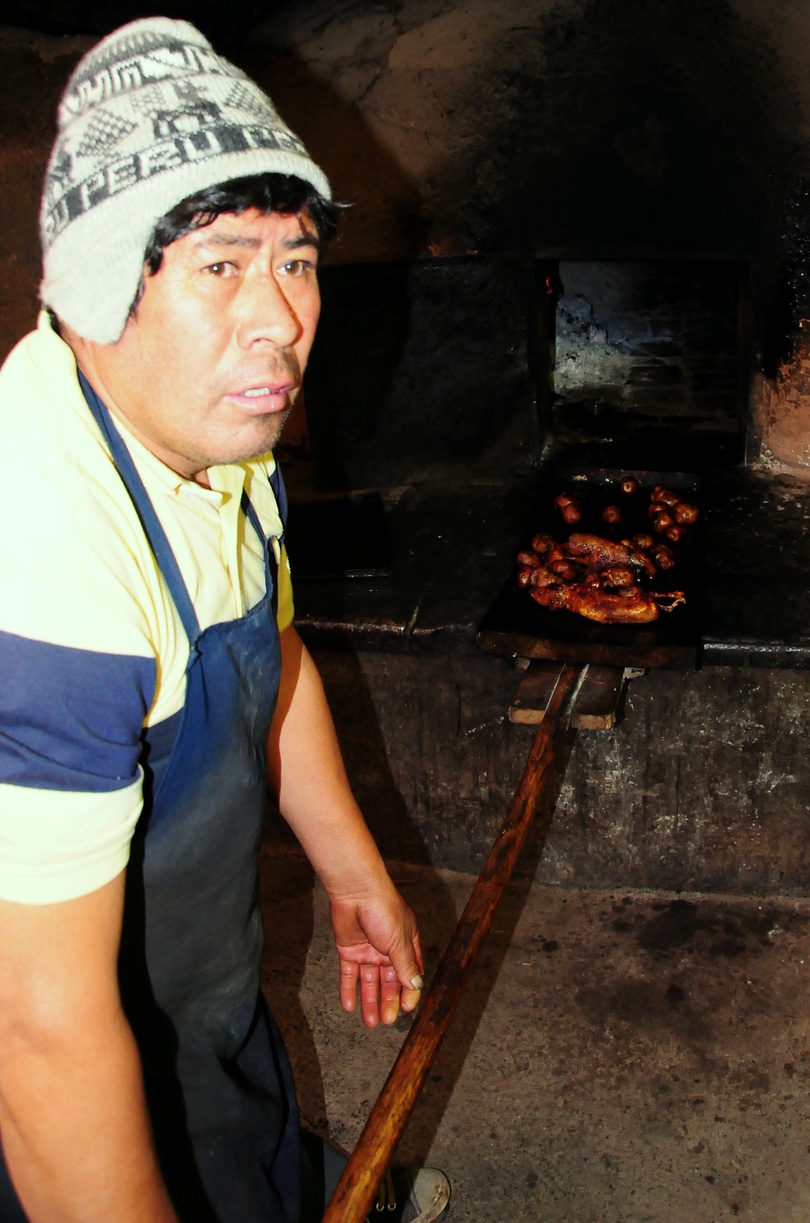 Natura świnki morskiej nie stworzyła. Zrobił to człowiek, jakieś 5 tys. lat przed Chrystusem, gdzieś na terenie dzisiejszego środkowego Peru, w górach.
Udomowił Cavia tschudii, gryzonia z rodziny marowatych, przypominającego trochę dzikiego królika. Zrobił to z braku mięsa. Zwierzęta szybko się rozmnażały (5 miotów rocznie, średnio po 3 małe w każdym), jeszcze szybciej rosły, jadły niewiele, głównie roślinne odpadki z kuchni. I tak zaczęły towarzyszyć przedinkaskim plemionom, zamiast świń, czy krów, których hodowla nie była tak prosta, jak gryzoni.
Stały się przysmakiem i źródłem białka.
Mięso świnek morskich jest chude, zawiera mało cholesterolu, dlatego są nadal głównym składnikiem diety wysokogórskich plemion Peru, Boliwii, Ekwadoru. 
Pewnie chcecie zapytać, czy ich spróbowałem? Zaszantażowałem Marka, że nie wrócę do Polski, jeśli nie zaprowadzi mnie na to wykwintne danie. Chyba się wystraszył, bo mocno zaangażował się w poszukiwania najlepszej gospody na górskim targowisku w Świętej Dolinie Inków, albo zwyczajnie miał już dosyć mojego marudzenia.
Zwierzaki, sztuk dwa, wyciągnięto z pieca. Przyrumienione, z chrupiącą skórką, w całej okazałości, tzn. z rozdziabionymi paszczami, z których wystawały urocze, żółte siekacze, oraz łapami sterczącymi do góry, jak na świętym obrazie z Cusco. Z ziemniakami prezentowały się smakowicie. Jadłem już przeróżne rzeczy: pieczone karaluchy i pająki w Kambodży, w Wietnamie ugotowane kacze jaja z zarodkami w środku, baranie jądra w Maroku, świeże serce węża w Chinach, więc mnie nie odrzuciło. Ale dla odwagi chwyciłem dużą szklankę z chichą, czyli podfermentowanym napojem z kukurydzy, wypiłem duszkiem i oderwałem sobie udko.
Było suche, smakowało dość wyraziście, jak skrzyżowanie mięsa królika z ciemną częścią kaczki. Świnki morduje się uderzeniem w głowę, później wrzuca do gorącej wody, by łatwo obrać je z sierści, a następnie przyrządza wedle uznania. Mieszkają zwykle tuż przy palenisku w domowej kuchni.
Dzieciaki się do nich nie przywiązują, bo w klatkach trzyma się ich kilkanaście i traktuje tak, jak u nas kury na wsi. W większości restauracji podaje się je grillowane, bądź upieczone w ognisku, na patyku, albo usmażone na patelni. W niektórych można dostać zupę, czy też potrawkę w glinianym garnku, oczywiście z ziemniakami.
Uwaga! W samym Peru zjada się 65 milionów sztuk rocznie!
Z prawdziwym szaleństwem na punkcie tego ssaka można się spotkać w peruwiańskiej prowincji Antonio Raimondi na wschodzie kraju, gdzie każdego roku odbywa się wielki Festiwal Świnek Morskich, uroczystość religijna, podczas której zjada się i obdarowuje tymi zwierzętami.
Natomiast w mieście Churin w prowincji Oyon, co roku w czasie lokalnego święta, tysiącom zwierzaków szyje się gustowne ubranka z wełny alpagi albo lamy, a poszczególne grupy rywalizują ze sobą, kto przyodział je piękniej.
Z wizytą u szamana
Świnki morskie do Europy trafiły po 1532 roku, a przywieźli je, oczywiście, konkwistadorzy. Rozpropagowali je hiszpańscy, holenderscy i angielscy handlarze, jako egzotyczne zwierzaki, chętnie kupowane przez arystokrację, jako maskotki. Małą hodowlę miała ponoć królowa Elżbieta I.
Kiedy i dlaczego zaczęto nazywać je świnkami? Nie wiadomo. Fakt, są podobnie zbudowane: mają stosunkowo podobny kształt ciała, dużą głowę, spory zad, emitują też podobne dźwięki. Polska nazwa jest transkrypcją z niemieckiego Merrschweinchen, co właśnie znaczy dosłownie świnka morska.
Na Starym Kontynencie nie przyjęły się jednak jako kulinarny przysmak, stały się maskotką, a w XIX ulubionym zwierzęciem doświadczalnym. Wszczepiano im rozmaite choroby, testowano nowe leki. Analizowano też na nich szkorbut, na który chorują podobnie jak człowiek, mają bowiem z mami ważną cechę wspólną - ani my, ani one nie potrafimy sami syntetyzować witaminy C, której brak jest właśnie przyczyną tej dolegliwości.
Cuy, tak nazywają świnki Indianie keczua, używane są także w Ameryce Południowej w medycynie ludowej. To nieodzowne narzędzie pracy szamana - uzdrowiciela. W celu wykrycia schorzenia, np. miejsca infekcji, należy gryzonia przyłożyć do ciała i pilnie wsłuchiwać się w wydawane przez niego dźwięki. Przeraźliwe piszczenie ma wskazywać miejsce zakażenia. Curandereos, czyli uzdrowiciele, szczególnie cenią te o czarnym umaszczeniu i stosują je do wykrywania reumatyzmu, żółtaczki, tyfusu i artretyzmu, a na podstawie ich wskazań przygotowują napary z leczniczych ziół.
Zbawienne ma być ponoć także pocieranie ciała odpowiednią, wybraną przez szamana świnką. 
Nie wszystkie jednak przeżywają te rytuały. Zdarza się bowiem i tak, że do przepowiedzenia przyszłości, albo wyleczenia potrzebne są wnętrzności czarnego osobnika. Te praktyki są powszechnie uznawane, a poziom zaufania do - w naszym rozumieniu - konwencjonalnej medycyny jest mizerny. Jak mówi Marek, lekarz w Peru to kiepski zawód:
- U nas ludzie rzadko chorują, a jeśli już coś się im przytrafi idą do babci, albo znajomego zielarza, który zawsze szybko i skutecznie pomoże.