Obok mnie przebiegł człowiek przebrany za krowę. Zaledwie w kilka minut cały plac zapełnił się wesoło pokrzykującymi ludźmi. Nagle ktoś poderżnął kozie gardło i krwią zwierzęcia obryzgał wielki, drewniany, złocony wóz, na którym wieziono małą, przestraszoną dziewczynkę.   
Plac Durbar to jedno z najważniejszych miejsc w Nepalu zarówno dla Hinduistów jak i Buddystów. Mnóstwo tu świątyń i stup, więc to właśnie w tym miejscu odbywają się najważniejsze święta tych największych religii Azji Południowej. Wiele z nich jest wspólnych, jak np. festiwal Indradźatra (Indra Jarta), czyli Indry - boga deszczu, pana nieba. Nazywany jest też świętem tańców, trwa osiem dni, a odbywa się na przełomie wrześnie i października, po południu, podczas zachodu słońca.
Tysiące osób tańczą na ulicach, składają ofiary, oddają cześć bogom przy specjalnie skonstruowanych na ten czas ołtarzach. Ale kluczowy jest dzień trzeci. Wówczas, tylko raz w roku na dłużej, ona opuszcza swój pałac. Wieziona na złoconej platformie ciągniętej przez wiernych, chroniona przez wojsko, otoczona świtą. Mała, przestraszona dziewczynka, z przesadnym makijażem, w kolorowych i bogatych szatach. Bez butów. Jest żyjąca boginią, wcieleniem bogini Teladźu (nepalskie imię indyjskiej Durgi). 
W każdym bardziej znaczącym mieście mieszka co najmniej jedna. Ale najważniejsza jest ta ze stolicy, z Katmandu, nazywana królewską. Do obalenia monarchii co roku błogosławiła władcę, za co ten obdarowywał ją złotą monetą. Teraz jej stopy całuje prezydent, bo samo jej dotknięcie ma gwarantować szczęście. Ale Kumari zazwyczaj szczęśliwe nie są. Ich życie zmienia się drastycznie, kiedy tylko w małej dziewczynce rozpoznana zostanie bogini. 
Rozpoznać 32 boskie cechy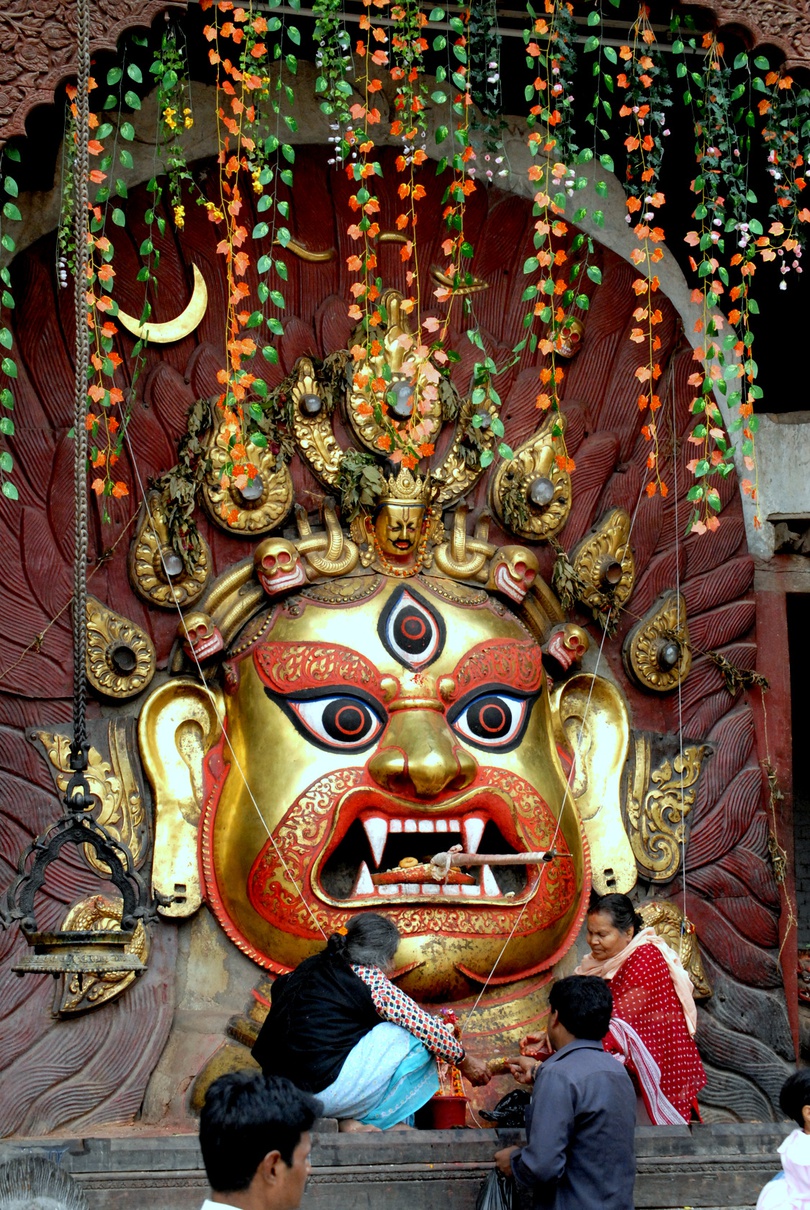 Kumari wybierana jest od wieków tylko spośród jednego rodu nepalskiego - rodziny Shakya, złotników z ludu Newarów, z którego pochodził też Budda. Muszą w niej zostać rozpoznane 32 boskie cechy. Wyboru dziesięciu kandydatek dokonuje specjalny zespół złożony z 4 kapłanów i królewskiego astrologa. Przypomina to trochę tybetański zwyczaj poszukiwania nowego wcielenia Dalajlamy.     
Po pierwsze, jej matce powinien przyśnić się czerwony wąż. Dziewczynka przede wszystkim musi być doskonałego zdrowia i szczycić się posiadaniem 20 zębów - nie mogła stracić ani jednego. Na jej ciele nie może znaleźć się ani jedno znamię. Włosy musi mieć kruczo czarne, rzęsy jak krowa, ciało jak figowiec banian, uda jak jeleń, klatkę piersiową jak lew, a głos miękki niczym kaczka. I najważniejsze: nie mogła krwawić - dlatego Kumari można zostać tylko przed pierwszą menstruacją. Wszystkim kandydatkom stawia się też horoskop, każda obserwowana jest pod kątem zachowania (trzeba sprawdzić czy przystoi ono bogini), analizowana jest jej cała rodzina. Po pierwszej selekcji, dziesięć wybranek kwalifikowanych jest do testu potwierdzenia. Kumari musi dowieść swojej odwagi.
Podczas czarnej nocy dla bogini Kali składa się w ofierze 108 bawołów i kóz. Ich odcięte głowy rozłożone zostają na dziedzińcu świątyni Teladźu, oświetlone świecami. Wokół nich tańczą zamaskowani mężczyźni. Wcielenie bogini ma przejść obok nich niewzruszone, nie zapłacze, nie skrzywi miny.  
Jeśli kandydatka się nie przerazi, nie rozbeczy i nie ucieknie, może zostać dopuszczona do próby przedostatniej: z obciętymi głowami zwierząt ma sama spędzić noc, także bez oznak strachu. Dopiero wówczas przychodzi czas na finalny test. Musi rozpoznać rzeczy należące do jej poprzedniczki, choć nigdy ich nie widziała. To jest ostateczne potwierdzenie, że bogini obecna jest w ciele właśnie tej małej dziewczynki.
Przeżyć boskie życie
Odnaleziona Kumari opuszcza rodzinny dom. Przechodzi szereg tajnych, oczyszczających, tantrycznych rytuałów, które mają uwolnić ją od przeszłości. Udaje się na ostatni spacer, bo za chwilę jej stopy nie będą już mogły dotknąć ziemi, gdyż bogom to nie przystoi.
Od tej pory będzie noszona w lektyce, a jeśli już będzie chciała zrobić kilka kroków, to tylko po specjalnych platformach. Nie będzie więc nosiła butów, a jej nogi ewentualnie osłaniać będą czerwone pończochy. Kumari Królewska w Katmandu zamieszka w pałacu przy placu Durbar.
Bogini bez szkoły
Do 2008 roku boskie wybranki nie uczyły się niczego, bo bogowie są wszechwiedzący. Dopiero trzy lata temu sąd najwyższy orzekł, że mogą pobierać nauki. Według tradycji, nie powinny być też objęte opieką medyczną, bo bogowie nie chorują, a niedomaganie jest oznaką opuszczania ciała dziewczynki przez boginię.
Życie Kumari jest usłane różami. Nie musi się martwic o nic. Ma sztab sług, którzy dbają o nią jak przystało na boginię. Kąpią, ubierają, karmią, malują, wożą w złotej lektyce, przygotowują do wypełniania boskich obowiązków. Pałac opuszcza rzadko, tylko z okazji kilku najważniejszych świąt. Z rodziną widzi się sporadycznie, a spotkania pozbawione są jakiejkolwiek czułości. Ona ma teraz tylko przynosić szczęście.
Codziennie pod jej oknem przechodzą tłumy w nadziei, że choć przez chwilę ją zobaczą, kiedy przemieszcza się między komnatami na trzecim piętrze pałacu, odgrodzona od ludzi drewnianą kratą. Przychodzą do niej najważniejsze osoby w kraju, po wróżbę, którą odczytuje się z reakcji Kumari na wizytę. Kiedy płacze lub głośno się śmieje, oznacza to poważne choroby, bądź nawet śmierć. Kiedy pociera oczy - nagły zgon, jeśli drży - ktoś trafi do więzienia. Najlepszą wróżbą jest milczenie i brak jakiejkolwiek reakcji. Raz w roku po błogosławieństwo przychodził do niej król, teraz prezydent. I tak żyją Kumari około 8 lat. Aż... dostaną pierwszej miesiączki, co oznacza, że Teladźu wybrała już inne wcielenie. Dotychczasowa Kumari musi opuścić pałac i wrócić do życia normalnych śmiertelników, do rodzinnego domu.
Od państwa dostaje dożywotnią, miesięczną emeryturę w wysokości 6 tys. nepalskich rupii, co odpowiada mniej więcej 80 dolarów - to równowartość podwójnego najniższego, oficjalnego wynagrodzenia w Nepalu i czterokrotność rzeczywistych dochodów przeciętnego obywatela.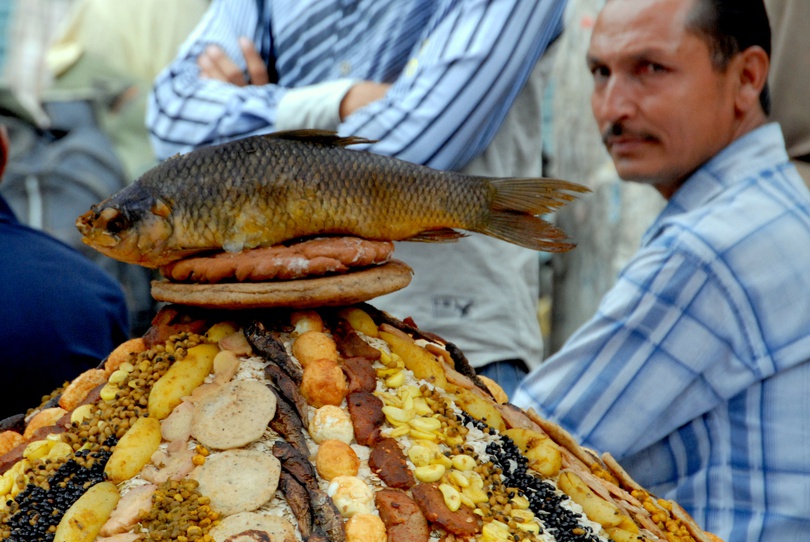 Oczywiście, ma ogromne problemy z adaptacją. A na dodatek funkcjonuje bardzo powszechny przesąd: ślub z byłą Kumari zazwyczaj kończy się śmiercią delikwenta, w ciągu sześciu miesięcy od zawarcia związku małżeńskiego, z powodu... plucia krwią. Od 1978 r. ani jedna Kumari nie wyszła więc jeszcze za mąż.
Kumari stracona i odnaleziona
29 września 2008 r. dotarłem do Katmandu, gdzie rozpoczynałem wyprawę po Nepalu i Indiach. Wieczorem, chcąc zobaczyć jak żyje to miasto nocą, wsiadłem pod hotelem w rikszę i po raz drugi tego dnia znalazłem się na placu Durbar. Zupełnie nieplanowo. W parę chwil otoczył mnie tłum, pomiędzy który wciskał się sznur tancerzy w maskach przedstawiających zwierzęta i demony. Pochodnie, kadzidła, śpiewy i szpaler żołnierzy pilnujący bezpieczeństwa. Po chwili z pałacu wyjechał lśniący, złoty wóz. Wieziono na nim niewzruszoną nastolatkę. Jakiś mężczyzna zarżnął przede mną kozę, a jej krwią oblał wóz. Tak na szczęście. Tą dziewczynką była Kumari odnaleziona w 2001 r. Tłum wiwatował na jej cześć, wielbiąc swoją żyjącą boginię. Kilkanaście dni później, będąc już w Indiach wpadła mi w ręce gazeta, a w niej artykuł informujący, że 9 października o godz. 11.39 ogłoszono światu odnaleziono nowego wcielenia Kumari Królewskiej z Katmandu. Jest nią trzyletnia wówczas Matina Shakya. Poprzedniczka została opuszczona przez Teladźu, czego dowodem miała być menstruacja. Dwunastolatka znów stała się zwykłą Preeti Shakya i w potoku łez wyprowadzona została z pałacu. Wróciła do rodziców, do Itumbahal. Świat się zmienia: dziewczyna ma swój profil na Facebooku.