Biały turysta w Himalajach to ktoś, kto niesie wsparcie. Bandaże, pieniądze, albo bigos. Ale nigdy za darmo! Bo rozdawnictwo to coś ekstremalnie haniebnego. To przez nie Bartosz Malinowski, idąc z Joanną Lipowczan Wielkim Szlakiem Himalajskim, musiał się uchylać przed kamieniami, ciskanymi przez dzieciaki.
Wielki Szlak Himalajski – utworzony w 2011 roku, prowadzi z rejonów Kangczendzongi na wschodzie do Api-Saipal na zachodzie Nepalu. W 2015 roku Bartosz Malinowski i Joanna Lipowczan przeszli 1700 kilometrową trasę samodzielnie, bez wsparcia przewodników czy tragarzy. Byli pierwszymi Polakami, którym się to udało. Wyprawę opisali w książce "Wielki Szlak Himalajski. 120 dni pieszej wędrówki przez Nepal". 
Dorota Ziemkowska: Wielki Szlak Himalajski powstał w 2011 roku, jednak nadal nie ma ani jednego przewodnika, który by go dokładnie opisał. To dlatego, że z powodu trzęsień ziemi i osuwisk ukształtowanie terenu ciągle się tam zmienia?
Bartosz Malinowski: Trochę tak. Ale przede wszystkim dlatego, że to jest dość ekstremalny, skomplikowany i niebezpieczny szlak. Myślę, że sam przewodnik to to nie wszystko, potrzebna jest spora wiedza i doświadczenie, umiejętność nawigacji, wytyczania drogi   i niezawodna intuicja. Bo są tam takie miejsca, jak na przykład region między szczytami Kanczendzonga a Makalu czy daleki zachód Nepalu, co do których nawet turystyczne agencje nepalskie nie potrafią udzielić odpowiedzi na podstawowe pytania, ponieważ organizuje się tam bardzo mało wypraw, albo wcale. Wejście na Wielki Szlak Himalajski to wyprawa w nieznane, więc trzeba być przygotowanym na wszystko, bo tak naprawdę nigdy nie wiesz, co cię tam może spotkać.

W waszym przypadku wiązało się na przykład z tym, że raz pogubiliście się wzajemnie na kilkanaście godzin. 
No zdarzyło się. To było w dżungli na wschodzie Nepalu. Jedno z nas poszło w lewo, drugie w prawo. Była mgła, padał deszcz, dął silny wiatr. A z czasem na dodatek zaczęło się robić ciemno. Na szczęście jedno z nas doszło do wniosku, że stanie w miejscu i zaczeka, aż drugie je znajdzie. Inaczej moglibyśmy nigdy na siebie nie trafić. 
Ale takie sytuacje się zdarzają, kiedy nie masz pojęcia, którędy iść. A na Wielkim Szlaku Himalajskim tak jest tak często, bo przecież nie ma tam żadnych oznaczeń. On istnieje właściwie tylko z nazwy, więc często godzinami szukasz właściwego przejścia. Jedna osoba z ekipy idzie przodem. Gdy dociera do rzeki, to szuka odpowiedniego miejsca, gdzie można przez nią przejść. Jak jest zbyt głęboko, zbyt wartki nurt, szuka dalej. I tak do skutku, więc długie rozłąki się zdarzają, nawet kilkugodzinne. Ale na tym właśnie polega cała frajda. Wtedy właśnie możesz się sprawdzić. To jest ekstremalne wyzwanie.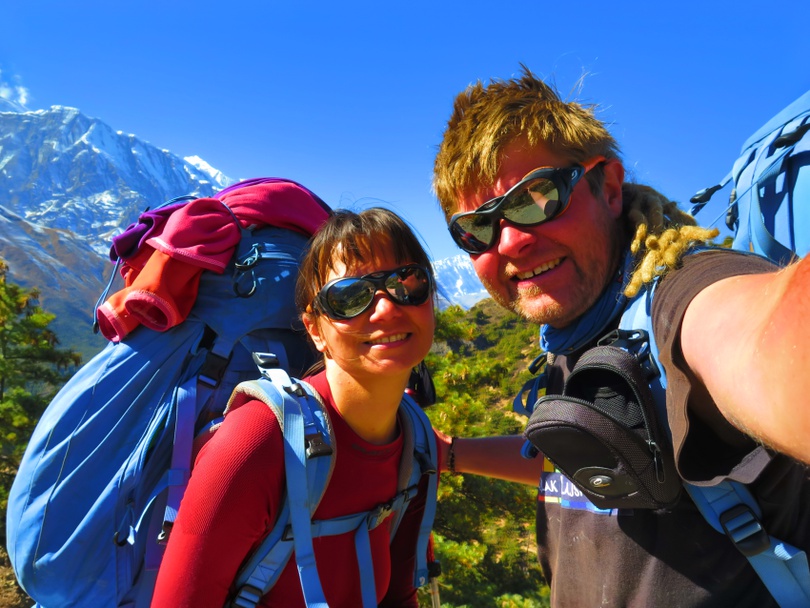 Na szlaku nie ma żadnych oznaczeń, nie ma również bazy noclegowej. W związku z czym czasami musieliście nocować u miejscowych. W Nepalu jest jednak kilkadziesiąt grup etnicznych, kierujących się różnymi zasadami. Są jakieś uniwersalne, o których trzeba pamiętać?
Jasne. Na przykład podawać cokolwiek, czy witać się, można tylko prawą ręką. Bo lewa jest nieczysta. Nie wolno też wyrzucać śmieci do ognia, na którym się coś gotuje, bo jest on uznawany za święty. Takich zasad jest całkiem sporo, jednak najważniejsze jest coś zupełnie innego. To, jak będziemy reagować na bezinteresowną pomoc, której udzielą nam ci ludzie. 
To znaczy?
Wyobraź sobie: wchodzisz do wioski, w której zamierzasz nocować. Witają cię tam serdecznie. I dają absolutnie wszystko. Herbatę, jedzenie, miejsce do spania. Na pierwszy rzut oka wydaje się, że jest świetnie. Ale gdy się bliżej przyjrzysz, to okaże się, że oni sami borykają się z problemem głodu. Bo w trzęsieniu ziemi, które było w 2015 roku, pola, gdzie zwykle rosło proso czy ryż, zamieniły się w wielkie osuwiska kamieni. A większość zwierząt zginęła. Tymczasem do wielu wiosek pomoc humanitarna jeszcze nie dotarła, lub dociera rzadko. Ludzie prawie niczego nie mają, a i tak się tym podzielą, bo wędrowca trzeba przyjąć jak najlepiej.
I co robiliście w takiej sytuacji? Odchodziliście?
Tak, czasami grzecznie dziękowaliśmy. Trzeba to zrobić bardzo dyplomatycznie, żeby nikogo nie urazić. Czasami można zostać, ale zrezygnować z poczęstunku i widząc, że sytuacja w wiosce jest trudna, zamienić się rolami. Wyciągnąć z plecaka jakieś liofilizaty [jedzenie specjalnie zakonserwowane, najpierw zamrożone, a potem wysuszone – przyp. red.] i poczęstować miejscowych. Wiesz, jak to fajnie buduje relację? Patrzą na nas zdziwieni, bo otwieramy coś z plastikowej torby, nie wiadomo, co to jest, zalewamy wrzątkiem, i gotowe. A u nich najprostsze jedzenie przygotowuje się przez trzy godziny. Jemy razem, rzadko coś mówimy, bo bariera językowa jest, ale uśmiechamy się do siebie, patrzymy na reakcje. 
I co, smakuje im nasze jedzenie?
Zwykle tak. Tylko do bigosu nie mogą się przekonać. Staramy się tłumaczyć, że to tradycyjne, polskie danie, nasz specjał. Nic z tego, jakoś im on nie pasuje. 
Jak rewanżujecie się za przysługę?
Na przykład udzielając pomocy medycznej. Bo biały w Himalajach utożsamiany jest zawsze z kimś, kto niesie takie wsparcie. Więc kiedy wchodzisz do wioski, położonej w jakimś odległym regionie, to nagle zbiegają się do ciebie wszyscy mieszkańcy. Każdego coś boli – tu ręka, tam głowa, tu zdarcie, tam rozcięcie, gdzieś złamanie. I oczywiście, trzeba uważać z tą pomocą, bo raz - nasza apteczka nie jest bez dna, a dwa – nie jesteśmy lekarzami, więc nie możemy rozdawać tabletek, jak nam przyjdzie do głowy. Ale kiedy nocujesz u jakiejś rodziny i gospodarz prosi o pomoc dla córki, która głęboko się skaleczyła, a w całej wiosce nie ma jednego bandaża, to oczywiście, pomagamy. Bo inaczej dziewczyna dostanie zakażenia i umrze.
A co z pieniędzmi? W różnych kulturach do płacenia przez gościa różnie się podchodzi. Zwykle jest to jednak kategorycznie wykluczone.
Oczywiście, że płacimy. Nawet nie wiesz, jak bardzo nawet drobne kwoty mogą im pomóc. Zostawiasz rodzinie kilka dolarów, a ona dzięki temu będzie mogła wysłać dzieciaki do szkoły. Choć kilkoro z nich nie będzie analfabetami, wykształci się w podstawowym zakresie. W odległych regionach Himalajów ludzie czasami nie chcą pieniędzy, to prawda. Bo jak mówiłem – gość jest najważniejszy, jemu się pomaga, a nie bierze od niego cokolwiek. Ale nie ma strachu, że kogoś urazisz. Jak nie będzie chciał, to nie przyjmie pieniędzy. Wtedy można podziękować inaczej. Pójść na łąkę, pozbierać odchody jaków, bo w Himalajach to podstawowy opał.  Albo zrobić wspólne zdjęcie i pamiętać, żeby potem je tej rodzinie przesłać. Wiesz, jaka to jest dla nich świetna niespodzianka?
Mówisz o zdjęciach, a gdyby ktoś chciał rozdawać inne podarunki?
Nie, kategorycznie nie. Ja jestem bardzo wrażliwy na tym punkcie. Zdjęcia owszem, można, bo to jest rodzaj zapłaty. Jednak rozdawanie czegokolwiek mijanym ludziom, a już w szczególności tamtejszym dzieciakom, jest czynem ekstremalnie haniebnym. Baloników, długopisów, drobnych przedmiotów, a już nie daj Boże słodyczy czy pieniędzy. Dlaczego? Bo kreuje się w ten sposób wizerunek białego, jako osoby bogatej, która wszystko oddaje za nic. I tak oto biały daje czekoladki. Potem tamte dzieciaki całymi watahami biegną za grupą turystów i krzyczą: Chocolate, chocolate, chocolate.
Ale biały na dentystę potem już nie daje.
Tak, ale to nie wszystko. W popularnych turystycznie regionach dzieciak jest w stanie wyprosić od turystów jednego dnia 10, nawet 20 dolarów. A średnia pensja w Nepalu to około 120 dolarów miesięcznie. To po co ludzie mają w związku z tym pracować, jeśli mają piątkę czy szóstkę dzieci i każde z nich przynosi taką kasę.
W bardzo krótkim czasie prowadzi to do wyzysku. W niektórych miejscach te dzieci już zawodowo zajmują się żebractwem, a rodzice przestają pracować i wpadają na przykład w alkoholizm. Do czegoś takiego prowadzi pomoc, która jest nieprzemyślana. A jeśli w takim miejscu nie dasz na przykład słodyczy, to zobaczysz, jak dzieciaki rzucają w turystów kamieniami czy strzelają z procy.
Spotkało cię coś takiego?
Niestety tak, to był zbiorowy obłęd. Wyobraź sobie: przechodzisz przez wioskę, a nagle zaczyna biec za tobą ze trzydzieści dzieciaków. I wrzeszczą wniebogłosy. Biegną i biegną za tobą, przez pół godziny. I wciąż krzyczą. Nie ma w tym nic miłego. To jest po prostu przerażające, do czego my sami, turyści, nieodpowiedzialni, bez krzty zdrowego rozsądku, doprowadziliśmy. Jak bardzo zmieniamy tamto środowisko totalnie nieprzemyślanymi zachowaniami.
Jakieś inne przykłady?
Problem z plastikowymi butelkami po wodzie. Na dużych wysokościach musimy wypijać jakieś pięć, sześć butelek dziennie. Mało kto jednak zastanawia się nad tym, co się z nimi dzieje. Zostawia w wiosce u mieszkańców i uważa, że ma problem z głowy. On może tak, ale ci ludzie kompletnie nie wiedzą, co mają z tym zrobić. I w konsekwencji butelki najczęściej trafiają do rzeki. Podam ci taki przykład, który doskonale obrazuje, jaki to jest problem. Taki region Annapurny w Himalajach jest odwiedzany rocznie przez ponad 20 tysięcy osób. Trekking trwa od 10 do 15 dni. I każdy z turystów wypija pięć butelek dziennie. Co daje każdego roku blisko 1,5 miliona opakowań, które są po prostu wyrzucane, gdzie bądź. W większości do rzeki.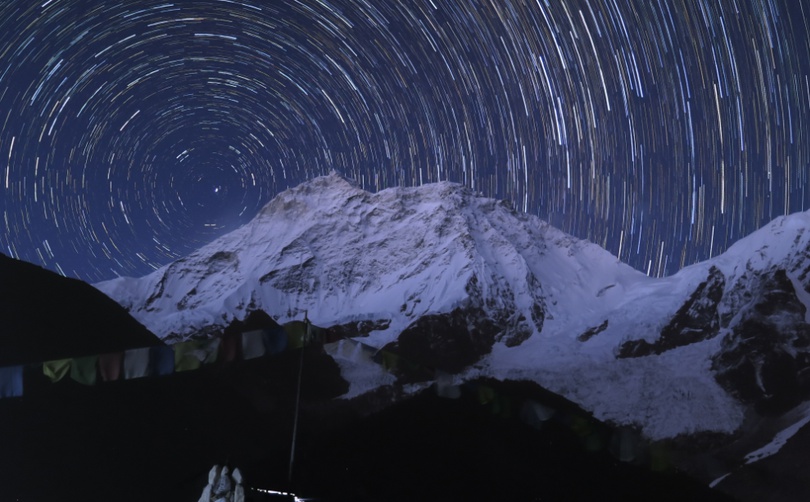 Jak to, nikt nie pomyślał o tym, żeby ustawić tam jakieś kosze, skoro to taki popularny region?
Problem leży głębiej. W tym, że tych ton śmieci nie da rady zwieść z gór. Pomysły, jak rozwiązać ten problem, są realizowane źle. My, turyści, płacimy potężne pieniądze za zezwolenia na wstęp na teren parku narodowego, za różnego rodzaju permity, które pozwalają na poruszanie się po jakimś regionie Himalajów. To są kwoty od 20 do nawet 500 dolarów. Ale te pieniądze, gigantyczne pieniądze, są marnowane. Nie trafiają do lokalnej ludności, nie są przeznaczane na edukację, informowanie, jak mają się zachowywać, zwłaszcza teraz, po 2011 roku, kiedy władze uruchomiły Wielki Szlak Himalajski. Efektem jest koszmarny chaos. Przykład: na niektórych popularnych odcinkach budowane są od jakiegoś czasu wielkie filtry na wodę, właśnie z myślą o trekkerach. Można z nich kupić wodę za równowartość jakiś 10 groszy. Ale już sami przewodnicy nepalscy nie mówią o tym swoim klientom. Patrzą, jak tamci kupują dziesiątki butelek po trzy, cztery dolary, i mają to gdzieś.
Myślisz, że to może się zmienić?
Tak, ale najprawdopodobniej na gorsze. Nepal powoli pogrąża się w tym chaosie, a turystyka wysokogórska, według mnie, pomału wymyka się spod jakiejkolwiek kontroli. Jeśli zarówno turyści, jak i przewodnicy, nie będą tam edukowani, to w bardzo krótkim czasie, w przeciągu czterech, sześciu lat, popularne regiony, takie, jak Khumbu czy okolice Annapurny, przestaną przyciągać podróżników. Już teraz, w popularniejszych miejscach, wszystko jest zadeptane i zaśmiecone.
I są kolejki na szczyt, jak na Gubałówce?
No, zdarza się, że w pobliskiej wiosce nie ma kompletnie żadnej możliwości przenocowania, wszystkie gesthousy zajęte. Ale najgorsze, że właśnie w takich miejscach Nepalczycy już się przyzwyczaili do tego, o czym mówiłem. Że biały przynosi pieniądze. Pracują dla turystów, ale nie potrafią już z nim nawiązać żadnego autentycznego kontaktu. Są jak dzierżawca schroniska PTTK. Liczy się tylko zarobek, a turysta to już jest dla nich tylko i wyłącznie klient.