Kiedy koledzy z redakcji, z którą związany byłem przez kilkanaście lat, pytali mnie, dokąd tym razem się wybieram, a ja mówiłem, że znowu do Egiptu, z niedowierzaniem pukali się w czoło. To miała być moja kolejna wyprawa do kraju faraonów, więc nic dziwnego, że patrzyli na mnie jak na wariata, który zamiast szukać nowych atrakcji i poznawać inne kraje, znów jedzie w te same miejsca. Nie, nie w te same! Wyjazd był krótki, bo tylko ośmiodniowy, a cel jeden - Dendera. - Bo tam są starożytne żarówki - odpowiadałem z przekąsem, a miny rozmówców jeszcze wyraźniej zdradzały, co sądzą o mnie i moich planach.
Reportaże z moich podróży po Bliskim Wschodzie znajdziecie w mojej najnowszej książce, która niedawno trafiła do księgarń. "Set Maat - siedlisko prawdy. Wędrówki po Egipcie, Izraelu, Jordanii i Maroku" znajdziecie m.in. w Empikach, salonach Matrasu i w internecie.
Egipt od zawsze mnie fascynował. Po pierwsze, dlatego że kiedy w naszej części świata przodkowie Polaków - pomazańców bożych, najbardziej dumnego i zarozumiałego narodu świata, biegali w skórach i zamieszkiwali jaskinie, nad Nilem kwitła najwspanialsza cywilizacja, którą ludzkość zdołała do tej pory stworzyć.
Po drugie, bo już jakieś 2 tys. lat przed Chrystusem, starożytne świątynie poświęcone były triadom bóstw, które stanowiły jedność, więc chrześcijańska Trójca Święta nie jest oryginalna i ma swoje korzenie właśnie tu.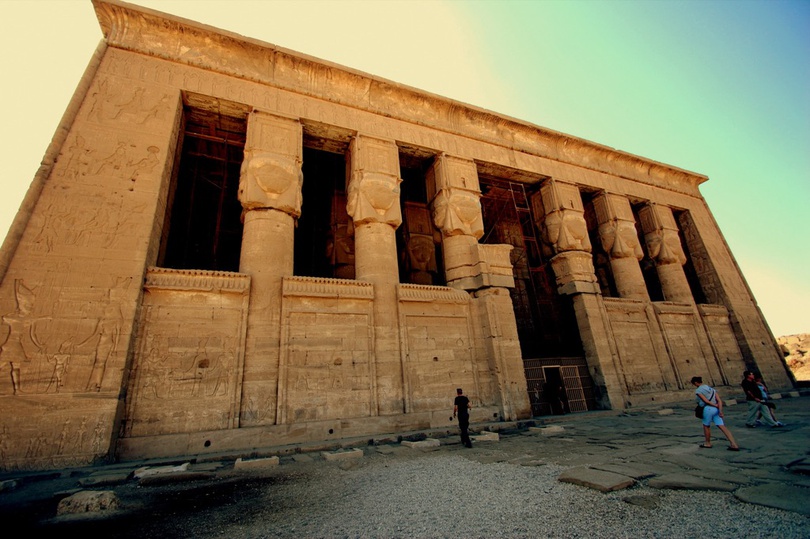 Po trzecie, ze względu na niepodważalny fakt, że nikt inny na świecie, w tym także w Polsce, nie zbudował niczego tak monumentalnego, co w dodatku przetrwałoby w doskonałej, niezmienionej formie ponad 4,5 tys. lat, tak jak piramidy w Gizie, które nadal są cudem świata.
Po czwarte, bo współcześni lekarze nadal potrafią spartaczyć wycięcie wyrostka robaczkowego, a medycy faraonów przeprowadzali misterne operacje neurochirurgiczne, ich pacjenci przeżywali, żyli potem długo i szczęśliwie, co nie jest normą nawet w dzisiejszej medycynie.
Po piąte, dziesiąte i dwudzieste... No i wreszcie, przede wszystkim ze względu na tajemnice. Starożytny Egipt wciąż nie jest całkowicie odkryty. Pod piaskami pustyni czekają skarby faraonów i kapłanów, zamknięte w nienaruszonych grobowcach. Nadal nie wiadomo, jak tak naprawdę budowano kolosalne świątynie i piramidy, a wiele inskrypcji zapisanych w hieroglifach wciąż czeka na poprawne zinterpretowanie. Tak jak te ze świątyni bogini Hathor, która znajduje się w Denderze.
Niezwykłe światło
Raczej nie czytam fantastyki ani dzieł pseudonaukowych. Von Dänikena musiałem wziąć do ręki, bo skoro tak pokochałem starożytny Egipt, to nie wypadałoby nie znać jego poglądów. Ale nie wierzę, jak on, że piramidy budowali kosmici. Z wrodzonym sceptycyzmem podszedłem też do dzieła Petera Krassa i Reinhard Habeck'a pt.: Światło Faraonów - najwyższe technologie i prąd elektryczny w starożytnym Egipcie, ale skuszony ceną (10 zł) nabyłem i zacząłem czytać.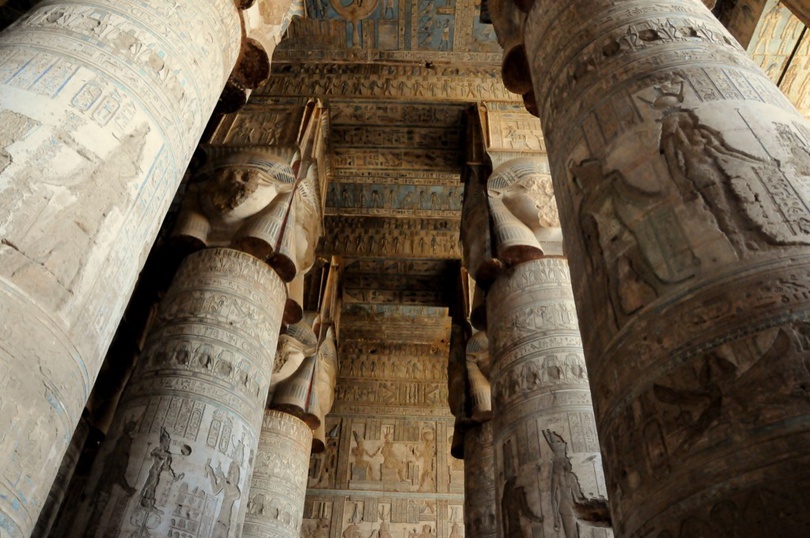 "Pomieszczenie, w jakim się znaleźliśmy, zalegały ciemności, które z powodzeniem można by określić mianem egipskich. Nikt nie przeczuwał, że za chwilę stanie się coś tak nieprawdopodobnego. Wydarzenia, jakie tu nastąpiły, były dla nas całkowitym zaskoczeniem. Nagle przestrzeń wypełniła się przypominającym błyskawice światłem, które wśród niesamowitych trzasków, niczym ognie św. Elma, układało się w powyginane gałęzie. Następnie między obydwoma końcami dużej szklanej kolby zaczął wić się znienacka wąski ognik, wydając jednocześnie syczący dźwięk, przypominający odgłos jadowitego węża. Pomieszczenie zalało się jasnym blaskiem, w którym na kilka sekund widoczne stały się zarysy umieszczonej w laboratorium aparatury.
Jak płonący dywan albo jaskrawo świecąca skóra ładunek elektryczny wypełniał od wewnątrz szklane ścianki gruszkowatego przyrządu. Wszystko dookoła pogrążone było w widmowym, niebieskawym świetle. Obserwowaliśmy to osobliwe zdarzenie w całkowitym milczeniu, niezdolni do jakiejkolwiek reakcji. Choć nikt z nas nie spodziewał się takiego wyniku eksperymentu, wszelkie nasze przypuszczenia potwierdziły się: korzystanie z energii elektrycznej nie było bynajmniej odkryciem dopiero co minionego stulecia. To nie Duńczyk Hans Christian Oerstedt (1777 - 1851), nie Anglik Michael Faraday (1791 - 1867) i nie Amerykanin Thomas Alva Edison (1847 - 1931) byli pionierami w tej dziedzinie - wiedzę o istnieniu energii elektrycznej i umiejętność jej zastosowania egipscy kapłani posiadali już wiele tysięcy lat temu. Już oni potrafili uczynić z nocy dzień, rozświetlić ciemne pomieszczenia. I to nie tylko za pomocą prymitywnych pochodni, lamp oliwnych czy naftowych. Stosowane przez nich źródło światła już w tamtych czasach opierało się na - elektryczności. Hipotezę tę potwierdzają zarówno przekazy plastyczne, jak i pisemne, które dostarczają dowodów na to, iż wysocy słudzy egipskiej świątyni na długo przed naszą erą potrafili wykorzystać istniejące w przyrodzie możliwości." 

O co chodzi? Krassa i Habeck tak opisali eksperyment, który przeprowadził austriacki inżynier Walter Garn, który zbudował model żarówki w oparciu o to, co zobaczył na płaskorzeźbach w świątyni w Denderze.
Bateria bagdadzka
Książkę pochłonąłem w jeden wieczór. Do rana szukałem w internecie kolejnych informacji i zdjęć. Kiedy zobaczyłem pierwsze rysunki żarówek z Dendery wykonane w 1869 r. przez francuskiego archeologa Augusta Mariette'a, a później zdjęcia zrobione kilka lat temu przez współczesnych naukowców, pomyślałem: - Cholera, coś w tym jest. Trzeba tam jechać.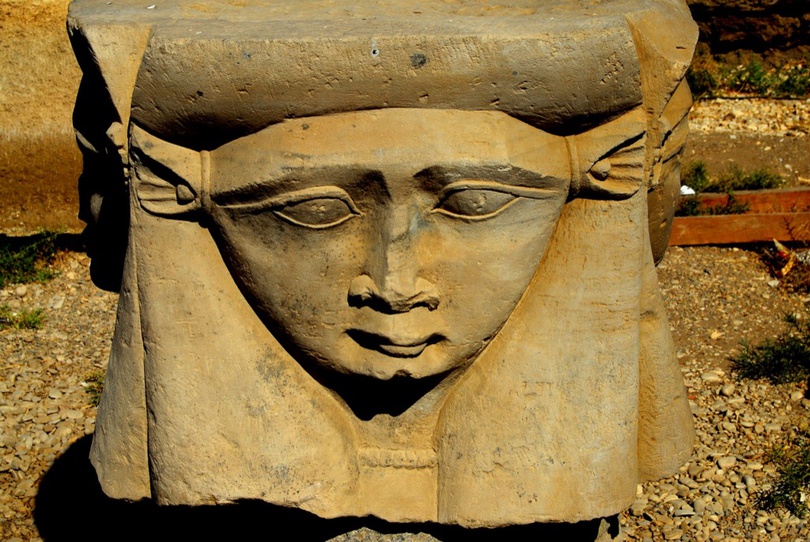 Ostatecznie przekonała mnie informacja, że Walter Garn w swoim eksperymencie jako źródła prądu użył modelu tzw. baterii bagdackiej. W 1936 r. pod Bagdadem odkryto pozostałości miasta Partów, starożytnego królestwa, trwającego między III w. p.n.e. a III w. n.e. Wśród znalezionych zabytków było gliniane naczynie, wypełnione wyschniętym, sfermentowanym sokiem z winogron, w którym tkwił miedziany pręt.
Podobnie zbudowane są dzisiejsze baterie, w których prąd wytwarzany jest dzięki różnicy potencjałów. Naukowcy stwierdzili, że jest to prawdopodobnie starożytne ogniwo, które mogło służyć np. do pozłacania przedmiotów. Jak się okazało, mogło wytwarzać prąd o napięciu 0,5 V, co już wystarczy do galwanizacji.
Skoro więc elektryczność wykorzystywano na Bliskim Wschodzie 1700 lat przed doświadczeniami Galvani'ego i Volty, to dlaczego nie w starożytnym Egipcie?
Wyprawa
Dwa tygodnie później już byłem w Egipcie. W hotelu w Luksorze studiowałem wszystko, co udało mi się zdobyć na temat świątyni w Denderze. Pierwsze obiekty sakralne powstały tutaj 2500 lat p.n.e, w czasach Starego Państwa, czyli kiedy budowano piramidy w Gizie. To, co stoi dzisiaj, powstawało między 150 r. p.n.e. a rokiem 60 n.e.. Jest to sanktuarium bogini Hathor, patronki miłości, tańca, muzyki. To tu była jej główna siedziba, to tu działała jedna z najważniejszych egipskich wyroczni przepowiadających przyszłość. Denderę szczególnie upodobała sobie słynna Kleopatra i to jej wizerunek zdobi główną fasadę.
Tutejsza świątynia jest najlepiej zachowanym domem bożym w całym Egipcie i zarazem zupełnie innym niż wszystkie. Nie ma tu posągów, obelisków, ani pylonów. Jest natomiast wspaniały pawilon z trzema kondygnacjami, przykryty oryginalnym dachem. Bliźniaczy - i co ciekawe, też bardzo dobrze zachowany - znajduje się w odległej o kilkaset kilometrów Esnie. To, co widać na powierzchni, to tylko dwie piąte całości. Pod budowlą znajdują się tajemnicze krypty i to właśnie je musiałem zobaczyć.
Do Dendery z Luksoru dojechałem wynajętym mikrobusem. Mogłem romantycznie popłynąć Nilem, ale rejsy po tej rzece, prawie takim samym statkiem jak Agatha Christie w Śmierci na Nilu, zaliczyłem już kilkakrotnie podczas wcześniejszych wypraw. Zresztą, nie miałem na to ani czasu, ani ochoty, bo podczas każdego spływu chorowałem w toalecie. Wszystko przez instalacje wodne na tych krążownikach, które raczej nigdy nie są dezynfekowane i samo umycie zębów w kajucie przyprawia o rozstrój jelit.
Kiedy w końcu dotarłem na miejsce, ogarnął mnie błogostan. Wokół panowała majestatyczna cisza - nie było milionów turystów szturmujących najsłynniejsze miejsca w Egipcie, takie jak Dolina Królów, świątynia Hatszepsut czy okręg Amona-Ra w Karnaku. Dendera wciąż nie jest odkryta przez topowe biura podróży, więc mało która wycieczka tu zagląda. Ruszyłem do środka.
Łapówka
Szybko obejrzałem pierwszy poziom świątyni z myślą, że wrócę do niego później, kiedy już zobaczę żarówki. Poszukiwane płaskorzeźby miały znajdować się w jednej z 12 podziemnych krypt. Tylko jak tu znaleźć do nich wejście... Koniec języka za przewodnika. Podszedłem do pierwszego spotkanego strażnika i po prostu zapytałem. Ubrany w galabiję Egipcjanin powiedział łamaną angielszczyzną: - Nie, sir. Nie można. Zamknięte, wstęp turystom zabroniony.

Jakbym dostał w twarz. Nie wiedziałem co powiedzieć. Stałem tak dłuższą chwilę z tępą miną krowy (momen omen, Hathor przedstawiano często jako krowę), jakbym czekał na cudowne odmienienie losu. I się doczekałem. Bezzębny pilnujący powiedział magiczne słowa: - 10 dolarów?
Szybko mnie odetkało. Na takie sytuacje jak zwykle byłem przygotowany. Podczas podróży zawsze noszę trochę drobnych w różnych kieszeniach, aby nie wyciągać całego portfela, kiedy targuję się podczas zakupów, albo trzeba - jak tym razem - dać komuś łapówkę.
W ten sposób zostałem w tym dniu najlepszym przyjacielem Mahmuda, który z uśmiechem na twarzy poklepał mnie po ramieniu, wymamrotał, że jestem good boy i the best friend i w końcu zaciągnął w jakiś zakamarek świątyni, gdzie zaczął zdejmować z podłogi deski maskujące wąski otwór. Wlazłem do środka.
Płaskorzeźby
Byłem w południowej krypcie. Według tłumaczeń egiptologów inskrypcje wyryte na jej ścianach mówiły, że przechowywano tu dwa pozłacane posągi Hathor wysadzane drogimi kamieniami. Opuszczały ją tylko podczas najważniejszych świąt.
W końcu znalazłem to, co chciałem zobaczyć od tygodni. Stałem przed tajemniczymi reliefami, wykonanymi nie jak cała świątynia w piaskowcu, lecz wyrytymi w kalcytowych płytach. Dwie postacie trzymają na nich coś w rodzaju wielkich baniek, w środku których wije się wąż. Bańki mają oprawy w kształcie kwiatów lotosu do złudzenia przypominające oprawki żarówek, z których wychodzi przewód podłączony do jakiegoś sześcianu. Obok umieszczony jest - powszechny w przedstawieniach ze starożytnego Egiptu - symbol dżed, słup czy kolumna oznaczająca trwałość. Krassa i Habeck uważają, że jest to zwykły izolator, taki jak porcelanowy przy współczesnych liniach wysokiego napięcia.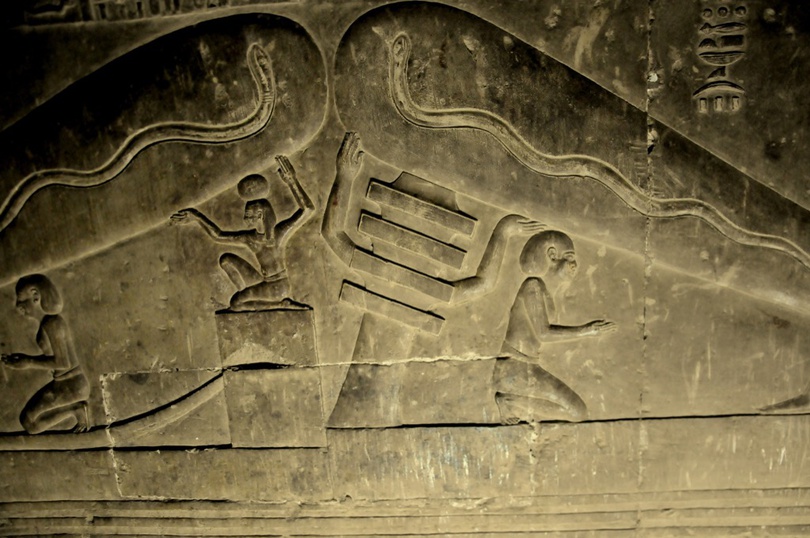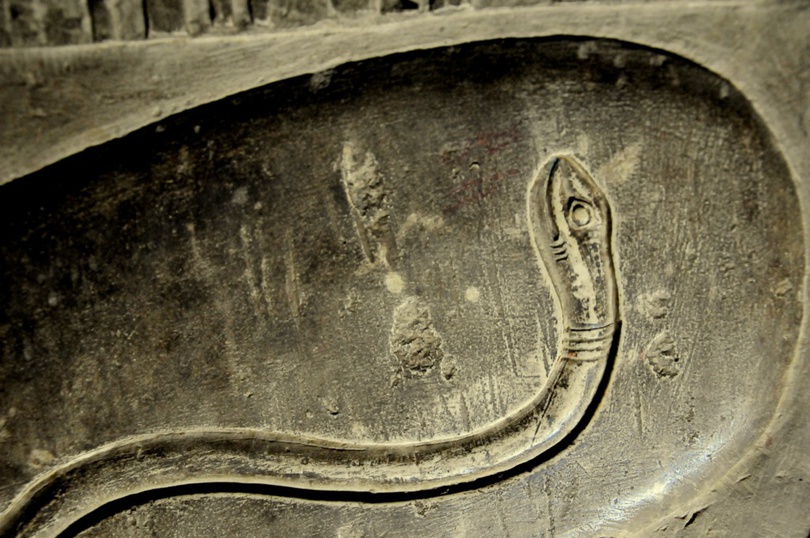 Czy bańki to natomiast rzeczywiście starożytne żarówki? Autorzy Światła faraonów nie mają wątpliwości. Dowodzą, że ściany krypt w Denderze nie są pokryte sadzą, więc inskrypcje na nich musiały powstać przy elektrycznym świetle. Egiptolodzy tę tezę wyśmiewają - wystarczy użyć lamp z olejem rycynowym bądź tłuszczem zwierzęcym, aby zminimalizować kopcenie.
Bezsporny jest tylko fakt, że nigdzie indziej w Egipcie nie znaleziono podobnych przedstawień i naukowcy spierają się, co mogą one oznaczać. Żaden ich nie rozszyfrował niepodważalnie. Są jedynie hipotezy. W mitologii egipskiej w postaci węża przedstawiano rodzące się słońce, na wyspie płomieni, położonej na jeziorze dwóch noży, gdzie znajduje się kosmiczne jajo, z którego powstanie światłość.

Czy starożytni Egipcjanie znali więc elektryczność? Nie rozstrzygnie tego jedna inskrypcja. Pozostaje mieć tylko nadzieję, że podczas wielu prowadzonych nad Nilem wykopalisk, jakiś zespół archeologów znajdzie np. egipską baterię, podobną do bagdackiej. Albo całą żarówkę! To tak samo prawdopodobne, jak znalezienie kolejnego nietkniętego grobowca pełnego takich skarbów, jak te należące do Tutenchamona. I nawet gdyby to miała być setna moja podróż do Egiptu, to i tak bez wahania się w nią wybiorę, by to zobaczyć.