Zanim wsiądziecie do samolotu, by wyruszyć w rejs po najdłuższej rzece świata, albo po prostu spędzić kilka dni nad morzem Czerwonym, poznać Ziemię Świętą, poczuć smak oleju berberyjskiego, czy poszukać świętego Graala w Petrze, przeczytajcie kilka porad, które mogły powstać, bo podczas 14 podróży po kraju faraonów, autorowi niejednokrotnie przytrafiło się coś niemiłego. A można było tego uniknąć...  
Kiedy szykuję się do kolejnej wyprawy nad Nil na twarzach przyjaciół rysują się uśmiech i niedowierzanie . - Bonek znów jedzie do Egiptu, albo na Bliski Wschód.
Fakt, ten kraj poznałem najlepiej ze wszystkich. Zjeździłem go wzdłuż i wszerz, różnymi środkami lokomocji.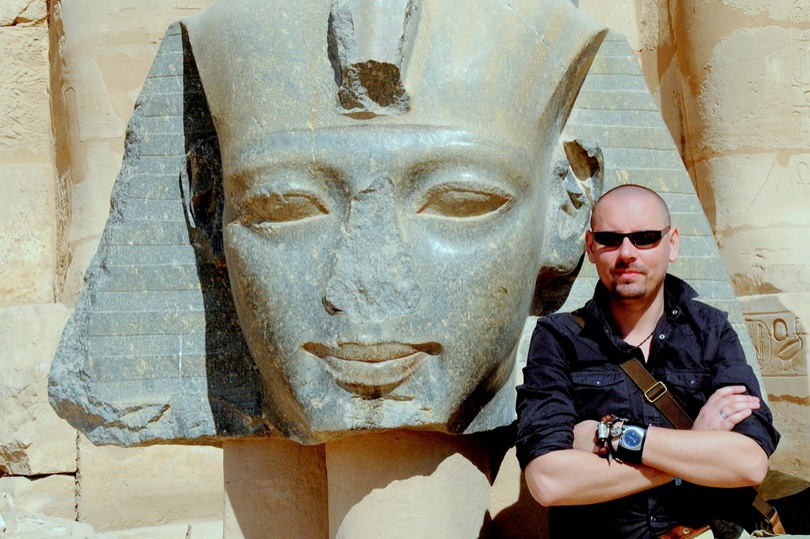 Kiedy jechać do Egiptu, Maroka, Tunezji, Izraela, Jordanii
Najprzyjemniejsze podróże do Egiptu są w zimie. Kiedy w Polsce za oknem ściska mróz, już po czterech godzinach lotu można znaleźć się na plaży, gdzie temperatura często przekracza 20 stopni. Polecam więc wyjazdy od listopada do kwietnia. Nie jest wówczas aż tak bardzo gorąco, można więc w przyjemniej atmosferze wybrać się na zwiedzanie monumentalnych zabytków, z których wiele ma nawet 4,5 tys. lat. 
Od maja nad Nilem robi się bardzo gorąco. Temperatury w cieniu często przekraczają 40 stopni Celsjusza. Utrzymują się na takim poziomie nawet do października i skutecznie zniechęcają do zwiedzania. 
Raz tylko znalazłem się w Egipcie w lipcu, zresztą przypadkiem, i to tylko na kilka dni, bo półwysep Synaj był bazą wypadową do podróży po innych krajach muzułmańskich w okolicy. Już po kilku chwilach spędzonych na plaży nabawiłem się poważnych oparzeń słonecznych, które bardzo dokuczały podczas kolejnych etapów wyprawy. Decydując się więc na wyjazd w tym okresie, trzeba mieć świadomość, że egipskie słońce dosłownie pali. Nie obejdzie się więc bez filtrów o bardzo wysokim faktorze.
Warto też zastanowić się czy jechać do kraju arabskiego w czasie ramadanu, czyli 9 miesiąca kalendarza muzułmańskiego, w którym obowiązuje ścisły post. Od świtu do zmierzchu pobożnym Muzułmanom nie wolno ani jeść, ani pić.
Po pracy wracają więc szybko do domu, by spożyć z rodziną pierwszy posiłek. Obiekty turystyczne są więc zazwyczaj zamykane szybciej. Ale może to też być wabik, dla wszystkich, którzy chcą lepiej poznać zwyczaje i obyczaje Egipcjan.
Ramadan w roku 2016 przypadał na dni od 6 czerwca do 5 lipca, 27 maja – 25 czerwca 2017, 15 maja – 14 czerwca 2018 a w 2019 roku będzie świętowany między 5 maja a 4 czerwca.
Jak dostać się do Egiptu?
Z Polski do czasów rewolucji, która obaliła rząd Mubaraka, było tylko jedno regularne, rejsowe i bezpośrednie połączenie lotnicze. Kilka razy w tygodniu latał samolot LOT z Warszawy do Kairu. Już go nie ma.
Jeśli więc zamierzacie wybrać się do Egiptu na własną rękę, warto rozważyć podróż przez jeden z dużych niemieckich portów lotniczych: Frankfurt czy Monachium, skąd są również połączenia do Luxoru.
Najprościej i często najtaniej jest jednak kupić wycieczkę w biurze podróży, które czarteruje samoloty do Hurghady, bądź Sharm el Sheikh (na połwyspie Synaj). Lot trwa około 4 godzin.
Sam bilet w obie strony nie powinien kosztować więcej niż 1000 zł. Można też znaleźć oferty, w których tydzień pobytu z przelotem i podstawowym wyżywieniem kosztuje mniej niż 1500 zł. Zdarzają się i tańsze. 
Ceny zależą oczywiście od sytuacji w kraju. Im jest niebezpieczniej, tym bardziej spadają. W ostatnich latach nie jest łatwo decydować się na ten kierunek, co rusz słyszy się o zagrożeniach ze strony terrorystów. 
Do Egiptu nie latam więc już połączeniami rejsowymi, bo to strata czasu i zazwyczaj pieniędzy. Za bardzo się denerwowałem, kiedy na miejscu spotykałem podróżników, którzy z triumfem na twarzy opowiadali, że wsiedli do samolotu w swoim rodzinnym mieście, bez konieczności tułania się po europejskich lotniskach, po chwili byli w Afryce, a wszystko to kosztowało jakieś 700 zł. Zaciskam więc zęby i latam czarterami, tolerując często nietrzeźwe towarzystwo w samolocie. 
Z biurem podróży czy na własną rękę?
Nie potrafię usiedzieć na plaży więcej niż dwa dni. Miło jest odpocząć patrząc na lazurową wodę, wygrzewać się w promieniach afrykańskiego słońca, ale już po chwili zaczyna mnie nosić. Szanuję jednak tych, którzy lubią i potrzebują takiego dłuższego wypoczynku. 
W Egipcie i ciekawi świata, i wakacyjne leniuchy, znajdą coś odpowiedniego dla siebie. Ja zawsze będę polecać podróżowanie wzdłuż Nilu. To tu znajdują się jedne z najwspanialszych i najstarszych zabytków na świecie, to tu wszystko się zaczęło. Przecież kiedy nasi przodkowie w Europie, chociażby na terenie dzisiejszej Polski, siedzieli w skórach w szałasach, tam wyrosła wspaniała cywilizacja przeprowadzająca udane zabiegi chirurgiczne, wykorzystująca astronomię do codziennego życia, budująca piramidy - największe budowle na świecie aż do XX wieku. Do tego warto wiedzieć, że bogini Izyda uciekała na osiołku przez pustynię, a starożytnymi świątyniami władały trójce święte. Skądś to znamy? 
Jeśli boicie się podróżować sami, skorzystajcie z wycieczek objazdowych biur podróży – większość z nich jest perfekcyjnie zorganizowana. Jeśli natomiast już wybraliście pobyt stacjonarny, skorzystajcie z wycieczek fakultatywnych, śmiało także tych oferowanych przez lokalne biura podróży - ich oferty są znacznie tańsze, niż oferowane przez polskich turoperatorów.  Godna polecenia jest pani Sylwia Grygier, która od lat mieszka w Hurghadzie i organizuje tu dla Polaków wiele atrakcji. 
Jadąc do Egiptu warto zobaczyć miejsca, w których wyrosła najwspanialsza cywilizacja, która trwała ponad 2,5 tys. lat i nagle znikła...
Cała prawda o tamtejszej komunikacji publicznej
Nic nie stoi na przeszkodzie, by po Egipcie podróżować samemu. Oczywiście tylko wówczas, kiedy w kraju jest bezpiecznie. W chwili oddania do druku mojej książki "Set Maat. Siedlisko Prawdy. Wędrówki po Egipcie, Izraelu, Jordanii i Maroku", polskie Ministerstwo Spraw Zagranicznych stanowczo odradzało takie wyprawy, a w kurortach nakazywało zachowanie ostrożności.
Aby dostać się do wielu miejsc, nie trzeba jednak mieć jakiegoś specjalnego zezwolenia. W kraju funkcjonują komunikacja autobusowa oraz kolejowa. Oczywiście, nie są tak perfekcyjnie zorganizowane, jak – nie, nie powiem: w Polsce – w Niemczech. Autobusy czekają np. aż zbierze się komplet, a pociągi spóźniają się niczym te nad Wisłą. Bilety warto kupować z wyprzedzeniem, szczególnie w ostatnich dniach ramadanu, kiedy to wielu Egipcjan podróżuje na święto dziękczynienie Id Al – fitr.
Zdarzyło mi się nie dotrzeć na czas z Kairu do Luksoru, bo nie dostałem się na pociąg, a miałem zarezerwowane miejsce na statku płynącym do Asuanu. Spędziłem więc noc na dworcu, a później kombinowałem, jak najszybciej dostać się do Edfu, by tam wsiąść jeszcze na pokład. Przy kasach były niemiłosierne kolejki.
Dopiero później zorientowałem się, że trzeba było udać głupiego i stanąć w specjalnej, wydzielonej kolejce dla kobiet, albo postawić w niej towarzyszkę podróży. Kolejka ta, oczywiście, była trzy razy krótsza i znajdowała się tuż za rogiem w budynku dworca.
Na miejscu działa też wiele lokalnych i globalnych biur podróży, które oferują wycieczki do najważniejszych atrakcji. Sprawdzony jest oczywiście Thomas Cook, ale znacznie tańsze będą wycieczki zorganizowane przez egipskie biura. Można im zaufać, jeśli mają rządowe zezwolenia. Nie ma natomiast co liczyć na wynajęcie samochodu do podróżowania po całym kraju.
Sieciowych wypożyczalni tu nie ma, bo obostrzenia prawne uniemożliwiają takie podróżowanie. Jeśli już, to można zorganizować sobie auto z kierowcą-przewodnikiem. 
Jakie są egipskie hotele?
Hurghada, Sharm el Sheikh, El Gouna, Safaga, Taba czy Marsa Alam to miasta, które zbudowano nad Morzem Czerwonym specjalnie dla turystów. Wydarto je pustyni, posadzono palmy, których nigdy tu nie było, zbudowano hotele, parki rozrywki, a nawet wioski beduińskie. Wszystko jest więc tu sztuczne i nienaturalne. Większość wakacyjnych resortów to luksusowe fabryki, w których można wypoczywać w prawdziwie europejskich warunkach, racząc się drinkami, pływając w morzu, korzystając z zabiegów spa. Raj dla zmęczonych i potrzebujących leniuchowania.
Hotelowa obsługa zadba za turystę o wszystko, łącznie z zajęciem się dziećmi.  Jeśli natomiast ktoś chce poznać prawdziwy Egipt, prawdziwych Egipcjan i skosztować ich wykwintnej kuchni, musi wyjechać poza te ośrodki, chociażby do miejsc, w których znajdują się najwspanialsze zabytki starożytnej cywilizacji.
Czy warto zobaczyć piramidy?
Będąc w Egipcie trzeba zobaczyć choć piramidy. To najważniejsze budowle na świecie, były największe przez prawie 4,5 tys. lat, aż do XX wieku. W podkairskiej Gizie podziwiają je o każdej porze roku tłumy, co skrzętnie wykorzystują handlarze, właściciele wielbłądów, naciągacze. Trudno się od nich tu opędzić. 
Jedni turyści są piramidami oczarowani, inni rozczarowani. Ja wiem jedno, nigdy bym sobie nie wybaczył, gdybym nie wlazł do środka piramidy Cheopsa  - sam ten fakt wart jest dla mnie każdych pieniędzy. Coś niesamowitego czuje się podczas przeciskania się wąskimi korytarzami do komory grobowej jednego z najsłynniejszych ludzi na świecie. Dreszcz emocji przechodzi po plecach, kiedy pomyśli się, że tę samą drogę kilka stuleci temu przemierzali starożytni kapłani, a później złodzieje skarbów faraonów. 
Ale z piramid najbardziej cenię tę pierwszą, znajdującą się w Sakkarze - schodkową, budowaną dla faraona Dżosera. Lubię też jeździć do Dahszur, gdzie znajdują się piramidy Snofru: łamana i czerwona. Zaglądają tu przede wszystkim pustynne psy, a zagranicznych turystów jest tu jak na lekarstwo.
Obie miejscowości położone są kilkadziesiąt kilometrów na południe od Gizy. Można się do nich dostać z Kairu busem, albo wynajętą taksówką - te są stolicy bajecznie tanie. Można też zapytać obsługę hotelową o zorganizowanie takiego wypadu za miasto.
Czy warto jechać do Luksoru?
Nie ma się co dziwić, że Luksor, czyli starożytne Teby, tak bardzo zafascynował Agathę Christie, że wielokrotnie w swoich książkach do niego wracała. Zresztą nie tylko ona.
Od czasów kolonialnych przyjeżdżali tu najważniejsi i najbardziej znani ludzie z całego świata. Większość z nich zatrzymywała się w słynnym hotelu Winter Palace: Churchill, Margaret Thatcher, Helmut Kohl. Ja też tu wracam, za każdym razem, kiedy tylko jadę do Egiptu. To tu znajduje się słynna Dolina Królów z grobowcem Tutanchamona i świątynia kobiety-faraona Hatszepsut, której blask przywrócili polscy archeolodzy.
Niesamowite wrażenie robi też lot balonem o poranku nad najważniejszymi zabytkami znajdującymi się po zachodniej stronie Nilu: Medinet Habu, Ramesseum, Doliną Królowych, Deir el Bahari, Deir el Medina. Z Luksoru już niedaleko od Dendery i Abydos, gdzie znajdują się kolejne, bardzo ciekawe świątynie, m.in. z podziemnymi komnatami i tajemniczymi reliefami przypominającymi starożytne żarówki. Luksor to więc drugi obowiązkowy punkt na mapie podróży po Egipcie.
Jeśli będziecie spędzać wakacje w Hurghadzie, zapytajcie w jakimś lokalnym biurze podróży o wycieczkę dwu albo nawet trzydniową do Luksoru. Możecie też z tego kurortu pojechać tam autobusem. Jeśli natomiast Luksor macie w programie wycieczki, jako etap rejsu po Nilu, wygospodarujcie choć jeden dzień na samodzielne zwiedzanie zachodniego brzegu. Bilety wstępu kupuje się po lewej stronie, kawałek za kolosami Memnona. Najciekawsza jest świątynia grobowa Ramzesa III w Medinet Habu, dolina robotników (Deir el Medina) i grobowce dostojników.
Czy  warto wybrać się w rejs po Nilu?
Pamiętacie "Śmierć na Nilu" Aghaty Christie? Herkules Poirot płynie luksusowym statkiem po rzece codziennie docierając do nowych atrakcji Egiptu. Podobne czekają tu na turystów także i dzisiaj. Trasa wiedzie z Luksoru dl Asuanu (lub odwrotnie), a po drodze przybija się do okolic wspaniałych świątyń w Kom Ombo, Edfu, Esnie. To bardzo urokliwe miejsca, które warto zobaczyć. 
Rejs jest bardzo przyjemny, na górnym pokładzie prawie każdego statku znajduje się basen, a obsługa serwuje wymyślne drinki. To najlepszy sposób podróżowania przygotowany dla najbardziej wygodnych. 
A w Asuanie natomiast już łatwo dostać się do, moim zdaniem, najważniejszego egipskiego zabytku – świątyni Ramzesa II Wielkiego w Abu Simbel, która w latach 60. XX wieku została pocięta na kawałki i przeniesiona kilkadziesiąt metrów wyżej. W ten sposób chciano uchronić ją przed zalaniem po zbudowaniu wielkiej tamy asuańskiej. Strzegą jej 20-metrowe posągi faraona, które miały podkreślać potęgę władcy, kiedy z głębi Afryki do Egiptu przybywali starożytni podróżni.
Sam Asuan też kryje wiele ciekawych miejsc. Warto wybrać się na wyspę na Nilu nazywaną Elefantyną, ale trzeba uważać na naciągaczy, który zrobią wszystko, abyście wsiedli na ich felukę, a po krótkim obwiezieniu wokół wyspy zażądają bardzo wysokiej opłaty za odstawienie na brzeg.
Tymczasem za dwa funty egipskie, czyli za grosze, płynie się tam miejskimi promami. Spędzając tu parę dni polecam także wyprawę do świątyni Izydy z wyspy File - też ją pocięto na kawałki i przeniesiono w inne miejsce, ratując przed zalaniem wodami jeziora Nasera. 
Fakty i mity dotyczące problemów jelitowych, czyli tzw. zemsty faraona
Sporo osób, właśnie w obawie o kłopoty jelitowe, rezygnuje z wyjazdu do Egiptu. No, cóż... Tak zwana biegunka podróżnych może przydarzyć się gdziekolwiek na świecie, nawet podczas weekendowego wypadu w polskie góry. 
W naszym jelicie grubym żyją bowiem specyficzne bakterie o łacińskiej, pięknej nazwie Escherichia coli  - po polsku: pałeczka okrężnicy. Oprócz nich jest jeszcze parę innych mikroorganizmów. Z większością żyjemy w symbiozie, tzn. czerpiemy obopólne korzyści. Pomagają nam np. w trawieniu pokarmu, wytwarzają witaminy z grupy B i K. Ale zdarza się i tak, że mogą nam zaszkodzić. Jest ich bowiem niezliczona ilość szczepów, czyli rodzajów, i to właśnie one, w zdecydowanej większości przypadków, odpowiadają za problemy gastryczne podczas wyjazdów.
Dzieje się tak dlatego że wraz ze zmianą diety wprowadzamy do organizmu nowe mikroby, które często zaczynają walczyć z obecnymi, chcąc zająć ich miejsce. Wówczas pojawia się biegunka wynikająca właśnie z wymiany tej fizjologicznej flory bakteryjnej. W zdecydowanie mniejszej liczbie przypadków powodem problemów są mikroorganizmy chorobotwórcze, np. bakterie salmonelli albo czerwonki czy też wirusy. 
Czy należy więc bać się biegunek podróżniczych zwanych tu zemstą faraona? Tak, bo mogą być bardzo groźne dla zdrowia i życia. Ale nie należy demonizować: nie przytrafiają się one każdemu, nie zawsze są bardzo dotkliwe, nie zawsze trwają długo. Mnie podczas kilkunastu podróży nad Nil przytrafiło się to zaledwie raz, a cała przypadłość trwała zaledwie jeden dzień. 
Rozwolnienie, rzecz ludzka i jest to z pewnością najmniejszy problem, który może spotkać turystę podczas podróży po świecie. Czy można zapobiec problemom żołądkowym, albo zminimalizować ryzyko ich wystąpienia? 
Najważniejszą sprawą jest picie tylko wody z pewnego źródła. Nie wolno pić tej z kranu. Należy zawsze kupować wodę w sklepie, nie u ulicznego handlarza i koniecznie sprawdzić czy jest fabrycznie zamknięta. W Egipcie woda oryginalnie zapakowana ma wokół zakrętki pierścień ze zgrzanej folii. Tak zwane dezynfekowanie się od środka, czyli popijanie alkoholu po każdym posiłku, raczej nie działa, a przynajmniej nikt tego nie udowodnił.
Zdarza się nawet wprost przeciwnie: alkohol, szczególnie ten egipski, powoduje biegunki. Podczas posiłków warto unikać sosów, podejrzanych sałatek, w których mogły się namnożyć bakterie.
Zazwyczaj najpewniejsze jest mięso z grilla lub smażone w głębokim tłuszczu. Owoce i warzywa nad Nilem są przepyszne i nie wyobrażam sobie, by ktokolwiek ich unikał. Trzeba tylko uważać, w jakiej wodzie zostały umyte. Najlepiej jeść więc te, które obiera się ze skórki.
Jakie leki działają  na zemstę faraona? 
Wielokrotnie słyszałem wymądrzających się turystów, którzy opowiadali, że na problemy gastryczne pomagają tylko egipskie specyfiki. Wychwalany jest przede wszystkim Antinal, a tymczasem jest to nasz dobrze znany nifuroksazyd, tyle że w dawce 200 mg. Ten lek jest naprawdę skuteczny w walce z biegunką. Przydaje się też loperamid (np. Stoperan). Pomocne mogą być również preparaty uzupełniające mikroelementy (Gastrolit). 
Może to wydawać się banalne i mało wiarygodne, ale bardzo dobre efekty przynosi popijanie dość znacznych ilości odgazowanej coli. Potwierdzają to nawet lekarze, którzy coraz częściej zalecają ten napój w chorobowych przypadkach nieco starszym dzieciom. Najważniejsze jest jednak to, że jeśli biegunka ma ostry przebieg, trwa co najmniej dwa dni, towarzyszą jej wymioty, należy koniecznie skontaktować się z lekarzem.
Na co należy się zaszczepić jadąc do Egiptu i na Bliski Wschód?
Skoro jesteśmy już przy zdrowiu, trzeba wspomnieć też o szczepieniach i ewentualnych zagrożeniach dla zdrowia, które mogą się wiązać z wyjazdem w tę część świata. Otóż, w zasadzie, problemów epidemiologicznych w tych krajach nie ma. Malaria praktycznie tu nie występuje, nie trzeba więc stosować leków profilaktycznych. Warto natomiast zaszczepić się przede wszystkim na obie żółtaczki – typu A i B.  

Oprócz problemów jelitowych, zmorą turystów wybierających się nad Morze Czerwone oraz w podróż po Jordnii, Izraelu, Maroku, Tunezji jest słońce i oparzenia, które zdarzają się tu nader często. Większość z nich wynika po prostu z niefrasobliwości. Trzeba pamiętać przede wszystkim, że Egipt znajduje się w strefie zwrotnikowej i słońce operuje tu znacznie mocniej niż w Polsce. Należy więc zabrać ze sobą kremy z filtrem o wysokim faktorze – minimum 40 w lecie i 20 w zimie.
Kolejną przypadłością są egipskie przeziębienia i katary zatokowe. A to wszystko za sprawą klimatyzacji, na punkcie której Egipcjanie mają bzika. Jeśli więc będzie podróżować z wycieczką, bądź liniowym autokarem, na czas transferu nie zapomnijcie zabrać bluzy bądź swetra i czapki, np. takiej z daszkiem. Jeśli już was złapie, pomoże Ibuprom zatoki - weźcie go ze sobą z kraju. 
Czy trzeba się ubezpieczyć?
Zawsze, kiedy wyjeżdżam za granicę, kupuję polisę turystyczną. Jeśli wybieracie się na urlop z biurem podróży, problem macie z głowy, bo zgodnie z prawem organizator wyjazdu powinien o nie zadbać za was.
Trzeba więc tylko sprawdzić czy macie ubezpieczenie i co ono obejmuje. Podstawowa sprawa to ubezpieczenie bagażu - zdarza się, że linie lotnicze go gubią. Niezbędne jest też pokrycie kosztów leczenia.
Towarzystwa zazwyczaj oferują w standardzie również transport zwłok do kraju. Brzmi makabrycznie, ale to ogromny problem i bardzo droga usługa. Warto więc dmuchać na zimne. 
Co należy zrobić, jeśli zachorujemy?
Najpierw zadzwonić do ubezpieczyciela, opisać problem i postępować zgodnie ze wskazówkami. Zazwyczaj konsultant poda numer telefonu wybranego przez niego szpitala, lekarza bądź przychodni. Należy umówić się na wizytę, a później podpisać rachunek.
Często obchodzi się więc bez angażowania własnej gotówki. Uwaga! Zawsze najpierw należy skontaktować się w ubezpieczycielem. W przeciwnym razie może on odmówić pokrycia kosztów leczenia. Tymczasem wizyta u lekarza kosztuje około 50 dolarów. Dzień pobytu w szpitalu nawet 200.
Czy jest bezpiecznie? 
Po rewolucji w styczniu 2011 r., kiedy obalono w Egipcie reżim Mubaraka, ruch turystyczny nad Nilem drastycznie zmalał. W obawie właśnie o bezpieczeństwo ludzie przestali wybierać ten kraj na cel swoich urlopów. Ostatni raz jeździłem po całym kraju w drugiej połowie lutego 2012 r. Przejechałem wówczas wzdłuż Nilu od Aleksandrii do Abu Simbel. Byłem też w Hurghadzie, dokąd leciałem czarterem. Dotarłem też na słynny plac Tahrir w Kairze, gdzie rozmawiałem z rewolucjonistami. Wszędzie czułem się bezpiecznie. Trzeba jednak przyznać, że podczas reżimu dyktatora było tu jeszcze spokojniej.
Wszystkiego pilnowały służby policyjne, w tym specjalna policja turystyczna. Przybyszom nie mógł tu spaść włos z głowy, bo przecież byli jednym z głównych źródeł dochodu.
Dziś zdarza się coraz więcej drobnych przestępstw, przede wszystkim kradzieży. Najwięcej jest ich w Kairze. Plagą są natomiast naciągacze, którzy jak tylko mogą próbują wyciągną z przybyszów jak najwięcej gotówki.
Sytuacja w kraju nie jest stabilna. Za każdym razem przed rozpoczęciem podróży trzeba więc sprawdzić chociażby informacje konsularne na stronie MSZ.