Oto klif Preikestolen – kamienna platforma o powierzchni blisko 625 metrów kwadratowych, położona niemal 604 metry nad ziemią. Rocznie odwiedza ją nawet 300 tysięcy turystów – donosi thelocal.no. Teraz przyjrzą się jej również naukowcy. I to wyjątkowo uważnie. Okazało się bowiem, że szczelina, przecinająca platformę, zaczęła się powiększać. 
Agencja Geological Survey of Norway postanowiła zintensyfikować prowadzoną od 1930 roku obserwację szerokiej na pół metra szczeliny – donosi thelocal.no. Decyzję podjęto po tym, jak kilka miesięcy temu pomiary wykazały, że pęknięcie się powiększyło. Nieznacznie, bo zaledwie o 3 milimetry, jednak już to wzbudziło czujność naukowców.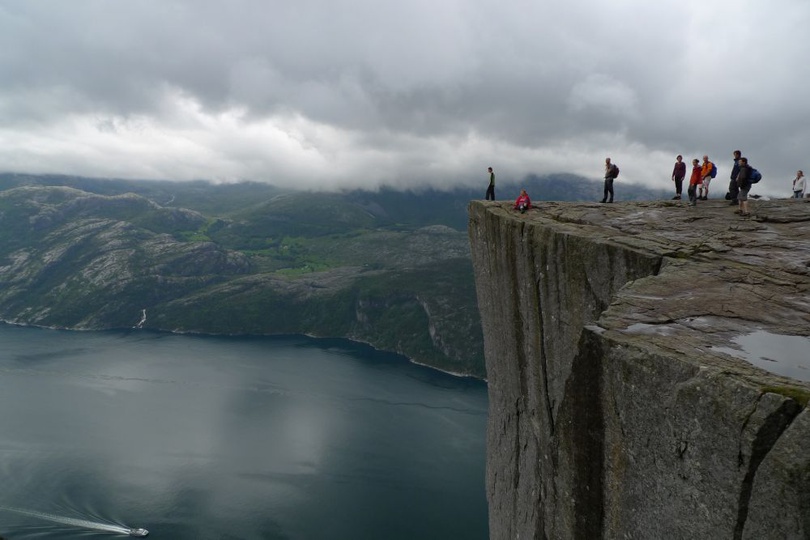 Nie bez przyczyny. Jest to pierwsza od 22 lat zmiana rozmiaru pęknięcia, głębokiego na kilka metrów. Naukowcy chcą mierzyć i skanować klif Preikestolen oraz wykonać serię zdjęć z lotu ptaka. Efektem będzie model w 3D, na którym będzie można nanosić każde, najmniejsze nawet i niepokojące zmiany. 
- Jeśli się okaże, że realne jest ryzyko upadku części klifu, wówczas zasadne będzie umieszczenie w tym miejscu stałego sprzętu pomiarowego – zauważa Marina Böhme, badaczka z Geological Survey of Norway. Poza tym naukowcy wezmą pod lupę jeszcze 32 inne góry, znajdujące się w norweskim okręgu Rogaland. 
Masy ludzi przez tysiące lat
W przypadku samego klifu Preikestolen naukowcy przekonują na razie, że nie ma powodów do obaw. Tym niemniej nie da się ukryć, że jakiś wpływ mas ludzi na skalną konstrukcję musiał wystąpić przez lata. Wieki temu starożytni mieli tu wznosić modlitwy i odprawiać krwawe rytuały. 
Dziś ludzie podziwiają w tym miejscu niesamowite widoki, piknikują i uprawiają BASE jumping, czyli skoki ze spadochronem lub w kombinezonach, umożliwiających szybowanie w przestworzach. A liczba turystów wzrasta nieubłaganie. Jeszcze w 2009 roku klif odwiedziło 60 tysięcy osób – donosi norweski portal. W 2016 roku było ich już 300 tysięcy.