Archeolodzy odkryli pozostałości zabudowań z okresu "wieków ciemnych", a więc sprzed blisko 1 400 lat. Przekonują, że w królestwie tym mógł żyć ojciec jednego z legendarnych rycerzy okrągłego stołu. 
Naukowcy wierzą, że na Trusty's Hill w Szkocji trafili na ślady królestwa Brytów, zwanego Rheged, wielokrotnie pojawiającego się w legendach. 
Zgodnie z opowieściami, królestwem miał rządzić Urien – ojciec jednego z późniejszych rycerzy legendarnego stołu – Owaina. "Z niektórych opowieści wynika, że Urien miał poślubić siostrę króla Artura – Morganę le Fay. Przy czym nie było to szczególnie szczęśliwe małżeństwo" – zauważa independent.co.uk. – "Jedna z legend mówi nawet, że Morgana wykradła cudowny miecz Ekskalibur, zabiła męża i brata, po czym razem z kochankiem Accolon zasiadła na tronie".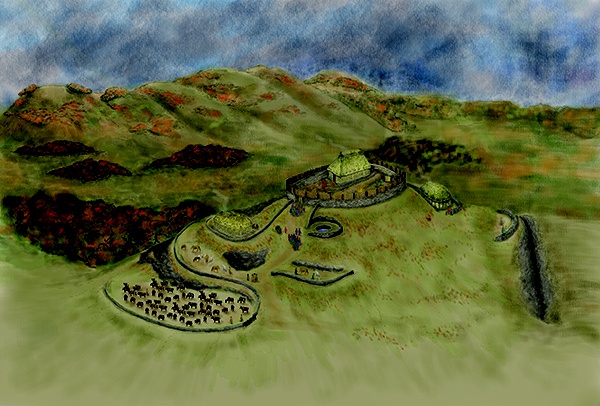 Dotąd naukowcy przekonani byli, że królestwo Uriena mogło się znajdować gdzieś w Kumbrii – na północno-zachodnim krańcu Anglii, tuż przy granicy ze Szkocją. Teraz jednak, choć jeszcze nie udało się tego w stu procentach potwierdzić, wierzą, że znaleźli prawdziwą lokalizację. 
A przywieźć ich tu miały tajemnicze antyczne napisy, wykute w tutejszych skałach przez Piktów, czyli ludność żyjącą w czasach wczesnego średniowiecza. Zamieszkującą jednak tereny położone dużo dalej na północ, stąd "w ostatnich czasach wielu historyków zaczęło wątpić w autentyczność wzorów z Trusty's Hill, a nawet otwarcie mówić, że są falsyfikatami" – zauważa guard-archaeology.co.uk.
Sami archeolodzy z Galloway Picts Project, którzy zaczęli badać to miejsce, są przekonani, że kamienne ryty są autentyczne i dowodzą "wymiany zdobyczy kulturowych" w całym regionie. Naukowcy zwracają jednak uwagę na to, że większość z napisów Piktów najprawdopodobniej nigdy nie zostanie odczytana. - Wciąż nie trafiliśmy na  dotyczący ich kultury odpowiednik kamienia z Rosetty, który by to ułatwił – przekonuje na łamach independent.co.uk archeolog Ronan Toolis, odnosząc się do znanego śladu z czasów starożytnego Egiptu, a więc kamienia, z pomocą którego udało się odczytać hieroglify.
Odchodząc nieco od samych napisów, archeolodzy zaczęli jednak badać na Trusty's Hill inne artefakty – kości, naczynia, zabudowania i biżuterię. Odkryli, że wbrew panującemu powszechnie przekonaniu, w miejscu tym nie znajdowała się niewielka osada, zamieszkiwana przez prostych ludzi, lecz przez możnowładców. O ich wysokim statusie mają świadczyć chociażby znalezione przedmioty, jakimi posługiwali się w tamtych czasach wyłącznie królowie, biskupi lub książęta.
Kompleks zabudowań, przypominających fort, miał zostać wzniesiony w okolicach 600 roku naszej ery. – Ludzie, którzy tutaj żyli, nie zajmowali się rolnictwem – przekonuje drugi z badaczy, David Bowles, na łamach brytyjskiego dziennika. – Ich bogactwo pochodziło z kontroli okolicznych upraw, hodowli zwierząt oraz z zarządzania zasobami naturalnymi – na przykład minerałami lub drewnem – na terenie ciągnącym się od posiadłości, aż do ujścia rzeki Fleet. 
Osada została jednak zniszczona w XVII wieku.