W przezwisku tego miejsca nie ma przesady. W istocie, w tym podwodnym basenie niemal nic nie jest w stanie przeżyć. Nieliczne kraby, które zapędzają się tutaj w poszukiwaniu pożywienia i wpadają do środka, "umierają, konserwują się, marynują" – opisuje obrazowo nypost.com. Naukowcy odkryli jednak, że coś było w stanie się przystosować.
Niewielkie morskie stworzenia umierają, bowiem w "jacuzzi", leżącym ponad tysiąc metrów pod powierzchnią Zatoki Meksykańskiej, woda jest cztery, a według niektórych źródeł nawet pięć razy bardziej słona, niż wszędzie wokół. Tak potężne zasolenie jest śmiertelne dla niemal wszystkich organizmów, które dostają się do środka. Brakuje również tlenu – zbiornik w większości wypełniony jest metanem.
Naukowcy, którzy właśnie skończyli badać to miejsce wspominają, że na otaczających basen ścianach znajdowali masy martwych, pokrytych solą krabów i równonogów. Kiedy jednak wpuścili do środka robota, odkryli, że w głębi zbiornika istnieje jednak jakieś życie – natrafili na drobnoustroje, które były w stanie przystosować się do niesprzyjających warunków. 
Niektórzy z badaczy wierzą, że "te stworzenia mogą przypominać formy życia, istniejące na innych planetach naszego Układu Słonecznego, a nawet poza nim" – zauważa dailymail.co.uk. 
- Masy ludzi przyglądają się najbardziej ekstremalnym miejscom na Ziemi, sądząc, że mogą one być modelami ekstremalnych środowisk, na jakie możemy się natknąć, badając odległe planety – tłumaczy biolog Erik Cordes Temple University  Filadelfii.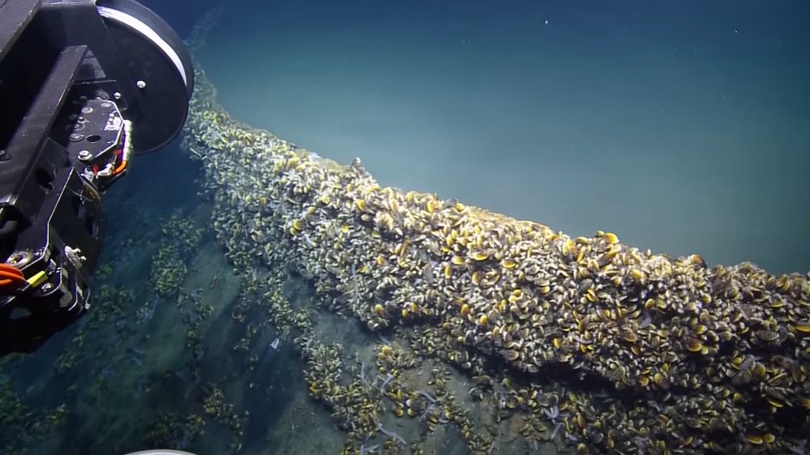 Jak dotąd badaczom nie udało się dotrzeć do samego dna "jacuzzi", stąd też nie wiadomo dokładnie, jakie warunki mogą w nim panować. Na razie udało się ustalić, że na pierwszych trzech metrach głębokości panuje temperatura nieco ponad 7 st. Celsjusza. Głębiej jednak badacze odkryli muł, "naładowany węglowodorem" i dużo cieplejszy – osiągający aż 19 stopni! 
- To jedno z najbardziej fascynujących miejsc w głębinach morskich. Schodzisz w dół, na dno oceanu i nagle natykasz się na coś w rodzaju jeziora lub przepływającej rzeki. Czujesz się, jakbyś już nie był na Ziemi – przekonuje Cordes, który ma nadzieję, że wkrótce wróci tu z resztą badaczy ponownie, żeby zebra tyle danych, aby móc stworzyć trójwymiarową mapę "jacuzzi".