Jest już po 22.00! Co ja robię w restauracji?! Jutro o czwartej rano pobudka, a o szóstej start w zawodach Israman na dystansie olimpijskim! - myślałem wyrywając włosy z głowy, walcząc ze sobą. Co zrobić? Iść do hotelowego pokoju i zignorować doskonałe towarzystwo, opowieści o historii Izraela i miejsc, do których przyjechaliśmy, czy jednak chłonąć wszytko maksymalnie, ile się da? Poprosiłem pół lampki czerwonego wina i chłonąłem... z umiarem.
Powiedzmy sobie jasno - to nie był zwykły wyjazd i zwykłe miejsce zawodów. Być może raz na kilka, kilkanaście lat, albo raz w życiu ma się możliwość realizacji własnej sportowej pasji w miejscu znanym z Biblii, tam gdzie żył i nauczał Jezus z Nazaretu. Gdyby ktoś kilka lat temu powiedział mi, że będę startował w zawodach w Izraelu, pływał w jeziorze, po którym według biblijnych przekazów chodził Chrystus, jeździł rowerem i biegał tam, gdzie spotykał się z Apostołami, to potraktowałbym to jak kiepski żart. Tak to wszystko brzmi. Jest coś nierzeczywistego w tym zderzeniu cywilizacji, które chyba najbardziej odczułem przyjeżdżając do Tyberiady, ale o tym za chwilę.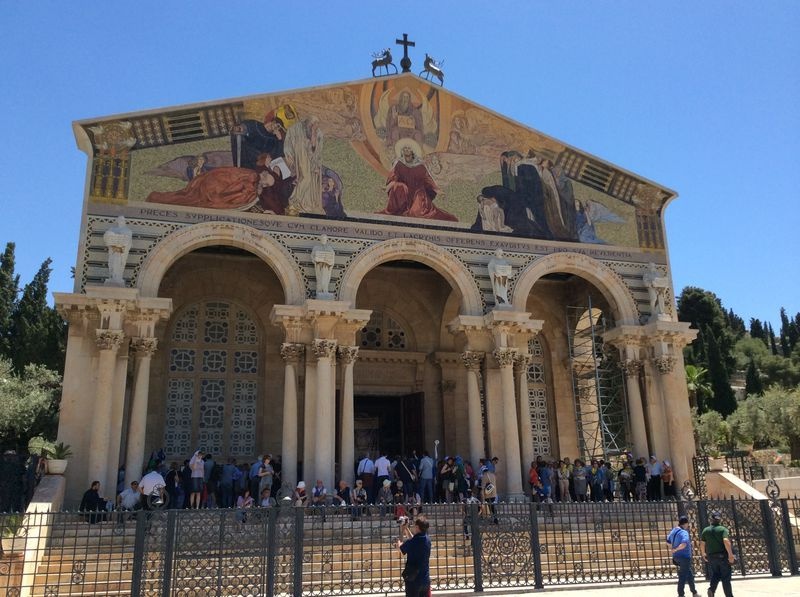 Na zaproszenie zawodowej grupy AdgarFit Pro Team miałem okazję przyjechać do Izraela we wtorek wczesnym rankiem. O czwartej wylądowaliśmy w Tel Avive, a o szóstej otworzyłem drzwi od hotelowego pokoju w Jerozolimie. Spędziliśmy tam dwa dni, a Michaelle Neumann, która była naszą przewodniczką, pokazała nam wszystko, co warto zobaczyć będąc tak krótko w mieście, gdzie splatają się losy tylu kultur i religii. Michaelle słuchało się jak z bajki, ale tak to jest, kiedy trafia się na ludzi z pasją. Przez ponad 20 lat była prawniczką w dużej firmie, jednak rzuciła pracę, zdała bardzo trudne egzaminy przewodniczki po Izraelu (trudniejsze niż egzaminy na prawo) i realizuje się w przekazywaniu skomplikowanej i bogatej historii całego regionu.
Każdy sportowiec wie, jak powinien wyglądać jego tydzień przed startem w zawodach - nawet, jeśli jest to start kontrolny, treningowy i na dodatek pierwszy w sezonie. Regeneracja, sen, mało chodzenia, umiarkowane treningi, przestrzeganie diety... robiłem dokładnie odwrotnie. Chodziłem ile się dało, jadłem podobnie, a spałem odwrotnie proporcjonalnie do czasu spędzonego na zwiedzaniu. Ale grzech robić inaczej, jeśli jest się w Izraelu tylko niespełna tydzień.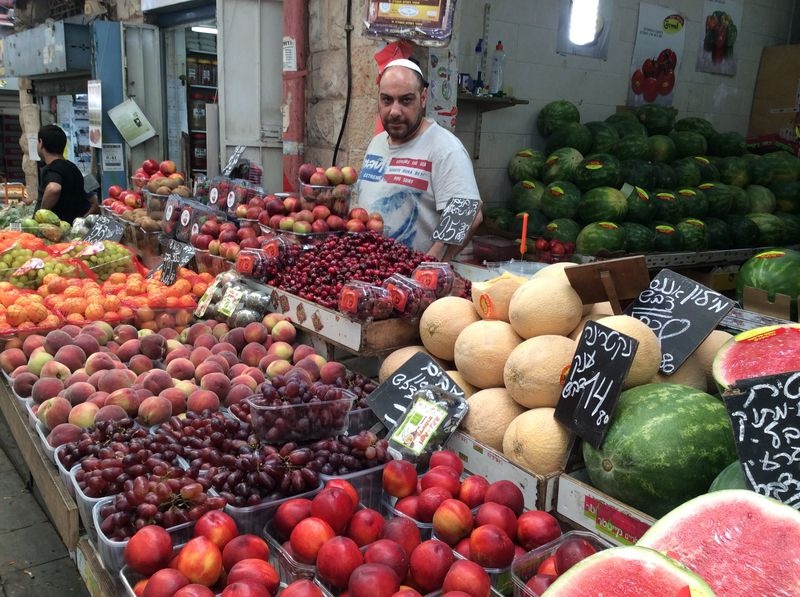 Oczywiście już w samochodzie jadącym do Jerozolimy snułem plany treningowe, zweryfikowane natychmiast przez wzgórza Jerusalem! Miasto, w którym nie ma ani kawałka płaskiego kilometra, a trening rowerem to wspinaczka, praca nad siłą, a nie tapering. Nawet nie otwierałem walizki rowerowej. Została hotelowa siłownia i mały 19-metrowy basen, ale przecież nie we wtorek, po kilku godzinach podróży samolotem i samochodem. Zrobiłem sobie wolne, a wieczorem ustawiłem budzik na szóstą rano. W środę udało mi się zrobić dwa krótkie treningi: basen i bieżnia, później szybkie śniadanie, dobre sportowe obuwie i coś dla ducha, czyli zwiedzanie Jerozolimy. Tego się nie da opisać w krótkim felietonie.
To miasto naładowane jest taką energią i różnorodnością, jakiej nie spotkałem dotąd w żadnym innym kraju. Wrażenie robi nie tylko Stare Miasto, w obrębie którego niezauważenie przenikają się m.in. trzy główne nurty religii monoteistycznych, ale także zwykła codzienność, rozmowa z handlujacymi ludźmi na rynku Mahane Yehuda, istny kocioł zapachów, przypraw, gwar, modlitwy, nawoływania muezinów, a pośród tego wszystkiego refleksja nad tym, co działo się ponad 2 tysiące lat temu.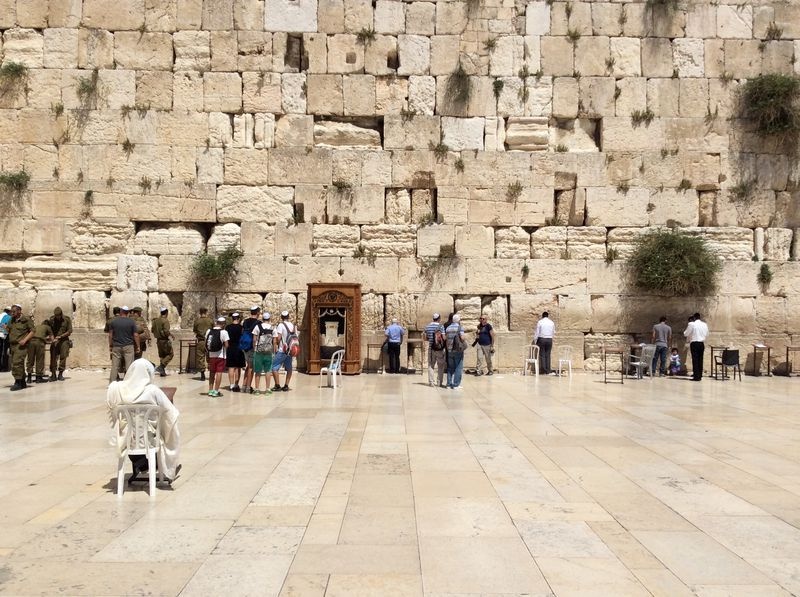 Jest coś dziwnego w tym miejscu, jakieś dziwne uczucie, że wszystko dookoła nie powinno było się tu znaleźć... ci ludzie z telefonami komórkowymi, tabletami, współczesne sklepy tuż za murami miasta Dawida, kobieta malująca sobie usta tuż przed wejściem do Bazyliki Grobu Pańskiego, chłopiec grający na telefonie w Angry Birds, wreszcie - przenosząc się już nad jezioro Genezaret - "chmara" triathlonistów ścigających się w wodzie, po której według Biblii chodził Jezus. Przecież to brzmi tak nierzeczywiście. Zderzenie cywilizacji jest zbyt mocne, aby móc przejść nad tym obojętnie, i to bez względu na to, czy ktoś wierzy czy nie. Magia tych miejsc i namacalność historii jest przytłaczająca, tym bardziej, że w drodze z Jerusalem do Tiberias jechaliśmy wzdłuż granicy z Jordanią, gdzie na pustynnych i górzystych terenach wciąż można spotkać Beduinów. Dojeżdżając na miejsce zawodów (prawda, że teraz brzmi to jeszcze dziwniej?), zatrzymaliśmy się nad rzeką Jordan w miejscu chrztu Jezusa, a nieco później w muzeum, gdzie znajduje się łódź rybacka sprzed 2000 lat. Niemal na wyciągnięcie ręki historia z czasów, kiedy rodziło się chrześcijaństwo.
Wieczorem wizyta w biurze zawodów i odbiór pakietów startowych, rejestracja, szybka odprawa. Zawody Israman organizowane są już od dziesięciu lat, ale muszę być szczery - w porównaniu do polskich zawodów i standardów organizacyjnych trochę im jeszcze brakuje. Szczególnie oznaczenia i logistyka w strefie zmian, strefie startu i mety, na trasie rowerowej i biegowej, punkty żywieniowe. Ale ogromną zaletą jest jakość trasy rowerowej i pływanie w ciepłej i przyjemnej wodzie Jeziora Galilejskiego. Trasa biegowa również przyjemna i płaska, choć prowadzi przez rolnicze tereny, między uprawami bananów, i trudno liczyć na gorący doping... Raczej na gorące, palące słońce, które pojawia się nagle, znikąd - wyskakuje jak Filip z konopii i zaczyna parzyć. Dlatego zawody zaczynają się tak wcześnie, bo już za piętnaście szósta startuje dystans połówkowy, pół godziny później olimpijka i dalej sprint.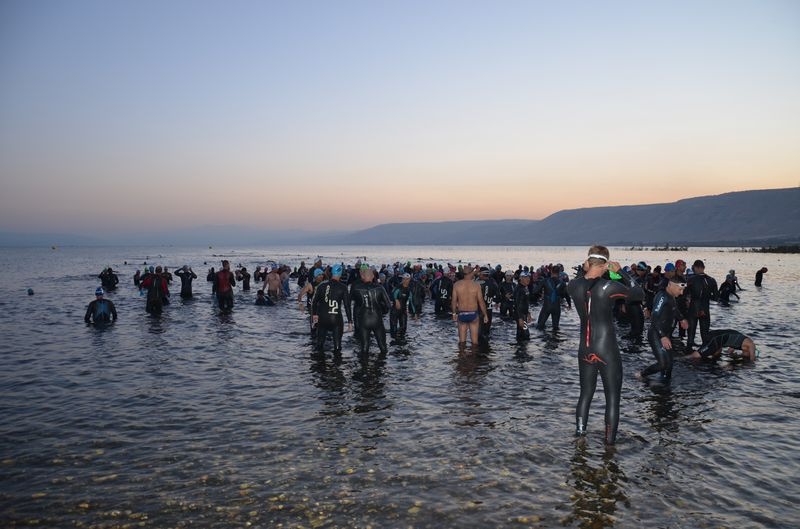 Zawodnicy z dystansu olimpijskiego i sprintu mają pogodę jak z bajki. Pływanie w Genezaret, ze wschodzącym po prawej stronie zza Wzgórz Golan słońcem, jeszcze delikatnym i przyjemnym, jazda rowerem w zupełnym cieniu Wzgórz Golan na pofałdowanej, ale bardzo szybkiej i prostej trasie - 20 km w jedną stronę i 20km w drugą...
Dopiero na trasie biegowej zaczyna się odczuwać, co to znaczy upał w Izraelu na granicy z Syrią i Jodranią. Słońce, które dotąd wschodziło spokojnie, jakby dostało przyspieszenia, pojawia się nagle na całej długości trasy i tylko momentami liście bananowców dają jakieś wytchnienie. Na szczęście ci, którzy startowali na dystansie olimpijskim i sprincie już kończą swoje zawody. Upał daje się we znaki reszcie. Ale Maria Cześnik, Asia Susmanek i Mikołaj Luft z AgdarFit Pro Team są już na tyle zaprawieni w bojach, że dają sobie z tym radę - tym bardziej, że dla nich start w Israman to trening. Mikołaj mimo kłopotów z rowerem i drobnych błędów na trasie biegowej (oznaczenia!) wygrywa, podobnie Marysia Cześnik, Asia Sumanek jest trzecia i to jedyny brąz na tych zawodach dla Polaków. Pozostali z ekipy zgarniają złoto. Mateusz Kaźmierczak na sprincie, Maciek Bodnar na olimpijce, Hania Matysiak na olimpijce i Kasia Czerwińska na sprincie.
Ja w zawodach startuję z konkretnymi założeniami, których zamierzam się trzymać w 100 procentach, bo przecież za tydzień najważniejszy w tej części sezonu start w Ironman 70.3 Mallorca. Mój trener, Filip Szołowski stwierdził, że powinienem popłynąć na maksa, ale pływanie bez pianek jest dla mnie tak osłabiającym psychicznie czynnikiem, że nic mnie nie zmusi do walki na maksa w takich warunkach, bo wyjdę "na kurczach" mięśniowych i z roweru nici.
Płynę swobodnie i dbam o to, by nie popsuć i tak słabej techniki. Pokonanie 1,5km zajmuje mi aż 27 minut - to bardzo dużo, mając na uwadze czas spędzony w tym roku na basenie. Założenia na rower dużo prostsze: 260-280 watów średnia. Mimo ociężałych nóg, jak z kamienia po wszystkich chodzonych wycieczkach, udaje mi się uzyskać średnią na poziomie 270 W, a czas pokonania 40 km to 1h 9 minut. Bieganie - powinienem biec po 4.10 na kilometr. Niestety, w nowym miejscu zapominam dużo wcześniej złapać w zegarku GPS-a. Kontrolę nad tempem odzyskuję dopiero na szóstym kilometrze. Do tego czasu biegnę "na czuja", ale kiedy szósty kilometr pokonuję w tempie 4.02 wiem, że jest aż 8 sekund za szybko. Zwalniam...4.05, 4.07, 4.09, 4.04. Czas końcowy z zegarka to 41.30, ale muszę liczyć dystans aż od roweru do wybiegu ze strefy, bo stoper włączyłem w momencie rozpoczęcia biegu. Czas końcowy to 2h 19 minut, co jak na pływanie bez pianki, pierwszy start w sezonie i zawody treningowe, uważam za sukces. Mój... oszczędny w słowach i pochwałach trener napisał, że bieg "wyglądał nieźle". Mam nadzieję, że dostanę od Filipa podobnego maila za tydzień.
Izrael... na pewno jeszcze tu wrócę. Na pewno na zawody, na pewno dokończyć podróż w przeszłość. Magiczne miejsce, obcowanie z historią i wielokulturowością, uczta dla zmysłów. Pisząc te słowa siedzę na balkonie pokoju, na 12. piętrze hotelu, spoglądam na Jezioro Galilejskie i Wzgórza Golan, migoczące w oddali światła i tętniące życiem centrum Tyberiady, miasta, które król Herod Antypas założył przed dwoma tysiącami lat. Od czasu do czasu rozlegające się dźwięki współczesności nie pozwalają na dobre przenieść się myślami w tamte czasy...