Nad Morzem Śródziemnym mówi się, że to jeden z najniebezpieczniejszych zawodów. Kiedy kobiety wychodziły na plaże, by żegnać swoich mężczyzn: mężów, synów, chłopaków, płakały histerycznie, bo wiedziały, że wielu z nich nie wróci. Chociaż ludzie zajmują się tym od starożytności, to najniebezpieczniej było w XIX wieku. Oto na przykład od 1863 roku, w zaledwie 40 lat, zginęło ponad 5 tysięcy osób. Niektóre źródła mówią nawet o 10 tysiącach. 
Zapiski o nurkach gąbek znajdziemy w dziełach starożytnych Greków, na przykład w epopejach Homera lub w pismach Arystotelesa – przekonuje greeka.com. Nic więc dziwnego, że niektórzy nazywali właśnie nurkowanie, nic innego, "nastraszą profesją na świecie". Na dodatek godną szacunku, podziwianą i wychwalaną. 
Bo nurkowie gąbek byli ówczesnymi herosami. Smukli, wysportowani, o imponujących, wyrzeźbionych sylwetkach. Na dodatek szczycący się niemal ponadludzkimi umiejętnościami. Już w starożytności potrafili bowiem zejść pod wodę, wyłącznie na wdechu, aż na głębokość 30 metrów. Nurkowali nago, a żeby zanurzać się jak najszybciej, wskakiwali z łodzi do morza z wielkimi, 15-kilogramowymi bryłami marmuru lub granitu, który ściągał ich na samo dno. Najbardziej wytrwali zostawali tam nawet 5 minut.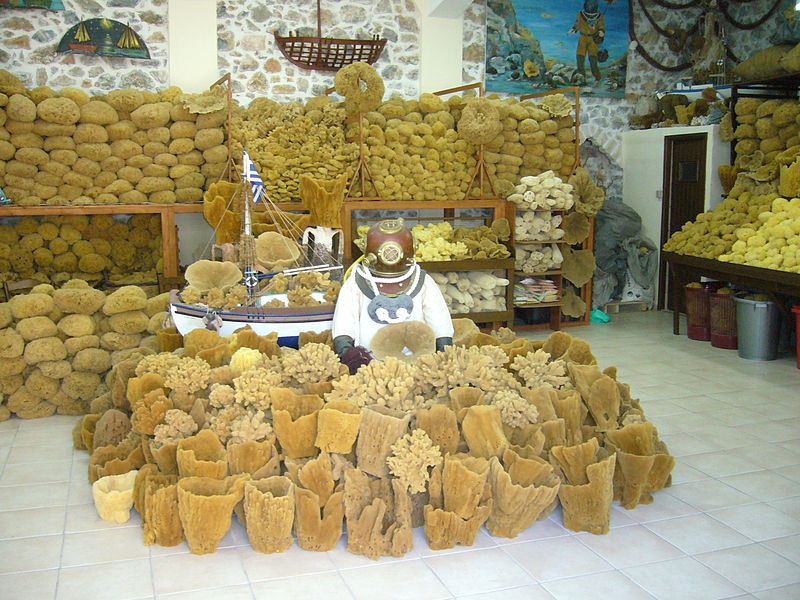 Zajmowały się tym już dzieciaki, ledwie kilkunastoletnie. Dla mieszkańców wschodnich rejonów Morza Śródziemnego (głównie wyspy Kalimnos), uważanego za miejsce pochodzenia gąbek najwyższej jakości, było to główne źródło utrzymania. Do dziś opowiada się w Grecji o największych w historii wyczynowcach. Na przykład o braciach Sarandaki z wyspy Simi, którzy bez wysiłku mieli schodzić na głębokość blisko 70 metrów! 
Paradoksalnie jednak aż do XIX wieku, kiedy nurkowano po gąbki owym "starożytnym sposobem", było to stosunkowo bezpieczne zajęcie. Problemy pojawiły się wraz z rozwojem techniki, a więc wynalezieniem w 1960 roku urządzenia, zwanego przez Greków "Skafandro". Był to prymitywny skafander, umożliwiający schodzenie na większe głębokości, bo nie trzeba już było polegać jedynie na własnych płucach. 
Nurkowie zaczęli więc sprawdzać, na ile mogą sobie pozwolić. Już nie tylko najwięksi wyczynowcy, ale praktycznie każdy, docierał do głębokości ponad 50 metrów. I to wielokrotnie w ciągu dnia. Nikt nie brał na poważnie ostrzeżeń producentów, którzy zapewniali, że spędzanie w skafandrze dłużej niż 2,5 godziny dziennie lub przekraczanie 37 metrów może być niebezpieczne. Nikt nie słyszał nawet o chorobie dekompresyjnej. 
- Wówczas okazało się, że mamy doprawdy do czynienia z najbardziej niebezpiecznym zawodem na świecie – przekonuje Torrance Parker, autor książki "20,000 Divers Under The Sea: A History of the Mediterranean and Western Atlantic Sponge Trades with an Account of Early Deep Diving" na usa.greekreporter.com. – Poza śmiercią nurkom groził im paraliż. Jeśli nie umarli, wracali do domu będąc kalekami, na przykład nie mogąc chodzić. To była tragedia. 
W ciągu zaledwie 50 lat zginęło, według różnych źródeł – od 5 do 10 tysięcy osób. Sprawa stała się na tyle poważna, że rząd, pod naciskiem kobiet nurków, zakazał nawet używania tego rodzaju kombinezonów. Tylko na kilka lat, a i tak większość z nich nadal nielegalnie korzystała z tych urządzeń. 
Dopiero z biegiem lat, rozwojem techniki i zaostrzeniem zasad, wszystko zaczęło się zmieniać. W 1910 roku grecki rząd założył chociażby profesjonalne szkoły dla nurków. Na drodze rozwojowi nurkowania po gąbki stanęły jednak najpierw dwie wojny światowe, a później znaczne zanieczyszczenia morza, które spowodowały gwałtowne zmniejszenie się ilości cennego towaru. Dziś w okolicach greckich nadbrzeży działa tylko około pięciu firm, które zajmują się szukaniem gąbek – szacuje BBC.