Każdy przygotowujący się do startów w triathlonach wykorzystuje jak może czas na treningi. A co, jeśli w misternie ułożonym planie treningowym zaplanowaliśmy rodzinne wakacje? Nie przejmujemy się tym, bo treningi zawsze można wkomponować we wspólny wyjazd. My, triathloniści tak już mamy, że w wolne dni jeszcze intensywniej zaprzęgamy nasze mięśnie do pracy. Planując rodzinne wakacje szukamy miejsc, w których trening byłby możliwy, aby realizacja naszego planu jak najmniej ucierpiała w trakcie wyjazdu. W hotelach sprawdzamy, czy basen ma prostą odpowiedniej długości, a zanim wyjedziemy, rezerwujemy rower, by czekał na nas na miejscu.
Można oczywiście zabrać rower ze sobą, ale to już dla bardziej wtajemniczonych, którym nie jest straszne rozkładanie i pakowanie go do specjalnej walizki. Ja jeszcze nie jestem na tym etapie, ale wszystko przede mną. Na razie wypożyczam go na miejscu. Koszt jest porównywalny do ceny transportu lotniczego roweru tam i z powrotem (w razie czego służę kontaktem do sprawdzonych wypożyczalni).

Na początku maja ubiegłego roku miałem przyjemność eksplorować na rowerze jedną z Wysp Kanaryjskich – Fuerteventurę. W tym roku padło na kolejną – Teneryfę. W ubiegłym roku na rowerze szosowym stawiałem przysłowiowe pierwsze kroki, a na Fuertę pojechałem po paru miesiącach spędzonych na trenażerze i jednej jeździe na zewnątrz. Trasy były dla mnie trudne, teren mocno pofałdowany i górzysty, a wiejący mocno wiatr jeszcze pogarszał sytuację. Ale patrząc na tamte warunki z perspektywy czasu muszę napisać, że była to sielanka. Pogodę miałem dobrą do jazdy, bo słońce nas nie paliło. Byłem słabo przygotowany, a jednak udawało mi się pokonywać codziennie spore jak na takiego żółtodzioba dystanse. Po przylocie na Teneryfę ogarnęło mnie złe przeczucie. Po pierwsze drogi ze zdecydowanie większym ruchem samochodowym, po drugie palące słońce od wczesnych godzin porannych. A po trzecie…
Mieszkaliśmy w Costa Adeje, jednej z kilku miejscowości turystycznych położonych nad oceanem, jednak zdecydowanie mniej zatłoczonej niż pobliskie Las Americas. Widok na ocean był kojący… mniej kojąco działał widok za siebie, czyli w kierunku lądu. Góry. Nie pagórki, nie wzniesienia, tylko góry przesłaniające cały krajobraz. Oddalone od miejsca naszego pobytu nie o kilkadziesiąt kilometrów, majaczące gdzieś w oddali, lecz położone na wyciągnięcie ręki.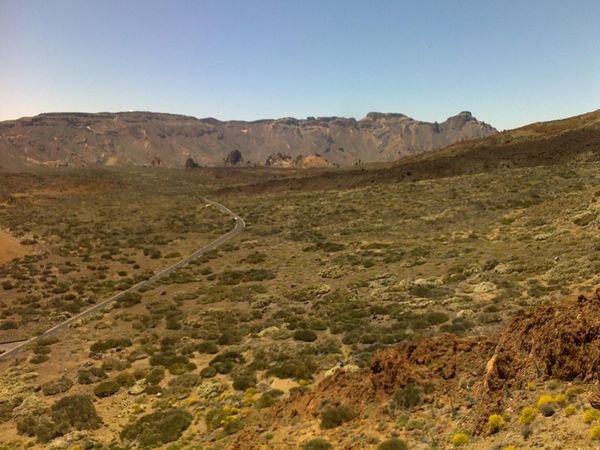 Droga do pobliskiej La Calety, oddalonej o parę kilometrów, bardzo spokojnej miejscowości, zupełnie innej niż pozostałe w pobliżu, oczywiście pod górkę. A do Adeje znajdującego się kilka kilometrów dalej, w kierunku gór, to już regularna wspinaczka. Widok ze wzgórza nad Adeje w kierunku oceanu działa na wyobraźnię, a jesteśmy zaledwie kilka kilometrów w kierunku lądu… a gdzie prawdziwe góry?!
To "po trzecie" uświadomiłem sobie pierwszego dnia, kiedy wybrałem się na rower w tamtym kierunku… tu jest wszędzie pod górkę i brak jest praktycznie płaskich odcinków. Po paru dniach trasa z nachyleniem 1-2% zaczyna wydawać się płaska i jest to bardzo mylące i zwodnicze, szczególnie, jeśli wybieracie się na dłuższy trening.
Zresztą stwierdzenie dłuższy trening, jeśli naszym założeniem jest jazda w tlenie, z utrzymaniem pewnego zakresu tętna, w takich warunkach terenowych, brzmi dość komicznie. 40-50 km w 2-3 godziny nie robi wrażenia. A jak ma się zaplanowany trening trwający 1,5 godziny, to ilość przejechanych kilometrów staje się wręcz śmieszna. Oczywiście trzeba brać pod uwagę, że piszący te słowa to nadal żółtodziób rowerowy… no może na dziobie pojawiają się pojedyncze, pomarańczowe cętki. Jednak jeśli spojrzymy na dane z treningu i wzrost wysokości to widzimy, że wpakowaliśmy się w niezłe bagno. 42 km ze wzrostem wysokości 925 m albo 34 km i 725 m zrobiło na mnie wrażenie. Trzeba dodać, że były to treningi zrobione w pobliżu hotelu.
Łagodna upierdliwość lub upierdliwa łagodność
W drugi dzień pobytu postanowiłem się oddalić od bezpiecznej okolicy Costa Adeje-La Caleta-Adeje i udać w stronę przeciwną ze wstępnym planem dostania się do drogi TF-28. Miałem nadzieję, że będzie to trasa o niezbyt mocnym nachyleniu. Z Costa Adeje pojechałem wzdłuż autostrady do Las Americas, za którym znajduje się połączenie z drogą TF-28. Wbrew pozorom podróż przez miejscowość i próba wyjazdu w kierunku bocznych dróg nie jest łatwa, a po autostradzie TF-1 rowerem podróżować raczej się nie zaleca. Słyszałem, że jest to wręcz zabronione. Patrząc na natężenie ruchu samochodów muszę przyznać, że i tak nie odważyłbym się pokonać tej trasy na rowerze.
Droga TF-28 wznosi się łagodnie, choć ta łagodność ze względu na swoją nieustępliwość szybko staje się upierdliwa. Taka łagodna upierdliwość lub upierdliwa łagodność. Jadę pod górkę. Prędkość spada drastycznie i nawet chwilami przychodzi mi do głowy myśl, że to nie przystoi, żeby tak wolno jechać… Przyśpieszam… o 1-2 km/h, osiągając oszałamiającą szybkość 14 km/h. A co tam! Stać mnie na taki wysiłek. Odpocznę na płaskim. Po kilkuset metrach mam dziwne przeczucie, że szarżuję. Wszystko jednak zależy od tego, gdzie chcemy dojechać. Ponieważ tego nie wiem, jadę przed siebie, więc zwalniam. A nuż siły przydadzą się później?
Po kilku kilometrach dojeżdżam do miasteczka La Camella i na małym rondzie trzeba dokonać szybkiej decyzji. Jechać prosto czy skręcić w lewo na drogę TF-51… Na drogowskazie dodatkowo widnieje napis "Del Teide". Kto nie słyszał o Del Teide! Miejsce kultowe, miejsce zgrupowań kolarzy szosowych i górskich, w tym naszej rodzimej czołówki. Park Narodowy Del Teide położony na wysokości ponad 2,1 tys. m z wulkanem Pico del Teide, do którego można dostać się kolejką. Przewozi nas ona z podnóża wulkanu na wysokość 3,550 m w 8 minut.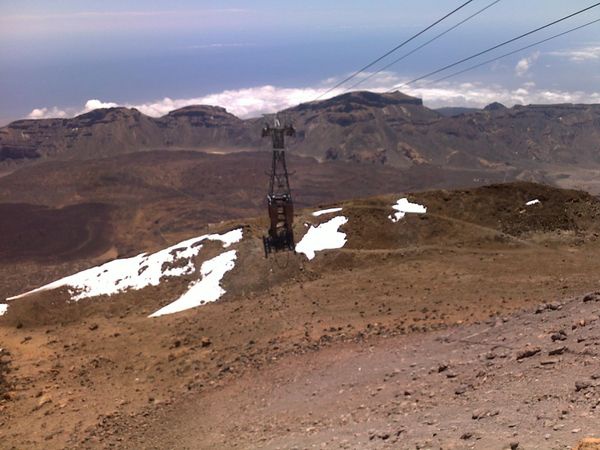 Do szczytu wulkanu można się dostać pieszo uzyskując wcześniej bezpłatne pozwolenie na wejście. Szczyt krateru to wysokość ponad 3,700 m. No więc dokąd jechać? TF-28 czy TF-51? Jedno kółko na rondzie, drugie kółko… A niech tam… TF-51. Droga, którą jadę, jest codziennie przemierzana przez co najmniej kilkunastu, a może parudziesięciu kolarzy amatorów. Więc nawet kiedy jedziemy sami, możemy w razie kłopotów liczyć na pomoc bratniej duszy. Bratniej, bo trud tej wspinaczki mogą docenić tylko ci, którzy zmierzyli się z nią siłą własnych mięśni a nie koni mechanicznych.
Także mieszkańcy okolicznych miejscowości z uznaniem patrzą na każdego udającego się w górę. Pozdrawiają i uniesionym kciukiem uniesionym dodają otuchy. Jadę. Nachylenie drogi się zwiększa i prędkość jeszcze bardziej spada, ale nadzieja, że za kolejnym zakrętem się "wypłaszczy", jeszcze mnie nie opuszcza. Po kilku kolejnych zakrętach tracę wszelkie złudzenia. Płasko nie będzie. Mogę jechać dalej w górę albo zawrócić i puścić się szaleńczym zjazdem w dół. Następuje faza pogodzenia się z losem.
"Podjazd 15 km na dzień dobry – piękna sprawa"
Jadę w górę. Jest południe i słońce pali niemiłosiernie. Przy odpowiednim pochyleniu głowy co kilka minut pot spod kasku wylewa się strumieniem, zupełnie jak przy padającym deszczu. Mijam Aronę, a potem drogą, która wije się jak wąż po zboczu góry, dojeżdżam do La Escalona. Tam zatrzymuję się na chwilę w cieniu położonego na skraju skarpy domu, nasycając się energetycznie i wizualnie, bo widok na ocean, majaczącą w oddali sąsiednią wyspę La Gomerę i góry, które z poziomu oceanu wydawały się monstrualne, jest oszałamiający. Jestem wysoko.
Jadę jeszcze tylko trochę dalej, do miejsca, w którym odchodzi droga TG-565 w kierunku San Miquel i kieruję się nią w dół. Tego dnia wyżej nie wjadę, nie mam już zapasu picia i żeli, a poza tym i tak mam wrażenie, że dotarłem bardzo wysoko. Jadę w dół, docieram do drogi TF-28 i skręcając w prawo kieruję się w stronę oceanu. W trakcie wspinaczki modliłem się, żeby w końcu jechać w dół…
W trakcie zjazdu błagam o choćby chwilę płaskiego. Ręce cały czas na hamulcach, mocno trzymają kierownicę, bo drogi nie są najlepszej jakości i dopiero jadąc 35-45 km/h czujemy, jak bardzo daleko im do ideału. Nie wiem, co bardziej mnie bolało – nogi przy wjeździe czy ręce przy zjeździe. Ale widoki są niezapomniane i nawet przechodzi mi przez głowę, żeby się zatrzymać i zrobić zdjęcie, ale zjazd działa jak narkotyk i nie sposób się zatrzymać.
W końcu kiedyś też tu wjedziecie i zobaczycie to własne oczy. Po wgraniu trasy okazało się, że udało mi się podjechać na 1035 m… 15 km podjazdu z przewyższeniem 1000 m. Piszę do trenera, Filipa Szołowskiego, że tu żartów nie ma. Może nie powinienem tak jeździć, może to nie jest dobre na tym etapie treningów? Otrzymuję krótką odpowiedź… "Widzę, że jest... ciekawie :) Podjazd 15 km na dzień dobry – piękna sprawa".
Piękna sprawa? To ja z siebie żyły wypruwam, mam poczucie dokonania niemożliwego, a tu "piękna sprawa"? Dobrze. Postaram się, żeby było jeszcze piękniej. W środę, kiedy mam zaplanowany ponad 4-godzinny trening rowerowy, postaram się wjechać wyżej. Na pewno nie porwę się jednak na wjazd pod wulkan.

Rodzinnie zrobiliśmy sobie wycieczkę na wulkan Teide dwa dni wcześniej i mogłem przekonać się, jak wygląda droga powyżej miejsca, w którym skończyłem ostatnią wspinaczkę. Z poziomu samochodu odnosimy mylne wrażenie, że jest płasko. To złudzenie. Na horyzoncie widać kolejne wysokie pasmo górskie i żeby dostać się do wulkanu trzeba je pokonać. A jak już się to zrobi, czeka nas zjazd w dół w "dolinę" - kalderę po ogromnym wulkanie Las Canadas, który miał średnicę 40 km i wysokość 4500 m. Zapadnięcie się wulkanu paręset tysięcy lat temu doprowadziło do powstania wielkiego zagłębienia o wymiarach 16 x 9 km. Wulkan El Teide powstał w jej wnętrzu w wyniku późniejszych erupcji. Kaldera widziana z poziomu dolnej stacji kolejki wygląda imponująco. Trzeba było wjechać tak wysoko, żeby w końcu znaleźć na Teneryfie w miarę płaski i długi odcinek trasy. Na wysokości 2200-2300 m.
Wjeżdżając kolejką na szczyt należy pamiętać, że temperatura na górze drastycznie spada. Tego dnia było teoretycznie 12 stopni, ale wiejący bardzo silny i zimny wiatr sprawiał, że chęć powrotu do gorącego słońca 1200 m niżej była ogromna. Pamiętajcie, żeby zabrać ze sobą ciepłą kurtkę chroniącą przed wiatrem, a nawet czapkę i może długie spodnie, jeśli chcecie zabawić na szczycie dłużej, nie mówiąc już o podejściu do granicy krateru. Leżący na szczycie śnieg działa na wyobraźnię wystarczająco mocno, zanim jeszcze opuścimy wagonik, a widok chmur pokrywających szczyty dwutysięczników robi piorunujące wrażenie. Jesteśmy na szczycie (prawie) najwyższej góry Hiszpanii.
Jadąc autem mijamy wielu kolarzy zmierzających w górę, a pod wulkanem widzimy tych, którzy już tam dotarli. Zazdroszczę im. Fajnie byłoby pokonać tę trasę, choć w moim przypadku jest to raczej nierealne. Może kiedyś, może za rok.
Ożywiona dyskusja z samym sobą
W kolejnym dniu, w moje 44. urodziny, zabrałem żonę i syna do Loro Parku, gdzie można oglądać m.in. delfiny, orki i lwy morskie. Prezent był w równym stopniu dobrą zabawą dla naszego 6-letniego syna, jak i dla nas. Po tych pokazach syn zapragnął jak najszybciej wrócić na basen, żeby pływać jak one. Po powrocie skoczył do basenu "na główkę" i bez dodatkowych przyrządów (dotychczas pływał tylko z "makaronem") przepłynął parę metrów. Cud. Wcześniej nie chciał spróbować. Widać tata nie jest tak dobrym przykładem jak delfiny i orki.
Ja marzyłem o jeszcze jednym prezencie. Myśli kierowały się w jedną tylko stronę. Z drugiej strony wydawało się to nierealne, dlatego postanowiłem po prostu ruszyć przed siebie i nic nikomu nie mówić. Nawet sobie. Lepiej, żebym nie wiedział, co planuję. Ruszam znaną mi już drogą TF-28 i teraz już wiem, że ten "łagodny" podjazd to dopiero początek. Jadę wolno, na bardzo luźnym przełożeniu. Zresztą dużą tarczę z przodu na Teneryfie mogliby z rowerów usunąć, jazda na niej pod górę praktycznie nie wchodzi w grę, a z górki i tak się nie pedałuje, bo rower jedzie sam i niehamowany bardzo szybko osiąga 50 km/h.
Jedzie mi się dobrze, tym razem ruszyłem z hotelu około 7:30 rano, kiedy słońce wschodziło. Daje mi to szansę przejechania pierwszych 2 godzin w jako takim komforcie cieplnym. Jadąc drogą TF-51 nie mogę się już doczekać trawersu przed La Escalona.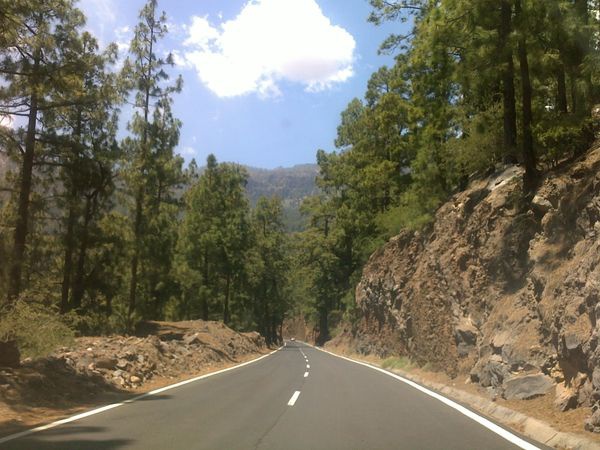 Jazda tym fragmentem trasy i widok w dół robią duże wrażenie. Dojeżdżam do miejsca, w którym zakończyłem ostatnią wspinaczkę i kieruję się dalej w górę do kolejnej miejscowości Vilaflor. Tam droga TF-51 się kończy i dalej w górę można jechać drogą TF-21, która ciągnie się od północnego krańca wyspy przez Park El Teide na południe. W Vilaflor na skrzyżowaniu obu dróg jest mała restauracja z niewielkim parkingiem, na którym strudzeni kolarze uzupełniają stracone kalorie i płyny, mogą też skorzystać z toalety.
Przed Vilaflor wiele razy tłumaczyłem sobie, że chyba zwariowałem myśląc, że uda mi się pokonać całą trasę. Oczywiście były też chwile euforii na mniej nachylonych odcinkach, ale jak tylko trzeba było mocniej nacisnąć na pedały, heroizm opuszczał mnie bardzo szybko. Poza tym prowadziłem ożywioną dyskusję ze samym sobą. Mówiłem sobie: po co mi ten wjazd? Czy on cokolwiek zmieni? Kto będzie wiedział, że nie wjechałem? Z drugiej strony pobrzmiewał cichy, ledwie słyszalny szept… być tak blisko i nie wjechać? Chcesz tego? No oczywiście, że chcę, ale to jeszcze tyle godzin wspinaczki. No to może zrób takie założenie, podpowiadał szept, że jak wiedziesz, to uda ci się zrealizować wszystkie plany na ten sezon… a jak nie wiedziesz, to nie. O nie! Nie dam się tak wrobić!
I tak niepostrzeżenie dotarłem do Vilaflor. Zatrzymałem się na parkingu, napiłem się, zjadłem żel, wymieniłem przyjazne spojrzenie z innym wspinającym się pod górę kolarzem, który wcześniej wyprzedził mnie na trasie. Nie próbowałem utrzymać mu się na kole… nogi miał ogolone, a wiadomo, że z kimś takim żartów nie ma. Inna liga. Ja na razie nie golę, bo chyba jeszcze nie zasłużyłem. Robię wszystko, żeby tylko nie myśleć, co robić dalej. Zawrócić tą samą drogą w dół? W końcu i tak wjechałem dużo wyżej, niż ostatnio. Skręcić w prawo i drogą TF-21 dojechać do drogi TF-28, a potem do domu? A może jednak skręcić w lewo i drogą TF-21 kierować się ku nowym szczytom? Co robić? To były trudne chwile, ale wybrałem…
Droga do celu zawsze prowadzi pod górę. Jadę na spotkanie z wulkanem. Za Vilaflor krajobraz zmienia się bardzo wyraźnie. Pustynno-księżycowy ustępuje miejsca ciągnącym się aż do granic parku lasom iglastym, z drzewami wysokimi i pachnącymi żywicą. I robi się nagle bardzo zimno. Nisko zawieszone słońce w wielu miejscach nie może się przebić przez korony drzew. W pewnym momencie wręcz nie mogą się doczekać miejsca, w którym świeci, żeby na chwilę przystanąć i ogrzać się w promieniach.
Droga prowadzi przez wysokie pasmo górskie i po przejechaniu fragmentu trasy w całości ocienionej wyjeżdżamy na odkrytą przestrzeń zbocza góry, które pokonujemy wijącą się po nim drogą. Widok odsłoniętej wyspy i niższych partii gór w oddali pokrytych chmurami jest wart tej wspinaczki. Kiedy drzewa przestają nas chronić z obu stron pojawia się zupełnie niepostrzeżenie, początkowo nieśmiało, żeby na kolejnych kilometrach pokazać swoje prawdziwe oblicze… wiatr.
Jesteśmy na wysokości około 1700 m, świeci mocne słońce, wieje coraz mocniejszy wiatr, po lewej stronie drogi przepaść… czy można chcieć czegoś więcej? Zakręt za zakrętem, czas leci szybko, ale kilometrów na liczniku nie przybywa. W co ja się wpakowałem! Wiedziałem, że kolejną decyzję będę musiał podjąć niebawem, bo na wysokości około 2200 m, kiedy kończy się wspinaczka i zaczyna zjazd w dół do doliny w kierunku wulkanu. Zmiana terenu jest kusząca, ale wracając do domu trzeba pamiętać, że zanim puścimy się szaleńczym zjazdem w dół, trzeba będzie wyjechać z doliny pokonując ten sam fragment trasy do góry.
Nachylenie niewielkie, odcinek niespecjalnie długi, ale zawsze trzeba mieć to w pamięci, bo sił może zabraknąć właśnie wtedy. Zanim się jednak spostrzegłem, że pierwszy szczyt osiągnięty, już pędziłem w dół. Teraz nie ma już odwrotu. Emocje związane z wjazdem były tak silne, że w kąciku jednego oka pojawiła się mała łezka… ale szybko ją wiatr zdmuchnął. To nie może być prawda! Teraz, kiedy pokonałem taki szmat drogi w górę, będę się musiał zmagać z wiatrem? Nie inaczej. Kiedy skończył się zjazd i zaczęła ponowna upierdliwa łagodna wspinaczka wewnątrz doliny w stronę wulkanu, wtedy dopiero poczułem, co to znaczy zmagać się z wiatrem. Do tego droga, żeby jeszcze osłabić moje morale, zmieniła się w tak popękaną, że miałem tylko jedno skojarzenie… Paris-Roubaix.
Teraz już wiało w twarz… uff przynajmniej nie przewróci mnie na bok, choć w tym miejscu trasy upadek na pobocze nie grozi już lotem w przepaść, tylko potłuczeniem się o kamienie. Nie mam już żadnego żelu, a w bidonie została już tylko resztka wody. Przede mną jeszcze ponad 10 kilometrów i to jest najbardziej zwodnicze, kiedy zjeżdżamy do doliny w kierunku wulkanu. Wydaje się, że to już, tuż za rogiem, a to jeszcze spore wyzwanie, tym bardziej, że wysiłek, jakiemu przyszło nam sprostać, wykonujemy na wysokości ponad 2100 m.
"Trzeba być czujnym" - śmieje się strażnik góry
Jadę i wykrzykuje sam do siebie różne dziwne słowa, czasem nawet niecenzuralne, krzyczę na wiatr, jakby to miało cokolwiek zmienić. Ale co się nakrzyczę to moje. Wręcz z każdym metrem czuję jak wiatr bezlitośnie odbiera mi siły. Za mną 40 km wspinaczki, a zaczynam umierać na prawie płaskim odcinku. Wiatr wieje jednostajnie mocno z przodu, żeby w niespodziewanym momencie na kilkanaście sekund przyśpieszyć tak, jakby ktoś włączył turbodoładowanie. Tak jakby mityczny strażnik wulkanu siedzący na szczycie góry patrzył na mnie jadącego z wielkim trudem do przodu i bawił się całą sytuacją w najlepsze. Ile jeszcze wytrzymam? Kilkanaście sekund turbo wiatru i chwila luzu, czyli wieje tylko mocno. Kiedy powraca nadzieja, znowu mocniej w twarz i tak w kółko. A dla urozmaicenia od czasu do czasu turbo zakręca i dostaję strzał z boku. "Trzeba być czujnym" - śmieje się strażnik góry, przynajmniej tak to sobie wyobrażam.
Do stacji kolejki na szczyt wulkanu pozostało mi około 2 km, może trochę mniej, może trochę więcej, widzę ją już z drogi, którą jadę. Jeszcze tylko jedna dłuższa prosta, potem łagodny zakręt w lewo, w prawo, kolejna prosta i będę u celu. W budynku stacji kolejki jest mały sklepik i tam mam zamiar uzupełnić kalorię i płyny. Mijam położoną przy drodze większą restaurację z dużym parkingiem, miejsce postoju wielu turystów, w tym amatorów kolarstwa.
Oddalam się od niej paręset metrów i wtedy kolejny turbo podmuch tak mnie osłabia, że staję na poboczu. Kiedy już stoję i myślę, co dalej robić, kolejny podmuch o mało nie przewrócił mnie z rowerem na drogę. Jestem tak blisko celu, a jednocześnie tak daleko, jak w żadnym momencie tej wyprawy. Na tyle daleko, że muszę poważnie rozważyć, czy nie zawrócić do znajdującego się za moimi plecami punktu, gdzie mogę szybko uzupełnić stracone kalorie.
Ponieważ już kilka razy w życiu na treningu doświadczyłem mocnego odcięcia, wiem, jak to się zaczyna i co się dzieje, kiedy zlekceważę pierwsze objawy. Najbardziej dramatycznie było w ubiegłym roku w trakcie wyprawy rowerem przez Betancurię na Feurcie. Teraz stojąc na poboczu czuję się jak himalaista w trakcie ataku szczytowego, któremu do celu zostało kilkadziesiąt metrów, ale każdy kolejny krok sprawia, że siły opuszczają go coraz bardziej. Decyzja, którą musi podjąć jest trudna, bo do wyprawy przygotowywał się miesiącami.
W moim przypadku z psychicznego punktu widzenia sprawa jest prostsza. Praktycznie do celu dotarłem, jestem u stóp wulkanu na wysokości około 2200 m i nic się nie stanie, jak zakończę swoją podróż w tym miejscu. Oczywiście po części oznacza to pogodzenie się z przegraną, głównie z wiatrem, ale takie doświadczenia także są potrzebne. Nie zawsze wszystko, co planujemy, udaje się nam zrealizować w 100 procentach. Tak po prostu czasami jest i trzeba się z tym pogodzić. I tak dotarłem dalej, niż realnie zakładałem kilka godzin temu. Zawracam.
Robię sobie około 30 minut przerwy, w trakcie której pochłaniam kanapkę z tuńczykiem, omlet i wypijam puszkę Pepsi. Wracam do życia. Chyba trzeba dać znać żonie, że dzisiejszy trening trochę się przedłuży… wyciągam telefon… na ekranie nieodebrana wiadomość… od żony. "Zabierz balsam 15 jak będziesz szedł na basen". W miejscu, w którym się znajduję, treść tego SMS-a wydaje mi się totalnie abstrakcyjna. Piszę, gdzie jestem i po chwili otrzymuję odpowiedź. "No to pięknie". Mam jakieś dziwne przeczucie, że to "pięknie" nie niesie ze sobą takiego przekazu, jak wcześniejsze, przekazane przez trenera. Trzeba wracać do rodziny. Co prawda teraz już mam na tyle sił, że mógłbym pokonać te pozostałe parę kilometrów do celu, ale nie… tym razem się nie udało. Ale ja tu jeszcze wrócę!
Kilka kilometrów tym razem z wiatrem, krótka wspinaczka, która na szczęście nie okazuje się trudna i ruszam w dół. Jestem ponownie na wysokości 2200 m. Przede mną 35 km zjazdu! Widoki niby te same, ale jednak zyskują nowy wymiar.
Wrażenia zdecydowanie odmienne, niż podczas wspinaczki, ale równie ekscytujące. Muszę bardzo pilnować prędkości, bo przekraczając 40 km/h hamowanie przed zakrętami robi się bardzo trudne. Chwila nieuwagi i rower pędzi 50 km/h. I tak w szybkim tempie wracam w kierunku oceanu. Wrażenie jest takie, jakbym oglądał film na przyspieszonych obrotach. Droga za Vilaflor robi się nierówna i rower miejscami podskakuje jak piłka. Muszę mocno zwolnić, żeby utrzymać kierownicę. Jadąc w dół co pewien czas mijam kolejnych śmiałków "mknących" w pocie czoła do góry. Są wśród nich dwie kobiety. Wszyscy jadą samotnie. Pozdrawiam ich i uśmiecham się. Wiem, ile to znaczy. Mam wrażenie, że mi zazdroszczą, że mam to już za sobą. Ja też się cieszę, dlatego mój uśmiech na pewno nie jest wymuszony. Po niecałej godzinie jestem na dole. Wykres trasy z uwzględnieniem czasu zmienia wyraźnie swój kształt.
Przed dotarciem do hotelu na środku ronda spada mi łańcuch, ale pomimo trąbiących kierowców nie wyprowadza mnie to z równowagi. Staję, zakładam go i jadę dalej. Po ponad 6 godzinach wracam do hotelu. Łączny wzrost wysokości wyniósł 2700 m i praktycznie całość przypada na pierwsze 62 ze 103 przejechanych kilometrów.
W trakcie tygodniowego pobytu udało mi się przejechać 325 km z sumarycznym wzrostem wysokości 7030 m, przebiec około 50 km ze wzrostem wysokości blisko 450 m i przepłynąć 6,5 km. Z urlopu wracamy wszyscy szczęśliwi.