Uganda przyciąga turystów parkami narodowymi, potężnym Jeziorem Wiktorii oraz wyjątkowo trudnymi trasami do raftingu, czyli spływu kajakami lub pontonami. Przed wyjazdem należy jednak sprawdzić, jakie są wymagane szczepienia oraz ile kosztuje opieka medyczna w tym kraju. 
1.    Wizy
Turystów obowiązuje wiza, którą mogą wyrobić na przejściu granicznym lub na lotnisku. Dokument ten kosztuje 100 dolarów i to na granicy władze ustalają, jak długo będzie ważny (najczęściej od dwóch tygodni do trzech miesięcy). "Zezwolenie ma charakter odręcznej adnotacji w paszporcie, tuż obok stempla wjazdowego" – czytamy na stronie polskiego MSZ. Więcej informacji na temat tego dokumentu można znaleźć na stronie Ugandan Directorate of Citizenship and Immigration Control.
Poza wizą do wjazdu na teren Ugandy wymagany jest paszport, ważny jeszcze przynajmniej przez sześć miesięcy.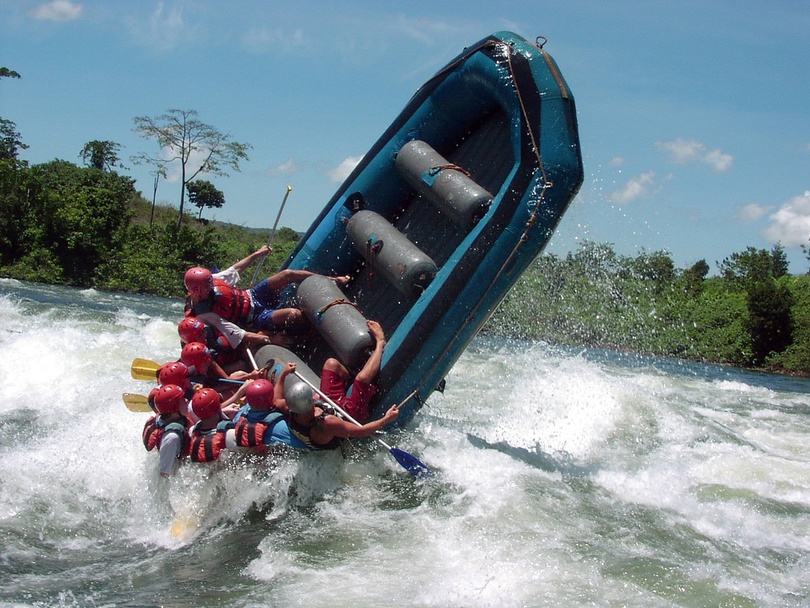 2.    Wymagane szczepienia i ubezpieczenie
Przed wyjazdem do Ugandy należy się zaszczepić przeciwko żółtej febrze, jeśli się podróżuje z terenów, na których występuje ta choroba. Poza tym MSZ zaleca również zabezpieczyć się w ten sposób przed wirusowym zapaleniem wątroby oraz meningokokowym zapaleniem opon mózgowych. W tym kraju występuje również zagrożenie zapadnięcia na tyfus oraz cholerę. Turystom radzi się, żeby przed wyjazdem upewnili się u lekarza, jakie jeszcze szczepienia są aktualnie wymagane. 
W Ugandzie należy unikać picia innej wody niż butelkowana lub przegotowana oraz jedzenia świeżych warzyw i owoców. 
Opieka medyczna ma wyjątkowo niski standard. A mimo to jest stosunkowo droga. Za dobę w szpitalu przyjdzie nam zapłacić do 100 dolarów, czyli blisko 384 złotych. Polski resort spraw zagranicznych zaleca więc, żeby wykupić międzynarodowe ubezpieczenie, które ułatwi nam później odzyskanie pieniędzy wydanych na leczenie. 
"Zalecane jest również rozważenie wykupienia ubezpieczenia zapewniającego skuteczny profesjonalny lotniczy transport medyczny, który w sytuacji braku opieki medycznej w wielu przypadkach może uratować zdrowie i życie" – dodaje resort.
3.    Niebezpieczeństwa
W Ugandzie panuje stosunkowo wysokie ryzyko ataków terrorystycznych, dlatego też należy zachować dużą ostrożność, zwłaszcza przebywając w hotelach, środkach transportu i restauracjach. Turyści zagrożeni są również atakami ze strony bandytów, którzy włamują się do samochodów stojących w korkach, dodają do napojów środki odurzające, niekiedy używają nawet chloroformu. Dlatego też nie powinno się nosić na widoku cennych przedmiotów i nie przyjmować poczęstunków od obcych.
Nierozważne jest również ubieranie się w stroje z militarnym wzornictwem, "w szczególności na terenie przygranicznym Ugandy z Demokratyczną Republiką Kongo, który jest objęty działaniami militarnymi" – przestrzega MSZ.
Kategorycznie nie wolno również fotografować niektórych budynków, na przykład rządowych. Homoseksualiści powinni powstrzymywać się od publicznego okazywania czułości, ponieważ tak zwane "promowanie homoseksualizmu" jest zagrożone nawet dożywotnią karą więzienia. 
4.    Przemieszczanie się
Po Ugandzie można się poruszać samochodem, posługując się polskim prawem jazdy, jeśli nie zamierza się tego robić dłużej niż przez trzy miesiące. Po tym czasie wymagane jest wyrobienie miejscowego albo międzynarodowego dokumentu. 
Komunikacja publiczna, chociaż tania, jest wyjątkowo niebezpieczna. Autobusy często ulegają wypadkom, nagminnie zdarza się również, że napadają na nie uzbrojone bandy. 
5.    Niezbędne dane kontaktowe
W Ugandzie nie ma polskiej Ambasady, dlatego kraj znajduje się pod opieką placówki znajdującej się w Kenii. 
Kenia, Nairobi, 58 Red Hill Road off Limuru Road, 00100 Nairobi
Tel.: +254 20 712 00 19 
Tel.: +254 20 712 00 20 
Tel.: +254 20 712 00 21 
Tel. dyżurny: +254 713 816 166 
Na miejscu jest jednak polski Konsulat Honorowy.
Uganda, Kampala, Farmers' House Plot 6-8, Parliamentary Avenue, P.O. Box 7103
Tel.: (00-256) 772 774 876 
---
Materiał powstał w oparciu o informacje zamieszczone na stronie polskiego MSZ. Przed wyruszeniem w podróż zaleca się sprawdzenie aktualnych informacji na stronie resortu.