Wybudowane w kanionie rzeki Guáitara, ponad sto metrów nad ziemią, uznane zostało przez w zeszłym roku przez "The Telegraph" za jeden z najpiękniejszych kościołów na całym świecie. Osiem lat wcześniej czytelnicy Eltiempo.com okrzyknęli je jednym z Siedmiu Cudów Kolumbii. Trochę ze względu na urokliwą architekturę, trochę z powodu legendy dotyczącej jego powstania. Opowieści, która ma wiele wersji i tak naprawdę chyba nikt nie wie, która jest prawdziwa. Wydaje się jednak, że zwiedzających niewiele to obchodzi.
Zgodnie z pierwszą z nich, bodaj najczęściej podawaną, w połowie XVIII wieku wzdłuż kanionu wędrowały matka z głuchoniemą córką. Kiedy złapała je burza, schroniły się pod nawisem skalnym. Tam dziecko zauważyło wirerunek Maryi, namalowany na skale i pierwszy raz w życiu odezwało się. Zszokowana kobieta zabrała je wkrótce potem do pobliskiego miasta Ipiales, opowiedziała swoją historię i zainspirowała mieszkańców do postawienia pierwszej kaplicy w tym miejscu.
Druga wersja legendy jest daleko bardziej dramatyczna. Matka i córka bowiem rzeczywiście, natknęły się na wizerunek Madonny, jednak nie dość, że od razu uciekły z tego miejsca, to jeszcze nikomu nie powiedziały o tajemniczym znalezisku. Wkrótce potem dziewczynka umarła. Kobieta miała zanieść jej ciało pod pamiętny skalny nawis i prosić o jego ożywienie. Tak się też stało.
Tak czy inaczej jeszcze w XVIII wieku powstała w tym miejscu, kilka kilometrów od Ipiales, w departamencie Nariño, pierwsza kaplica, którą z czasem rozbudowywano, aż w latach 40. XX wieku przybrała wreszcie znaną dziś formę neogotyckiej budowli. Pierwszymi pracami miał kierować niejaki Fray Juan ade Santa Gertrudis – niewidomy budowniczy, który zbierał środki od wiernych po całej okolicy, a w pewnym momencie prac odzyskał nawet zdolność widzenia.
Dziś do Las Lajas rocznie zagląda nawet blisko 750 tysięcy pielgrzymów, głównie Kolumbijczyków I Ekwadorczyków – przekonuje globalvoices.org. Zwykle schodzą do sanktuarium w dół, po zaparkowaniu samochodów przy położonej nieco wyżej jezdni. "Tam natykają się na zatrzęsienie mini restauracji i barów z barbecue, gdzie oferuje się im tinto (napój z ziaren kawowca, nieco inny niż kawa), empanady (faszerowane rogaliki) i całą masę innych wypieków, jak na przykład grillowane cuy, czyli kuzynów świnki morskiej" – dodaje thecitypaperbogota.com.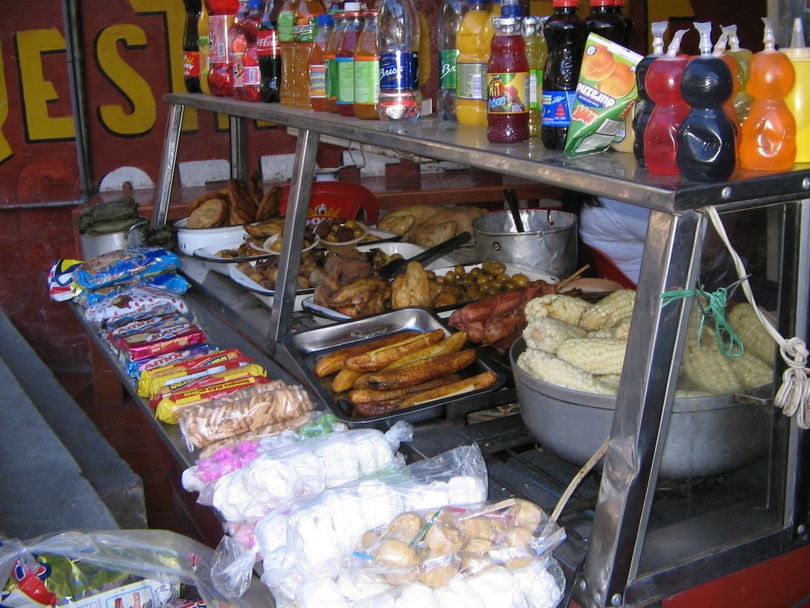 W październiku 2015 roku prezydent kraju Juan Manuel Santos otworzył 1,5 kilometrową linię kolejki linowej, wiozącej turystów do Las Lajas wprost z Autostrady Panamerykańskiej. Zapowiedział również rozbudowanie "strefy gastronomicznej" i powstanie centrum rozrywki – czytamy na thecitypaperbogota.com. "Zapewne dzięki temu miejsce zyska atrakcyjny punkt widokowy, trzeba mieć jednak nadzieje, że nie straci przy tym unikalnego klimatu" – zastrzega portal.