Bośnia i Hercegowina przyciąga turystów klasztorem derwiszów w niewielkiej miejscowości Blagaj, kamiennym, XVI-wiecznym Starym Mostem oraz licznymi pasmami górskimi. Przed wyjazdem warto jednak sprawdzić, ile pieniędzy należy przygotować na każdy dzień pobytu oraz jakie niebezpieczeństwa czyhają na podróżnych przy poboczach dróg.
1. Wizy
Turyści z Polski mogą wjechać do Bośni i Hercegowiny bez wizy, jeśli nie zamierzają przebywać w tym kraju dłużej niż przez 90 dni. Na granicy muszą jednak okazać paszport, ważny jeszcze przynajmniej przez 3 miesiące oraz przynajmniej 75 euro na każdy dzień pobytu.
Teoretycznie zamiast paszportu obywatele Unii Europejskiej mogą przedstawić dowód (ważny jeszcze przez trzy miesiące oraz taki, który nigdy nie był zgłoszony jako zagubiony, ponieważ jego numer znajduje się na liście m.in. straży granicznej i może zostać od razu odebrany). W praktyce jednak tego rodzaju podróż niesie za sobą wiele utrudnień "np. przy korzystaniu z bezpłatnej opieki medycznej w nagłych przypadkach, z usług niektórych banków, poczty czy Western Union" – ostrzega polski MSZ.
2. Przekraczanie granicy
Przez granicę można przewieźć bez deklaracji celnej do 2,5 tysiąca euro. Wyższą sumę należy zgłosić.
3. Wymagane szczepienia i ubezpieczenie
Szczepienia nie są obowiązkowe, ponieważ w tym rejonie nie odnotowano poważniejszych zagrożeń epidemiologicznych. Turystów ostrzega się jedynie przed bardzo wysokimi temperaturami (sięgającymi nawet 45 st. Celsjusza w dzień) oraz wyjątkowo niskimi temperaturami wody w rzekach i zbiornikach wodnych.
Obowiązkowe jest jedynie wykupienie ubezpieczenia komunikacyjnego, jeśli zamierzamy przejechać przez granicę własnym pojazdem. "Zaleca się dodatkowe wykupienie ubezpieczenia od następstw nieszczęśliwych wypadków i ubezpieczenia medycznego" – dodaje MSZ. "Należy wykazywać się dużą ostrożnością przy doborze firmy ubezpieczeniowej w Polsce - zdarzają się bowiem przypadki odmowy - przez nierzetelne firmy - pokrycia kosztów leczenia szpitalnego".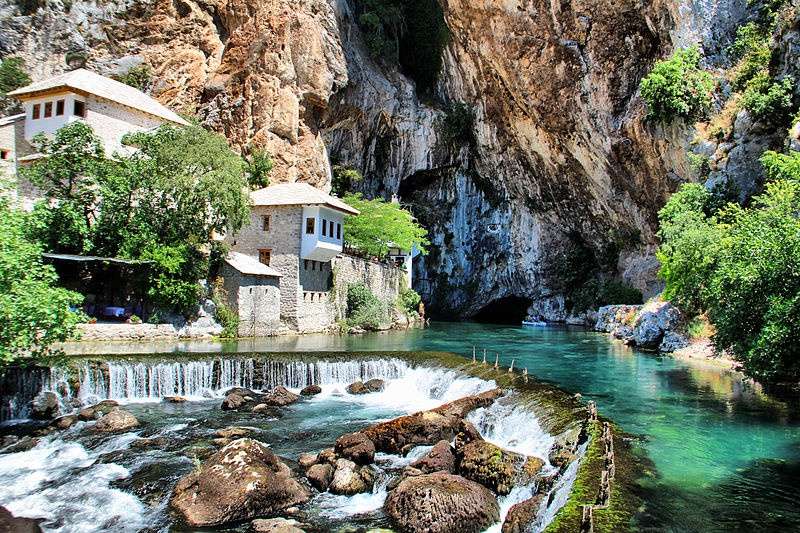 4. Niebezpieczeństwa
W Bośni i Hercegowinie na turystów przede wszystkim czyhają kieszonkowcy oraz złodzieje, którzy włamują się na przykład do samochodów, najczęściej tych wyprodukowanych na Zachodzie i dobrze wyposażonych.
Ze względu na to warto pozostawiać wartościowe przedmioty w hotelowym sejfie oraz poruszać się jedynie z kopiami dokumentów. W razie utraty tych ostatnich konieczne jest zgłoszenie się do urzędu konsularnego i przedstawienie m.in. protokołu wystawionego na policji. "Na posterunkach należy liczyć się z opieszałą obsługą, warto przyjść z osobą komunikującą się w języku lokalnym i pamiętać o tym, że rzadko są wystawiane od ręki protokoły ze zgłoszenia kradzieży" – czytamy na stronie polskiego resortu spraw zagranicznych.
5. Przemieszczanie się
Po kraju można jeździć własnym samochodem posługując się krajowym prawem jazdy, jednak MSZ zaleca, żeby mimo to posiadać przy sobie międzynarodowy dokument.
Drogi są w dość dobrym stanie, bardziej niebezpieczne mogą być jedynie tunele górskie, które nie są oświetlone. Zatrzymując się na poboczu należy unikać wchodzenia w głąb lasów lub pól, ponieważ wciąż znajduje się wiele miejsc, w który można trafić na… miny. Większość jest oznaczonych stosowną tabliczką (Pazi Mine), jednak nie wszystkie.
"Użytkownicy nawigacji satelitarnej powinni być świadomi faktu, iż mapy satelitarne najczęściej nie obejmują BiH" – dodaje MSZ.
6. Niezbędne dane kontaktowe
W Bośni i Hercegowinie znajduje się polska Ambasada.
Bośnia i Hercegowina, Sarajewo, Visnjik 20, 71000
Tel.: +387 33 290 500
Tel. dyżurny: +387 61 899 974
---
Materiał powstał w oparciu o informacje zamieszczone na stronie polskiego MSZ. Przed wyruszeniem w podróż zaleca się sprawdzenie aktualnych informacji na stronie resortu.