Macedonia przyciąga turystów między innymi średniowiecznymi klasztorami, ruinami starożytnych miast i winiarniami. Przed wyjazdem warto jednak sprawdzić, jakie dokumenty są wymagane na granicy oraz czego nie wolno zabierać ze sobą z kraju. 
1.    Wizy
Turyści podróżujący z Polski nie muszą wyrabiać wiz, jeśli nie zamierzają przebywać w Macedonii dłużej niż przez 90 dni. Na granicy będą musieli okazać paszport albo dowód osobisty, przy czym polski resort spraw zagranicznych przestrzega, że "brak paszportu może utrudnić załatwienie na miejscu niektórych spraw, jak korzystanie z hoteli, wypożyczanie samochodu, korzystanie z usług bankowych, itp."
Ponadto kto zamierza przekraczać granicę na podstawie dowodu powinien pamiętać, by odebrać od policji granicznej dokument, na którym będzie podbita pieczątka graniczna. Jest to o tyle istotne, że zdarza się, iż podczas opuszczania Macedonii służby proszą o okazanie tego kwitu i jego brak może spowodować poważne utrudnienia. 
Turyści, którzy zamierzają przebywać na terenie tego kraju dłużej niż przez 24 godziny, musza się zameldować na posterunku policji. Jeśli nocują w hotelach, może ten obowiązek wypełnić za nich pracownik obiektu, jednak trzeba dopilnować, że rzeczywiście się z tego wywiązał. Konsekwencje braku meldunku dotykają bowiem wyłącznie turystę. A są dość poważne – kara wynosząca nawet 500 euro, czyli ponad 2100 złotych oraz dwuletni zakaz wjazdu do Macedonii.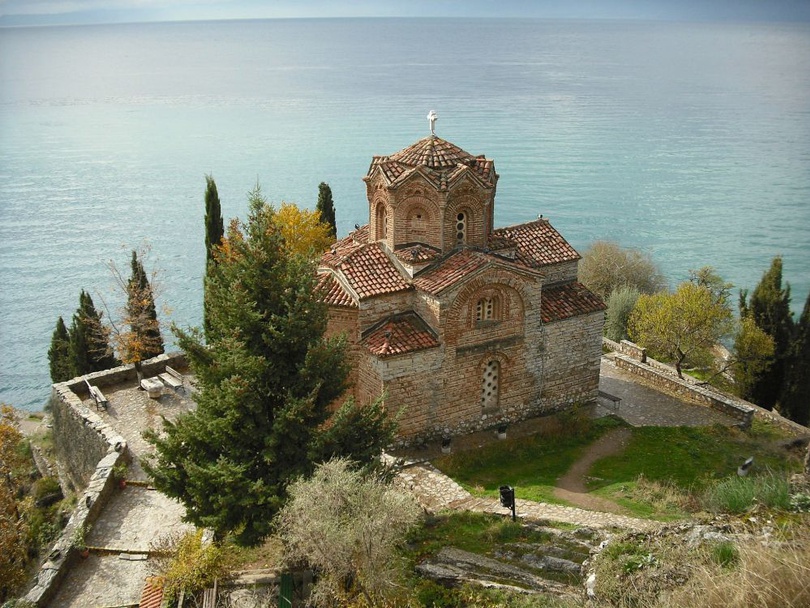 2.    Przekraczanie granicy
Wjeżdżając do Macedonii można posiadać przy sobie wyłącznie taką ilość rzeczy, która nie sugeruje, że są one przeznaczone na handel, nie do użytku osobistego. Pieniądze, których suma przekracza 2 tysiące euro, należy zadeklarować. Kategorycznie nie wolno przekraczać granicy z narkotykami oraz środkami halucynogennymi. "Przy wywozie pieniędzy, służby celne mogą zażądać udokumentowania ich pochodzenia" – dodaje polski MSZ. 
3.    Wymagane szczepienia i opieka medyczna
Szczepienia nie są obowiązkowe, przed wyjazdem warto się jednak upewnić na stronie WHO czy nie zostały wprowadzone jakieś nowe zalecenia. 
Opieka medyczna jest na nieco niższym poziomie niż w Polsce. Specjalistyczne leczenie jest właściwie możliwe wyłącznie w Skopje. Za wizytę u lekarza trzeba zapłacić. Koszt to około 10 euro. 
4.    Niebezpieczeństwa
Poziom bezpieczeństwa poprawił się po 2001 roku. Obecnie turyści powinni uważać przede wszystkim w północno zachodnich częściach kraju, gdzie zdarza się, że dochodzi do konfliktów, również na tle etnicznym. W całej Macedonii uważać trzeba na kieszonkowców i złodziei, włamujących się do samochodów. 
Kategorycznie nie wolno posiadać przy sobie narkotyków i środków halucynogennych, ponieważ grozi za to kara więzienia, którą trzeba odbyć w macedońskim więzieniu. Należy unikać przemieszczania się bez dokumentów oraz spożywania alkoholu w miejscach publicznych, ponieważ grozi za to mandat. 
5.    Przemieszczanie się
Poza wyraźnie oznaczonymi strefami zamkniętymi, takimi jak zmilitaryzowane, nie ma ograniczeń w przemieszczaniu się po Macedonii. Polski MSZ przestrzega jedynie, aby szczególnie uważać zapuszczając się w rejony graniczące z Kosowem i Albanią. W tych miejscach wciąż w ziemi zakopane są miny, stąd nie powinno się schodzić z wyznaczonych tras. "Idąc w góry, należy bezwzględnie skorzystać z usług miejscowego przewodnika" – radzi resort. 
Po kraju można jeździć samochodem, posługując się polskim prawem jazdy, do trzech miesięcy pobytu. Później wymagany jest już dokument międzynarodowy, do sześciu miesięcy pobytu. Przy dłuższym konieczne jest posiadanie miejscowego prawa jazdy. 
Kto zamierza przekraczać granicę samochodem, powinien posiadać zieloną kartę. "W razie jej braku istnieje możliwość wykupienia polisy (ważnej tylko na Macedonię) na przejściu granicznym" – dodaje MSZ. Jazda pożyczonym samochodem możliwa jest wyłącznie wówczas, gdy posiada się pełnomocnictwo wydane przez jego właściciela. W przeciwnym razie kierowcy grozi nawet konfiskata auta! 
Jadąc samochodem należy bardzo uważać, ponieważ zdarza się, że na drogach leżą nieoznakowane przeszkody (np. zwierzęta, powalone drzewa), dodatkowo miejscowi kierowcy bardzo lekkomyślnie podchodzą do przepisów ruchu drogowego. 
Cały czas należy mieć włączone światła mijania. 
6.    Niezbędne dane kontaktowe
Polska ambasada mieści się w stolicy kraju.
Macedonia, Skopje, Dimitar Pandilov 2a , 1000
Tel.: +3892 3248820 
Tel. dyżurny: +389 78233389
Telefony alarmowe: 
policja 192, 
straż pożarna 193,
pogotowie ratunkowe 194, 
pomoc drogowa 196
---
Materiał powstał w oparciu o informacje zamieszczone na stronie polskiego MSZ. Przed wyruszeniem w podróż zaleca się sprawdzenie aktualnych informacji na stronie resortu.