No cóż, ten film nie był dziełem wysokich lotów, a gra Angeliny Jolie po prostu słaba. Ale jego sceneria... Fascynująca! Kiedy zobaczyłem na dużym ekranie Angkor w filmie Tomb Raider, wiedziałam, że pojadę go zobaczyć. Bo niezwykłe świątynie, których wieże wyglądają jak monstrualne szyszki, eksplorowane przez Angelinę Jolie istnieją naprawdę, w Kambodży, tuż przy jeziorze Tonle Sap.
Z grupą przyjaciół, z którą zwykle podróżuję, długo zastanawialiśmy się dokąd udać się w następną podróż. Wybór za każdym razem jest okropnie trudny, bo nie ma na ziemi miejsca, do którego nie chciałbym pojechać. Ale trafiła się okazja: dobra cena. I ruszyliśmy:  samolotem przez Warszawę, Istambuł, do Bangkoku i później drogą lądową do Siem Reap. To właśnie okolicach tej miejscowości, blisko jeziora Tonle Sap, w czasach, kiedy dopiero kształtowało się państwo Polskie, a nasi przodkowie mieszkali w grodach ziemnych i chodzili w skórach, powstała wspaniała cywilizacja - imperium Khmerów, nazywane Angkorem.
Do czasów rewolucji przemysłową było to prawdopodobnie największe miasto-państwo na świecie. Jego potęga była tak wielka, że nazywano je Imperium Miliona Słoni. Mieszkało tu też około miliona osób. Powstawało od 802 roku, a w kluczowym momencie rozwoju, po zakończonych w 1181 r. wojnach domowych, zostało rozbudowane do monumentalnych rozmiarów. W szczytowym okresie zajmowało około 1000 km kwadratowych, czego dowodzą dziś naukowcy analizując zdjęcia satelitarne.
Powstały wówczas olbrzymie tarasy, na których odbywały się spektakularne ceremonie i uroczystości państwowe, pałace, niezliczone świątynie oraz Angkor Wat, najbardziej znana i największa z nich. Najważniejszym budowniczym był król Surjawarman II, a Angkor Wat ma być prawdopodobnie świątynią pośmiertną dla niego i jego rodziny.
O potędze Khmerów naczytałem się sporo przed wyjazdem. Opisy Angkoru, czyli pochłoniętego przez dżunglę dawnego miasta-państwa tej cywilizacji, wywoływały projekcje w myślach, trochę spaczone przez filmy - m.in. Czas Apokalipsy.
Największa świątynia świata
Dziś pozostałości po mieście Khmerów rozsiane są na obszarze ponad 400 km kwadratowych. Najważniejszych miejsc, przede wszystkim świątyń, które można zobaczyć jest kilkadziesiąt. Niektóre wydarto dżungli, inne pozostawiono tak jak je odkryto. Największe tłumy przyciąga jednak Angkor Wat, najważniejsza świątynia, która jest do dziś największym obiektem sakralnym na świecie.
Jak podają przewodniki:
Całkowita powierzchnia razem z murami zewnętrznymi i fosą to 2,08 km kw. Najwyższa z wież mierzy 65 metrów. Mury świątyni zbudowano z laterytu ze względu na jego dużą twardość. Jeden z największych skarbów Angkor Wat to kamienny "arras" ciągnący się na długości ponad 900 metrów, na którym widnieje prawie 20 tysięcy postaci przedstawiających realistyczne sceny z eposów indyjskich Ramajany i Mahabharaty, jak również życie dworu. Znajduje się tu jedno z najsłynniejszych i najbardziej reprezentacyjnych dzieł w sztuce Khmerów: bogowie wraz z demonami ubijają Morze Mleka, aby wydobyć z głębin eliksir nieśmiertelności.
Święte miasto
Angkor to jednak nie tylko Angkor Wat.  Nazwa Angkor oznacza w języku khmerskim święte miasto. Nadal pielgrzymują do niego buddyści z całego świata, a we wnętrzach świątyń znaleźć można posągi Buddy, przykryte pomarańczowymi szatami, wokół których unosi się dym z pachnących kadzideł. Angkor, jak zawsze, otwarty jest dla wszystkich wyznań. Najpierw był domem Buddyzmu Małej Drogi (Hinayama), później równocześnie Buddyzmu Wielkiej Drogi (Mahayama) i Braminizmu, który ostatecznie podporządkował sobie religie w mieście.
Kultywowano tu także Dewaradżę, Króla-Boga stąd można tu spotkać charakterystyczne lingamy (zazwyczaj jajowate, hinduistyczne ciała duszy wędrującej między wcieleniami, utożsamiane z kultem Śiwy). Aż wreszcie nadszedł synkretyzm całkowity, kiedy to Dżajawarman VII, wyznawca Buddyzmu, w poszanowaniu Dewaradży wprowadził kult Króla-Buddy, stąd w świątyni Bayon wzniesiono twarze Angkoru, charakterystyczne dla hinduizmu portrety o czterech obliczach, które tu wyobrażają Dżajawarmana – Buddę.
Potęga zbudowana na wodzie
Miasto-państwo Angkor wyrosło na wodzie. Dzięki niesamowitej i niespotykanej w swoich czasach wodnej infrastrukturze bogaciło się przez wieki. Skomplikowany system pozwalał na najbardziej wymyśle uprawy. Żywności nie brakowało tu nigdy. Rozkwitało rzemiosło: tkano delikatne tkaniny, złotnicy przygotowywali misternie zdobioną biżuterię, a architekci wznosili nowe świątynie. Do czasu. Po kilkuset latach rozkwitu kwiat Angkoru przekwitł bardzo szybko. Przez.... wodę. Zmiana klimatu – susza, zaniedbania w konserwacji systemu nawodnień prawdopodobnie przyczyniły się do upadku tego najważniejszego imperium azjatyckiego w średniowieczu. Około 1432 r., po najeździe Tajów, Angkor się powoli się wyludniał, ale nigdy nie został zupełnie opuszczony. Nadal pielgrzymi przybywali tu, aby się modlić, a obok świątyń, które popadały w ruinę mieszkali ludzie. Opowieści o zaginionym mieście, pochłoniętym przez dżunglę, o którym świat zapomniał, są więc nieprawdziwe, choć ciągle karmi się nimi turystów.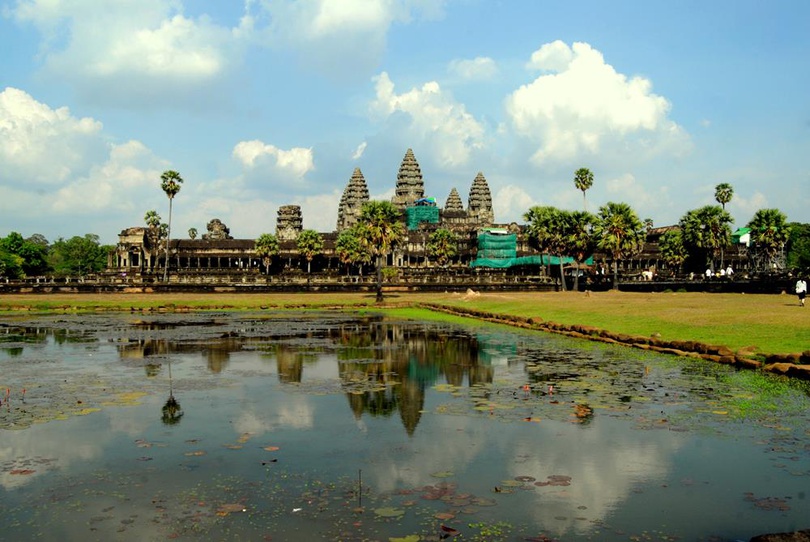 Czas europejskich odkrywców
Pierwsi odkrywcy z Europy dotarli tu około 1586 r.. Kapucyn Antonio da Magdalena i inni misjonarze z Portugalii myśleli, że to dzieło Aleksandra Wielkiego.
Ale prawdziwa moda na Angkor zapanowała w drugiej połowie XIX wieku, kiedy to francuski podróżnik Henri Mouhota dotarł tu i opisał wspaniałości dawnej cywilizacji. Jego dzienniki i rysunki w nich zawarte porwały Europę. Szybko okrzyknięto go odkrywcą zaginionego miasta, a do tej części Azji ruszyły kolejne ekspedycje poszukujące skarbów, skuszone przygodą i egzotyką. Wiele zabytków wówczas rozkradziono, ogromną liczbę zdewastowano, wiele wywieziono do prywatnych kolekcji.
Angkor zaczęto ratować na początku XX wieku. Tzw. Francuska Szkoła Dalekiego Wschodu rozpoczęła tam badania i prace zabezpieczające. Zasługi na tym polu mają także Polacy z Pracowni Konserwacji Zabytków, którzy pracowali w świątyni Bajon, której wierze zdobią tzw. twarze Angkor.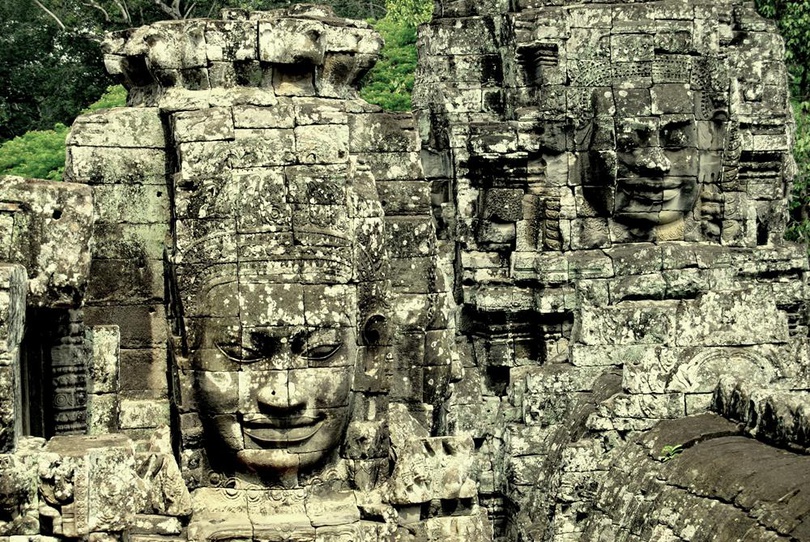 Sława i krzywda wyrządzona przez Larę Croft
Tragiczne wydarzenia w czasach nam współczesnych przerwały ratowanie zabytków Angkor. Wojna Wietnamska, a później reżim Czerwonych Khmerów splamiły krwią milionów ofiar bajeczne świątynie w Kambodży.
Na powrót rozsławiła je Angelina Jolie, jako Laura Croft w Tomb Raider. Od czasu filmu tłumy zaczęły znów przyjeżdżać do Kambodży, by poznać dziedzictwo Khmerów i na własne oczy zobaczyć wspaniałe świątynie zatopione w dżungli. A naukowcy misternie znów układają tu największe puzle świata i próbują zwrócić świątynią Angkoru ich dawny blask.
Angkor Wat przestał być jednak miejscem mistycznym. Jest atrakcją turystyczną odwiedzaną przez miliony osób. Dlatego będąc w Kambodży warto po obejrzeniu największej świątyni świata nieco zejść ze szlaków najczęściej uczęszczanych przez przybyszów. Tam czekają dziesiątki magicznych miejsc, w których często nie spotkacie żywego ducha.