Zdezelowanym autobusem mknącym przez Autostradę Panamerykańską dotarłem w końcu do smętnej miejscowości Nazca na samym środku jednej z najsuchszych pustyń świata. Cel: zobaczyć słynne linie, które oglądane z góry układają się w misterne wzory.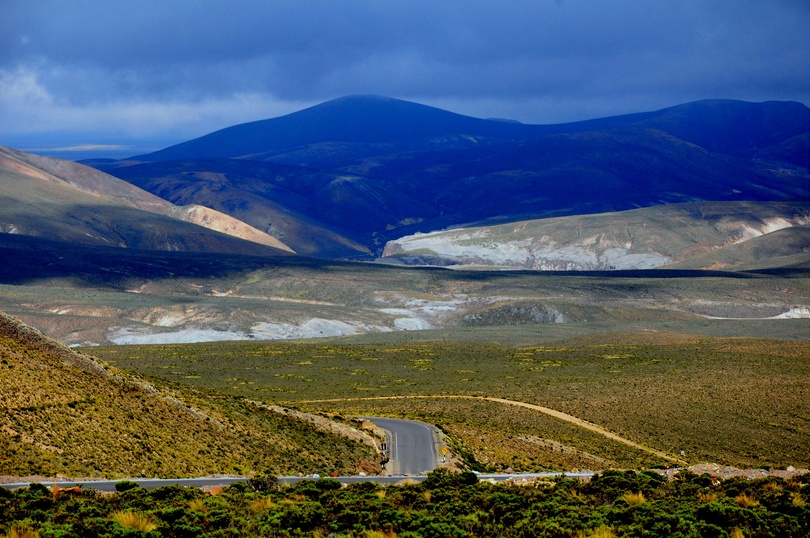 Od 1927 roku, kiedy odkrył je spacerujący po okolicznych wzgórzach archeolog Toribio Mejia Xesspe, są największą zagadką Ameryki Południowej. Kto i po co wyrył w piasku kilka tysięcy monstrualnych rysunków? Däniken stwierdził, że kosmici - według niego były to lądowiska UFO. Historyk Paul Kosok i matematyczka Maria Reich przez kilkadziesiąt lat próbowali udowodnić, że jest to starożytny atlas nieba. Amerykański archeolog David Johnson uważa, że geoglify wskazują dawny system wodny. Jaką naprawdę kryją historię i czy można dla nich stracić głowę?
Droga z Limy, stolicy Peru, była kręta i długa. Autobus z trudem wił się urwistymi klifami nad Oceanem Spokojnym, by wreszcie wjechać na pustynny płaskowyż. Powoli zaczynało się ściemniać. Wokół zupełna pustka, tylko miliony ciemnych kamieni tworzyły złowrogą atmosferę. Nagle ostre hamowanie i niespodzianka. Tuż przy drodze stała zardzewiała wieża obserwacyjna, przy której kręciło się kilku umundurowanych strażników. Obok tablica "Geoglify Nazca". Jakoś inaczej to sobie wyobrażałem... Właśnie spełniało się jedno z moich podróżniczych marzeń, a poczułem wstydliwe rozczarowanie. Stałem w końcu w miejscu, które słynie z jednej z najciekawszych tajemnic. Rozejrzałam się wokół, ale nic szczególnego nie zwróciło mojej uwagi, nie dostrzegłem też żadnych oznak działalności człowieka na wielką skalę. Wdrapałem się w końcu, kilkanaście metrów po schodach, na blaszany taras widokowy, bez wielkiej nadziei na ujrzenie czegoś niezwykłego wytężyłem wzrok i jako ten niewierny Tomasz w końcu zobaczyłem i uwierzyłem: po prawej stronie linie układające się w drzewo, po lewej w... kurczaka. Podobnych wzorów są tu tysiące. Miałem je podziwiać następnego dnia z małego samolotu. Ale wcześniej czekało mnie spotkanie z bardzo ciekawym człowiekiem, który miał mi pomóc w rozszyfrowaniu zagadki tajemniczych linii.
Andreas, grobowce i porcelana
Trafiłem do skromnego domu na przedmieściach miejscowości Nazca. Ojciec Andreasa Calle Benavidesa założył tu mały warsztat, w którym wytwarzał ceramikę. Ale nie użytkową, lecz niezwykłą. Już w 1945 roku zaczął znajdywać na pobliskiej pustyni niezwykłe grobowce, w których ciała pochowano w pozycji siedzącej, owinięte jutowym sznurkiem, którym towarzyszyło mnóstwo pięknie zdobionych naczyń. Wzory na nich były identyczne z tymi, które starożytni Indianie wyryli na płaskowyżu. Benavides senior metodą prób i błędów odkrył, jak i z czego były wytwarzane i zaczął sam produkować ich repliki, które cieszyły się wielką popularnością wśród turystów. Rodzinną tajemnicę i biznes przekazał synowi, który do dziś prowadzi tu warsztat oraz zgłębia tajemnice przeszłości.
Tam, gdzie kopał ojciec Andreasa, w latach 50. naukowcy odkryli pozostałości dawnego miasta Cahuachi. Po wnikliwych badaniach opisanych w 1993 r. okazało się, że był to ośrodek kultu religijnego, rozciągający się na przestrzeni 1,5 km kwadratowego, z wielką świątynią, do której sięgały niektóre ze słynnych linii. Tak lokalny rzemieślnik przyczynił się do opracowania teorii, według której skalne rysunki miały znaczenie religijne, były miejscami modlitw o deszcze i urodzaj, co na surowym, pustynnym terenie miało pierwszoplanowe znaczenie. Dziś wydaje się ona najbardziej prawdopodobna ze wszystkich wyjaśniających cel tworzenia słynnych rysunków.
W okolicach znaleziono również ogromne cmentarzysko, na którym złożono tysiące odciętych od tułowia głów, przede wszystkim młodych kobiet. Każda z czaszek miała przedziurawioną potylicę oraz czoło, aby możliwe było ich zawieszenie na sznurku. Takie totemy musiały być stosowane w ceremoniach religijnych. Ale nie tylko te rytualne ofiary straciły w Nazca głowy.
Szaleństwo naukowców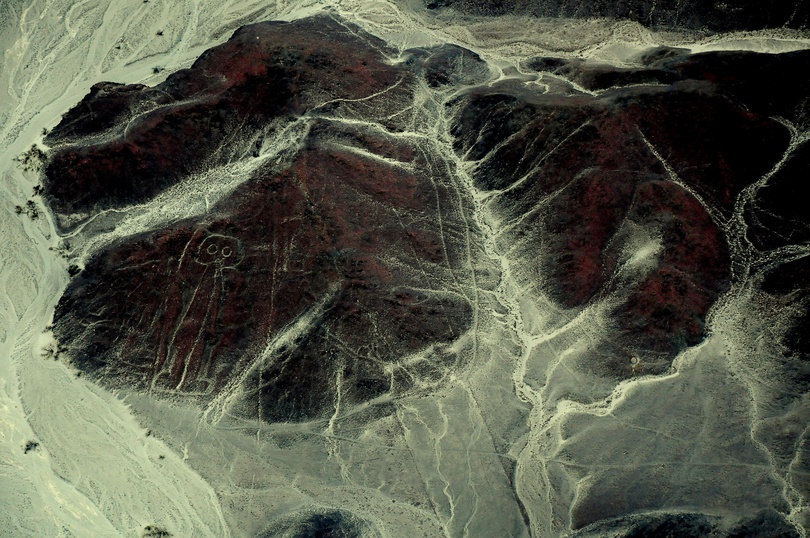 Na punkcie swojego odkrycia dosłownie oszalał peruwiański archeolog Toribio Mejia Xesspe, który zauważył jako pierwszy naukowiec starożytne linie, kiedy wybrał się na spacer po okolicznych wzgórzach. Wbrew powszechnej opinii, że można je dostrzec tylko z samolotu, właśnie ze zbocza wzniesienia zostały dostrzeżone przez Xesspe w 1927 roku. Poświęcił im kilka lat swojego życia i pokazał światu podczas specjalnej konferencji w Limie w 1939 roku.
W 1932 roku do Peru przybyła Maria Reiche. Studiowała matematykę, astronomię, geografię i języki obce na Uniwersytecie Technicznym w Dreźnie. W Peru została guwernantką dzieci niemieckiego konsula w Cusco, a w roku 1940 asystentką amerykańskiego historyka, Paula Kosoka, z którym pracowała przy pierwszych zagranicznych badaniach płaskowyżu Nazca. Tajemnicze rysunki tak ją zafascynowały, że poświęciła im całe swoje życie. Dzięki jej staraniom wpisano je w 1995 roku na listę światowego dziedzictwa UNESCO. To także ona zadbała o zabezpieczenie ich przed niszczeniem.
Reiche przez długie lata próbowała metodami matematycznymi udowodnić, że linie są największym atlasem astronomicznym. Dziś jej teoria jest coraz częściej odrzucana przez świat nauki, a od kilku lat pracuje tu nowy zespół zapaleńców. W 2012 r. ruszył nowy, przewidziany na 15 lat, projekt badawczy, który ma wyjaśnić tajemnice rysunków i ochronić je przed dewastacją.
Jak powstawały linie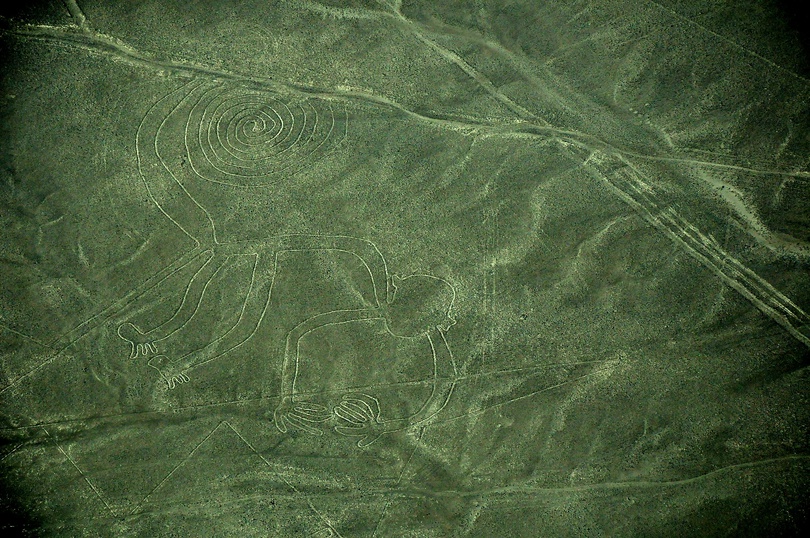 Nie tylko po co, ale i jak powstawały tajemnicze linie z Nazca, zaprzątało głowy naukowców. Większość z nich jest wyryta na płaskim terenie, tylko kilka na zboczach pobliskich wzniesień. Mają głębokość od 10 do 15 cm. Wzór jest dobrze widoczny dlatego, że teren pokrywają kamienie i żwir koloru czerwono-brązowego - barwa bierze się od tlenku żelaza, który zawierają.
Po usunięciu tej warstwy przy pomocy lin i drewnianych desek (ich pozostałości odkryto na końcach niektórych rysunków, co pozwoliło na określenie wieku rysunków za pomocą datowania metodą węgla C14), odsłonione zostało jasne podłoże kontrastujące mocno z całym terenem. Ta warstwa zawierała duże ilości wapna i wapienia, które stwardniały przy udziale wody z porannych mgieł. Tak geoglify naturalnie się utrwaliły. 
Ich zachowaniu sprzyjały także warunki atmosferyczne panujące na tym terenie: znikome opady oraz brak silnych wiatrów, które mogłyby je zniszczyć.
W sumie w okolicach Nazca stworzono ponad 100 tys. linii (są i tacy naukowcy, którzy uważają, że jest ich ponad 300 tys.). Dokładne określenie liczby nie jest możliwe, bo większość się nakłada. Najwidoczniej tworzono je tak, jak nowe rysunki na niezbyt dobrze wytartej tablicy.
Rozmieszczone są na obszarze 450 kilometrów kwadratowych. Przedstawiają przede wszystkim kształty geometryczne, ale najbardziej znanych jest kilkanaście przypominających zwierzęta, rośliny i postacie ludzkie.
W końcu więc wsiadłem do awionetki i poszybowałem w górę. Dopiero oglądane z lotu ptaka naprawdę mnie zafascynowały. Przekonałem się, że są ewidentnym cudem starożytnego świata. Największy rysunek ma długość 270 metrów. 93 metry długości ma koliber, 134 m kondor, 93 m małpa, a pająk 47 m. Co ciekawe, wciąż odkrywane są nowe wzory - najnowsze opisał w 2011 roku japoński zespół z Uniwersytetu Yamagata. Jeden z nich przypomina ludzką głowę i jest datowany na wczesny okres kultury Nazca lub wcześniej.
Starożytny labirynt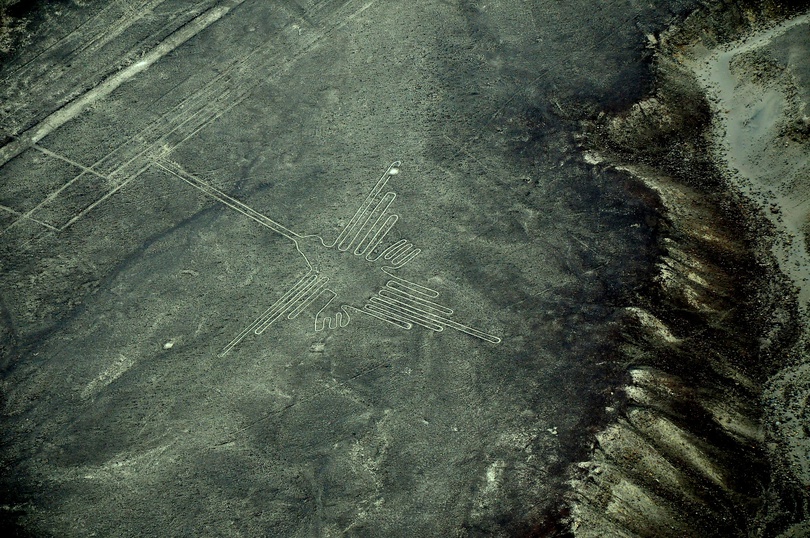 Pomocne w wyjaśnieniu tajemnicy rysunków z Naza okazało się odkrycie w Cuzco, stolicy państwa Inków, gdzie znajdowała się siedziba władców oraz najważniejsze sanktuaria. Mimo że imperium to zostało stworzone już po upadku pustynnej cywilizacji, to daje pogląd, jakie obrządki religijne propagowali Indianie w tej części Ameryki Południowej. Odnaleziono tu system linii - ceque - łączących ze sobą najważniejsze święte miejsca: zarówno stworzone przez naturę, jak i człowieka. Wzdłuż nich pielgrzymowano, zgodnie ze ściśle określonym porządkiem, by modlić się przy głazach, jaskiniach, pałacach, fontannach, obserwatoriach.
Clive Rugglesa z Uniwersytetu Leicester i Nicholas Saunders z Uniwerystetu w Bristolu, sugerując się liniami z Cusco, przez pięć lat badali pustynię Nazca. Pieszo przeszli tu 1450 km i odkryli niewidoczny dotąd z powietrza labirynt między dobrze znanymi figurami. Ruggles twierdzi, że nie miał być wzorem do oglądania, lecz do przejścia, podobnie jak system ceque w Cusco.
Labirynt ma 4,4 km długości. Nie służył jednak prawdopodobnie wiernym pielgrzymującym do religijnego ośrodka w Cahuachi, bo jest on zbyt dobrze zachowany, a nie rozdeptany przez tłumy. Naukowcy tłumaczą, że korzystali z niego szamani, którzy spotykali się tu z bogami.
Do czego naprawdę służył? Tego zapewne nigdy się nie dowiemy. Nie ma bowiem źródeł pisanych. Dawne peruwiańskie cywilizacje nie wykształciły tej umiejętności, poza tzw. pismem węzełkowym, które do dzisiaj nie zostało rozszyfrowane. Pewne jest natomiast to, że płaskowyż czymś jeszcze zaskoczy. Jest szansa na odkrycie kolejnych, dotąd nieznanych rysunków, pod warunkiem, że nie zniszczą ich miejscowi, potomkowie ludności Nazca, którzy coraz częściej rozjeżdżają okolicę samochodami, budują drogi i domy.