Czerwone jest tu wszystko: flagi z żółtą gwiazdą, sierpem i młotem oraz plakaty z ojcem narodu. Kwiaty z bibuły i plastiku zdobiące ulice. W czerwone suknie ubrano manekiny stojące w witrynach najdroższych butików najbardziej topowych światowych marek. Taki jest dawny Sajgon! Zupełnie inny niż wietnamska prowincja: biedna, z utrudnionym dostęp do edukacji, kontrolą urodzin. Pojechałem, by zobaczyć, jak tragiczną przeszłość przekuto tu w pomysły na biznes.
Zawsze chciałem zobaczyć Wietnam, bo, jak opowiadali znajomi podróżnicy, czas się tu zatrzymał. Nic bardziej mylnego: ten kraj to prawdziwy azjatycki smok, czy tygrys, który bardzo prężnie się rozwija. Ale nadal ma wiele do zaoferowania turystom, choć często są to atrakcje szokujące.
Czerwona dusza miasta
Ho Chi Minh w Wietnamie jest wszędzie. Na fasadzie Pałacu Zjednoczenia uśmiecha się do ludu Sajgonu, który Sajgonem już nie jest, lecz nosi nazwę Ho Chi Minh City. Mówi się o nim dobry wuj Ho. Na plakatach i stendach wszechobecnych na ulicach uczy i tuli dzieci, opiekuje się chorymi, trzyma za rękę starca. Obok wiszą czerwone flagi z żółtymi pięcioramiennymi gwiazdami oraz z sierpem i młotem. Dla Wietnamczyków jest jak Ataturk dla Turków - ojcem narodu. Wiecznie żywym symbolem. Przez lata był premierem i prezydentem Demokratycznej Republiki Wietnamu, przywódcą Narodowego Frontu Wyzwolenia Wietnamu Południowego, zagorzałym komunistą. Wysłał wojska do Sajgonu, jak głosi propaganda: rozprawił się z wrogimi kapitalistami i Amerykanami. Kilka miesięcy później wprowadzał komunizm i w tzw. obozach reedukacyjnych zamknął w Wietnamie Południowym około 300 tys. ludzi: studentów, mnichów, lekarzy, intelektualistów. Wymordowano wtedy około 3 tys. osób.
Dyktator zmarł w 1969 r., został zabalsamowany podobnie jak Lenin, postawiono mu mauzoleum w Hanoi, a dzieło kontynuowano. Do roku 1986 w Wietnamie przez różnego rodzaju obozy przeszło milion ludzi. Kraj pogrążył się w przerażającej biedzie.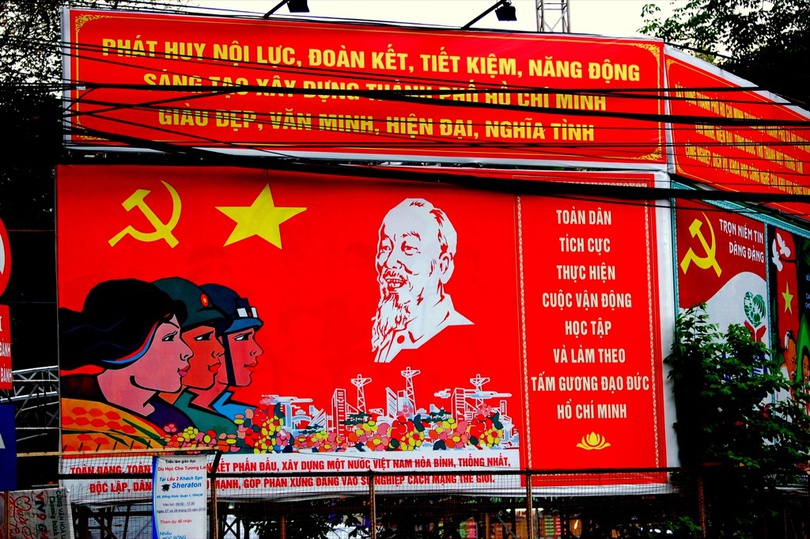 Tylko dwoje dzieci 
- Trzymaliśmy świnie w mieszkaniach w bloku, w największym pomieszczeniu, jakby na honorowym miejscu - opowiada Thao, trzydziestolatek z Sajgonu. Sytuacja w Wietnamie zaczęła się poprawiać, kiedy nieco uwolniono gospodarkę. Dziś kraj nazywany niegdyś Małym Smokiem, ze względu na kształt i w porównaniu z Chinami, określany jest tygrysem Azji. Ma najwyższy wzrost gospodarczy w regionie, najwięcej inwestycji amerykańskich, japońskich i australijskich firm.
Nadal kwitnie tu jednak korupcja. Trzeba dać łapówkę, by dostać się do szpitala, załatwić sprawę w urzędzie. Dzieci płacą nauczycielom, by zająć najlepsze miejsce w klasie. Dobrze wiedzą, że od tego zależy czy czegokolwiek się nauczą i jak będzie wyglądało ich dorosłe życie. No i rzecz przerażająca: państwo nadal drastycznie reguluje liczbę urodzin. W urzędzie można zarejestrować jedynie dwoje dzieci. Trzecie i kolejne są w praktyce wyjęte spod prawa: nie mogą chodzić do szkół, o nauce na uniwersytecie tylko mogą pomarzyć, nie przysługuje im podstawowa opieka medyczna.
Ale i rejestrację można w Wietnamie załatwić - oczywiście za pieniądze. Wietnam stosuje też kary za niesubordynację. Kontrola urodzin posunęła się tak daleko, że zdarza się tu przymusowa sterylizacja kobiet. 
Upolować turystę
Mimo skojarzeń z wojną, wszechobecnej komuny, nieprzestrzegania praw człowieka, Wietnam odwiedza około 5 mln osób rocznie. Tłumy z Azji co roku przyjeżdżają nad morze Południowo-Chińskie, piją ryżową wódkę, z której słynie ten kraj i zwiedzają malownicze miejsca. Wśród nich najwięcej jest Chińczyków, mieszkańców Korei Południowej, Japonii i Tajwanu. Europejczyków nadal jak na lekarstwo, choć wizę pozwalającą na swobodne podróżowanie po kraju dostaje praktycznie każdy. 
Zdarzają się Amerykanie, którzy przez najmłodsze pokolenie traktowani są zwyczajnie – jako źródło gotówki. Turystyka przynosi wietnamskiej gospodarce około 7 mld dolarów każdego roku i wpływy te rosną. Najwięcej z tego tortu przypada Ho Chi Minh City. Gdyby nie pięć milionów motocykli, jeżdżących dosłownie wszędzie gdzie tylko się da, byłoby to najpiękniejsze miasto Wietnamu.
Jak na miasta Azji bardzo czyste, z uporządkowanym układem architektonicznym i postkolonialnymi zabytkami, wśród których króluje ogromny budynek poczty głównej.
Parę ulic dalej zaczyna się Cho Lon (Szolon) – chińska dzielnica z małymi malowniczymi świątyniami, olbrzymim targiem, dawnymi palarniami opium i domami publicznymi. W samym centrum miasta stoi słynny z filmów o wojnie wietnamskiej hotel Rex, w który stacjonowali zagraniczni korespondenci gazet z całego świata. W kawiarni na jego dachu można napić się smakowitej wietnamskiej czekoladowej kawy.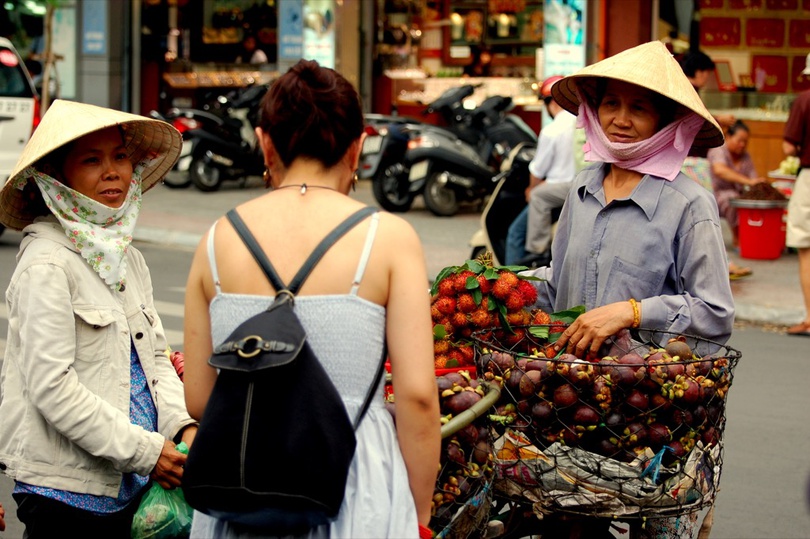 Ho Chi Minh City jest bazą wypadową do zwiedzania południowego Wietnamu, przede wszystkim do malowniczej delty Mekongu. Niezliczone agencje turystyczne, z których większość jest państwowa, albo działa na podstawie oficjalnej licencji, oferują bardzo tanie wycieczki łodziami po tysiącach wietnamskich kanałów, pływających targach, wsiach i miasteczkach.  
Wojenny biznes 
Współczesny Sajgon nie da zapomnieć o wojnie. Tysiące zdjęć w Muzeum Pozostałości Wojennych, które jeszcze niedawno nosiło nazwę Muzeum Amerykańskich Zbrodni Wojennych, pokazują tu okrucieństwo i bezsens konfliktu, w który również zaangażowali się Amerykanie. Liczby wypisane obok nich przypominają przerażające fakty: 2 mln ofiar, 1,5 mln kalek...
Ale wojna to także pomysł na biznes. Tuż za bramą prowadzącą do muzeum rozpoczyna się uliczny handel. 
- Tylko dwadzieścia dolarów.
- Oryginalne Zippo z wojny.
- Nieśmiertelniki!
- A może kompas znaleziony w dżungli? Chcesz amerykański hełm? – przekrzykują się sprzedawcy przedmiotów stylizowanych na pozostałości wojenne.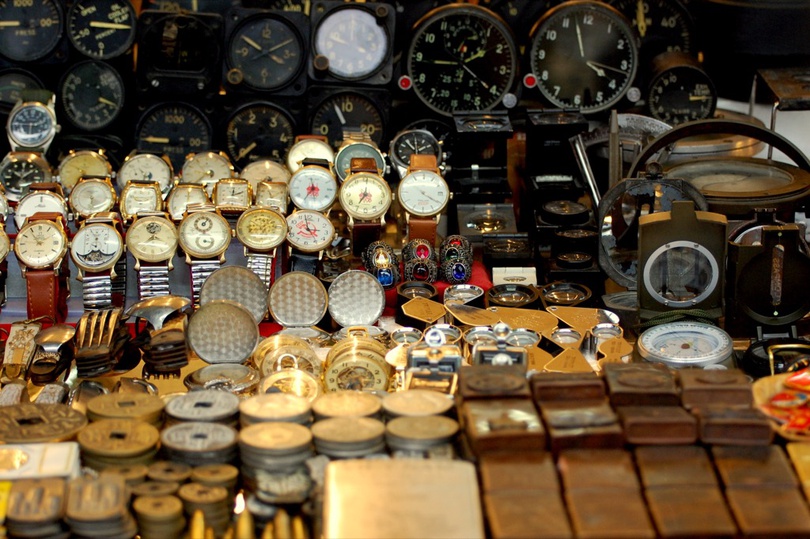 Parę kroków dalej pełne są ich całe stragany. Obok tego, co niby pozostawili amerykańscy żołnierze, wyroby ewidentnie nowe: długopisy i breloczki z łusek, zapalniczki w osłonkach granatów, popielniczki z pudełek po minach. Zainteresowanie spore, kupują przede wszystkim Japończycy. 
Tunele Cu Chi – wojenny Disneyland 
Wojenny biznes na południu Wietnamu nie ogranicza się tylko do sprzedaży pamiątek. Największą atrakcją jest podziemna sieć tuneli Cu Chi, położona zaledwie 40 km od Miasta Ho Chi Minha. To ogromna sieć labiryntów o długości 121 km, z której kilka korytarzy zostało udostępnionych turystom.
W czasie wojny w Cu Chi i Vinh Moc zbudowano podziemne miasta, by chronić żołnierzy Viet Congu oraz cywilów przed atakiem amerykańskich wojsk. Na głębokości nawet 30 m powstawały szpitale, teatry, jadalnie, sztaby. Sieć była tak mocno rozwinięta, że nie zniszczyły jej nawet naloty dywanowe. Amerykanie szkolili także specjalne oddziały nazywane szczurami tunelowymi, które miały za zadanie likwidować oddziały wietnamskie stacjonujące w tunelach.
Wyposażeni tylko w pistolety, latarki, noże i kawałek sznura, przedzierali się do podziemnych miast, by mordować partyzantów. Chu Chi i tzw. Żelazny Trójkąt były też celem kilku ofensyw wojskowych, w większości nieudanych, co doprowadziło do wycofania się Amerykanów z półwyspu Indochińskiego. 
Po podziemnym mieście zostało niewiele. Przez kilkadziesiąt metrów tuneli można się przeczołgać po uiszczeniu w kasie opłaty w wysokości kilku dolarów. Obok można spróbować partyzanckiej kuchni – ugotowanych korzeni, smakujących tak samo jak bataty. Obsługa w polowych mundurach z dumą prezentuje zapadnie, pułapki, kolczatki i inne wymyślne narzędzia, na które w dżungli mogli dosłownie nadziać się Amerykanie. 
Tuż obok można postrzelać na strzelnicy z maszynowego M60, czy AK-47, albo rzucić granatem! To może zostać uwiecznione na fotografii, którą odbiera się przy wyjściu, tuż przy sklepie z militarnymi pamiątkami.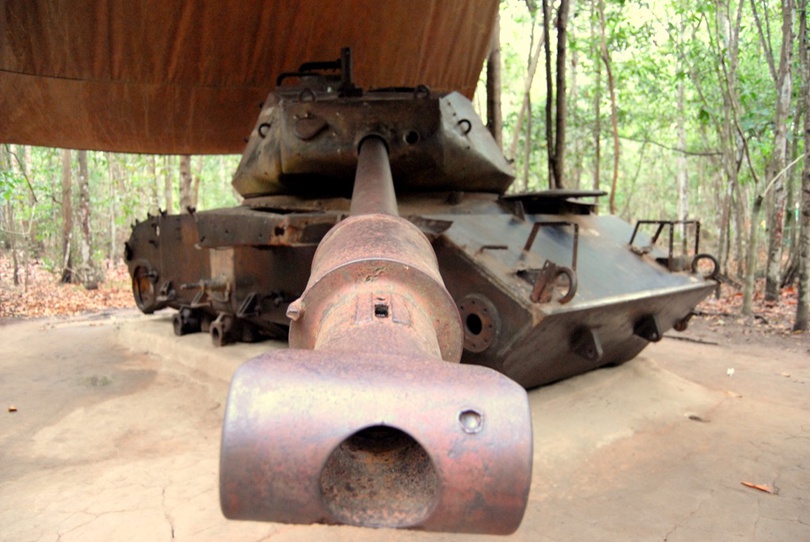 Komercyjny socjalizm 
W Wietnamie wszystko jest na sprzedaż. Nie tylko wojna. Przerażająca nędza, która dotknęła mieszkańców po konflikcie wymusiła zmiany. Kraj zaczął się przeobrażać w 1986 r., kiedy zapoczątkowano reformy gospodarcze.
Zmiana pokolenia w rządzącej partii przyczyniła się do tego, że odsetek osób żyjących za jednego dolara dziennie, który w 1986 roku wynosił 51 proc., spadł do 8 proc. w 2006 r. Obniżono bowiem podatki (są niższe niż w USA), pozwolono na prywatną inicjatywę gospodarczą, kraj otworzył się na inwestycje zagraniczne. Do tego stopnia, że tych amerykańskich i australijskich jest najwięcej ze wszystkich pozostałych krajów azjatyckich. Nike np. ma w Ho Chi Minh City swoją największą fabrykę.
Sklepy pełne są markowych towarów. Stolica i większe miasta zapełniają się galeriami handlowymi, markowymi butikami najdroższych projektantów, ceny użytkowania nieruchomości w najbardziej atrakcyjnych lokalizacjach biją kolejne rekordy. A na ulicach sprzedaje się kolejne kontrowersyjne pamiątki z Wietnamu: flagi, czapki, koszulki, przywieszki – wszystko czerwone, z pięcioramienną gwiazdą, z Ho Chi Minhem, albo sierpem i młotem. A wszystko to w cieniu bajecznych świątyń. Wietnam więc nadal szokuje - teraz kontrastami.