Jakiś mężczyzna kopuluje z koniem, z boku przygląda się temu, zasłaniając nieco oczy, półnaga kobieta. Obok inna masuje na swojej łydce penis partnera. A wszystko to w świątyni. W Indiach.
Upał był nie do zniesienia. Kolega z Polski telefonował, że u nas leje i temperatura spadła już poniżej 10 stopni, choć to dopiero końcówka września. Ze mnie też się lało... Jechałem pociągiem, w którym z założenia nie było szyb, a dla bezpieczeństwa w oknach zamontowano kraty. W jednym wagonie jakieś 300 osób: w przedziałach, na korytarzu, no i - rzecz jasna, jak to w przeludnionych Indiach, gdzie żyje ponad miliard ludzi - na dachu.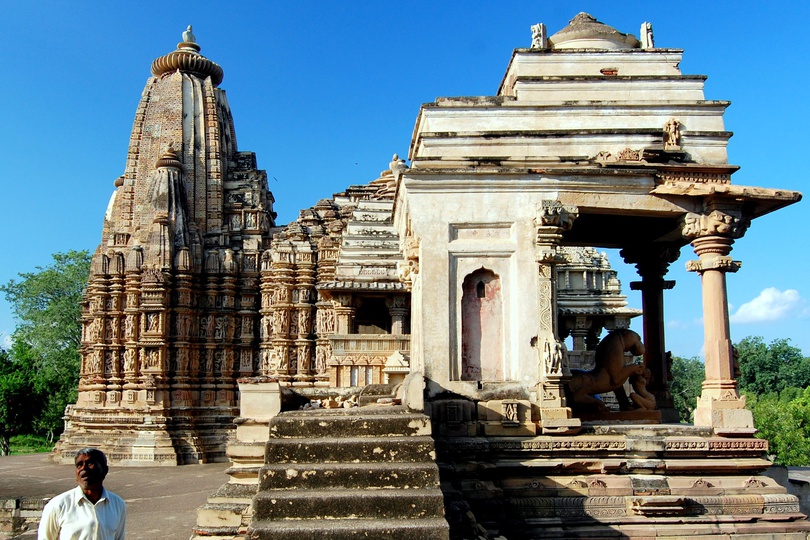 Kiedy po kilku godzinach podróży udało mi się wydostać na zewnątrz, nie odetchnąłem z ulgą. Temperatura była jeszcze wyższa - coś koło 40 stopni, wilgotność niemal 100-procentowa. Żadnego wiatru. Tak witał mnie stan Madhaya Pradesh w centralnych Indiach, dokąd jechałem, aby zobaczyć świątynie w Khajuraho (czyt.: Kadżuraho), w których to dopiero robi się naprawdę gorąco.
Ćandelowie i tantra 
Na pierwszy rzut oka nie było tu niczego niezwykłego. Drogi gruntowe, ogólnie brudno, riksze, uliczne kuchnie - Khajuraho nie wyróżniało się niczym spośród wszystkich miasteczek, w których byłem w Indiach. Złapałem tuk-tuka, czyli motorową wersję rikszy i za 10 rupii jechałem do świątyń. Kiedyś prowadziła do nich olbrzymia brama, przy której stały złocone palmy. To od nich pochodzi nazwa miejscowości. Kadżura to specyficzna, endemiczna palma daktylowa, która rośnie tylko na tym terenie.  
Dziś, zamiast zabytkowych wrót, jest płot, budka z biletami i plac targowy z pamiątkami, przez który przejście bez zakupu magnesu na lodówkę, składanki z widokówkami, plastikowej miniatury świętej budowli i posążka Ganeszy, graniczy z cudem.    
Zaopatrzony w zestaw pamiątek-prezentów dla mniej lubianych znajomych przeszedłem na drugą stronę i znalazłem się w... rajskim parku. Starannie przystrzyżone trawniki, wytyczone alejki, ogromne drzewa fikusowe, mnóstwo kolorowych papug, a pośród tego świątynie przypominające rzeźbione góry albo okręty płynące po zielonym oceanie soczystej trawy.  
Na około 20 km kwadratowych postawiono ich tysiąc lat temu 85. Przetrwało nieco ponad 20. Budowali je królowie z dynastii Ćandelów, którzy rządzili środkowymi Indiami między X a XIII wiekiem. Wierzyli, że mają boskie pochodzenie, związani byli z kultem księżyca i boga Śiwy, praktykowali rytuały tantryczne, które łączyły się z kultem zmysłów, a więc także z mistyczną erotyką. 
Orgia 
Zewnętrzne ściany świątyń Khajuraho mogą przyprawić o wytrzeszcz oczu. Zdobią je płaskorzeźby przedstawiające sceny z życia bogów, królów, przeciętnych zjadaczy chleba, a nawet najniższych kast. Wojsko maszeruje do walki, żołnierze jadą na słoniach, piechota strzela z łuków, kucharz przygotowuje posiłek.
Jest sąd, szkoła, uczta, przyjęcie na dworze, wojna. Mityczne stworzenia, tancerki - apsary, bogowie. Klejnoty i przepych. Ale na najniższych piętrach kaskadowych świątyń przedstawione są, co tu dużo mówić, dzikie orgie. Krępy mężczyzna kopuluje z koniem, przed którym inny wystawia genitalia. Dwie panie ubrane tylko w biżuterię przytrzymują pana w akcie seksualnym ze stojącą na głowie kobietą pieszczą jednocześnie łona tych, które im asystują. Seks oralny jest prawie w każdej z grup rzeźb. Nikt niczemu się nie dziwi, tylko mały słoń - czyli bóg Ganesza - dobrotliwie uśmiecha się patrząc na nieporadnie kopulującą od tyłu parę. Erotyka jest obecna na około 10 proc. wszystkich płaskorzeźb w Khajuraho. Jest co oglądać.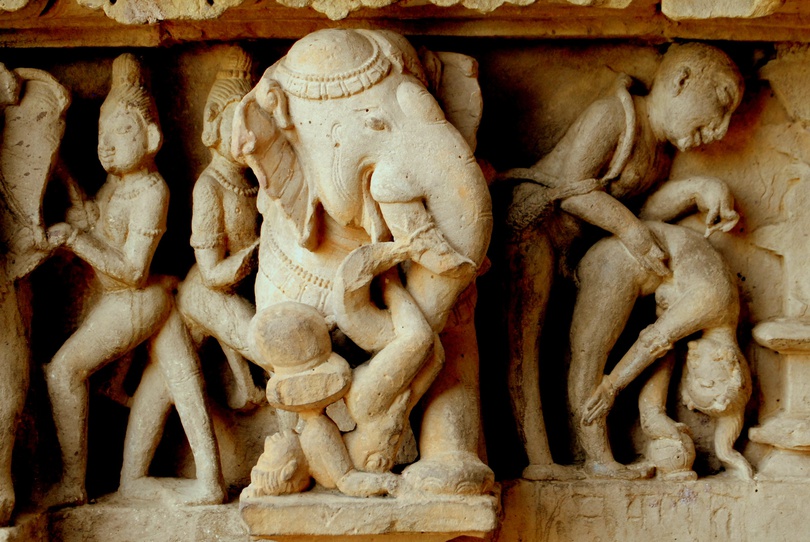 Chodziłem więc wokół świątyń, podziwiałem i fotografowałem. Podsłuchiwałem też turystów. Jakiś Anglik szeptał do swojej puszystej żony: - A potrafiłabyś tak? Siedemdziesięcioletni Niemiec, co chwilę przecierał okulary, a Dunka, która jechała ze mną pociągiem, szeptała pod nosem do siebie, że to świństwo. Pokój miłości i boskie tancerki. W Indiach seks nigdy nie był świństwem czy tabu. Szczególnie w najstarszych kultach hinduizmu, czyli śiwackich, wszystko co dawało rozkosz było wielbione. Spełnienie, orgazm, szczęście, miłość - to one zbliżały do bogów i boskości. Śpiew, muzyka, taniec, teatr odgrywały podobną rolę jak erotyka, ta jednak miała największe znaczenie, gdyż właśnie w efekcie miłosnego uniesienia prabogów miał zrodzić się wszechświat. Stąd w dawnych domach hinduskich były specjalne pokoje miłości, których ściany zdobiono malowidłami przedstawiającymi frywolne sceny. 
Podobne aranżowano w świątyniach zamieszkiwanych przez devadasi - boskie tancerki i opiekunki. Najpiękniejsze kobiety wybierane z zacnych rodzin opiekowały się domami bożymi, nie wychodziły nigdy za mąż, oddawały się swoim guru, a później pełniły też role kurtyzan. Około X wieku o statusie świątyni świadczyła liczba devadasi - największe i najważniejsze miały ich nawet kilka tysięcy.   
Najbardziej urodziwe, niczym gejsze w Japonii, zyskiwały patronów, którzy łożyli na ich utrzymanie, a w zamian mogli z nimi obcować. Były wielbione przez społeczeństwo, uznawane za zwiastunki szczęścia, zapraszane na wesela, a ich dzieci traktowane z szacunkiem i na równi praw z dziećmi małżeństw. Wszystko do czasu. Najpierw kres tradycji chcieli zadać muzułmanie, którzy pobili Indie i zakazali jakiejkolwiek erotyki w sztuce. Później angielscy, purytańscy kolonialiści zdelegalizowali instytucję devadasi. Zaczęła się ona odradzać dopiero w drugiej połowie XX wieku. Dziś w niektórych stanach Indii znowu jest powszechna. Liczbę boskich wybranek szacuje się na 100 tys., najwięcej jest ich w regionie Adhra Pradesh. Tylko niektóre są joginiami, większość to po prostu prostytutki.   
Kamasutra i Kamasiastra
Devadasi nie mieszkają już w Khajuraho. Zorganizowano tu muzeum wpisane na listę światowego dziedzictwa UNESCO. Pozostały tylko płaskorzeźby przypominające, ach..., dawne czasy. Na pohybel Afganom i Wielkim Mogołom, zachowały się właśnie dzięki nim, bo zmusili Ćandelów do opuszczenia ich dawnej stolicy i Kajuraho pokryła dżungla. Świątynie nie zostały więc wyburzone, a na ich miejscach nie stanęły meczety. Blask odzyskały też przewrotnie, bo dzięki purytańskim Anglikom, którzy w XIX wieku odkryli je na nowo i rozpoczęli wydzieranie ich przyrodzie.  
Oczarowani pięknem i pewnie zawstydzeni przedstawieniami, odbudowali część z nich, a później opisali co zobaczyli i rozpoczęli badania naukowe nad dawną sztuką Hinduizmu. Wnioski są szokujące. Sceny na płaskorzeźbach w Khajuraho to nie po prostu pornografia. To także nie instruktaż seksulanych technik czyli Kamasutra przeznaczona dla plebsu nieszczęśliwego w związkach. To zderzenie seksu zwykłych śmiertelników, umieszczone na najniższych piętrach świątyń i potraktowane nieco z przymrużeniem oka, z Kamasiastrą, czyli boską sztuką miłości, dającą prawdziwą rozkosz i uniesie, dostępną tylko wybranym – spełnionym w miłości. Zbliżającą do boskości, pokazaną na wyższych partiach reliefów.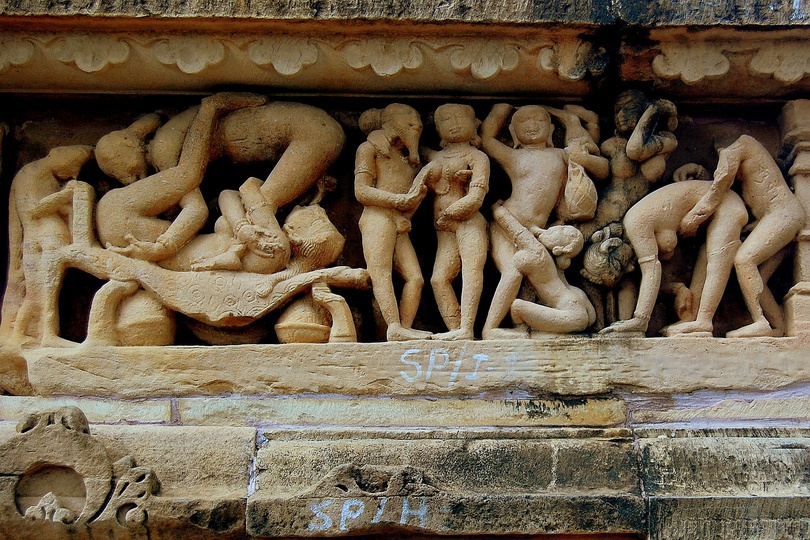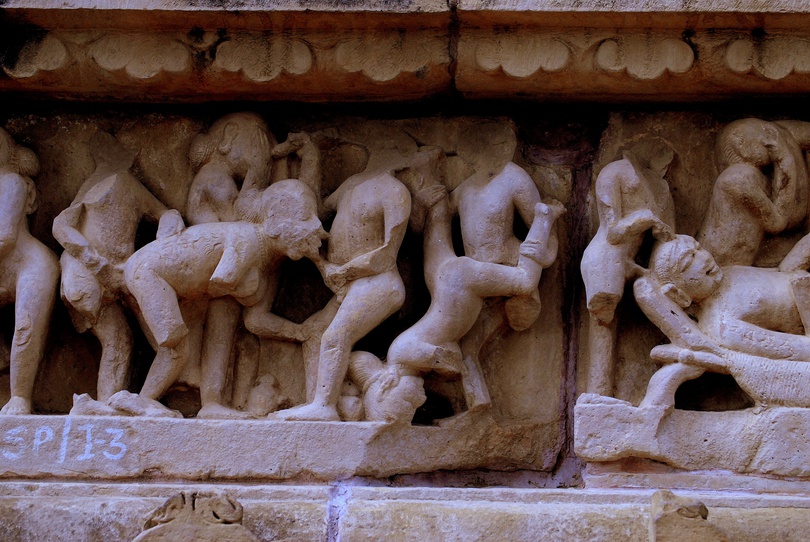 Na samych szczytach stoją natomiast najważniejsze pary nagich bogów, złączone w miłosnym uścisku, w charakterystycznej pozycji tribhanga, z ugiętą nogą, która dzieli układ ciał na trzy części, umożliwiając najlepszy przepływ energii. Górują nad zwykłymi śmiertelnikami, tak jakby chcieli im dobrotliwie powiedzieć: pocieszne jest to, co robicie, ale spróbujcie tak jak my. Wtedy, choć przez chwilę, poczujecie się bogami.   
Kiedy przeczytałem to w przewodniku, siedząc na ławce w Khajuraho, w 40 stopniowym upale, zrobiło mi się ze złości jeszcze bardziej gorąco. Ok! Że nie z koniem, to rozumiem. Że nie od tyłu, w czworokącie, na oczach tłumu, już nieco mniej... Ale, że po prostu, tak zwyczajnie, tylko z ugiętą nogą? Rozczarowanie. Wolę jednak zwykłą Kamasutrę.