Był rok 1522. Hiszpańscy konkwistadorzy pod dowództwem Francisca Pizarro, którzy niedawno jako pierwsi Europejczycy zobaczyli południowoamerykańskie wybrzeże Oceanu Spokojnego wpadli w szał. Kilku Indian Keczua opowiedziało im o Biru, wspaniałej krainie pełnej złota. Dobrze już wiedzieli, że Hernán Cortés w podbitym Meksyku trafił na ogromne bogactwa i mu pozazdrościli. Stosując przeróżne intrygi doprowadzili wkrótce do zorganizowania wyprawy na południe. Ich wymarzonym celem było zaginione inkaskie miasto, do którego nigdy nie dotarli. Splądrowali je dopiero XIX- i XX-wieczni odkrywcy i naukowcy.
Dotarłem do Limy, dzisiejszej stolicy Peru. To jedno z najsuchszych miast na świecie, położone na pustyni, na wybrzeżu Oceanu Spokojnego, którego klimat kształtuje zimny prąd Humboldta, odpowiedzialny za to, że prawie nigdy nie pada tu deszcz. Tu rozpoczynała się moja podróż po Ameryce Południowej. Ruszałem śladem przebiegłych konkwistadorów, więc wyprawę chciałem rozpocząć przy grobie najsłynniejszego z nich - Francisco Pizarro. Usiadłem na podłodze kaplicy w miejscowej katedrze i przy nagrobku założyciela Limy zacząłem raz jeszcze czytać o jego dokonaniach.
Pierwsza wyprawa Pizarro wyruszyła dwa lata po usłyszeniu przez niego opowieści o Biru. Jej dowódcami, oprócz słynnego konkwistadora, byli także ksiądz Hernando de Luque i żołnierz Diego de Almagro. Wszyscy obiecali sobie, że podzielą się sprawiedliwie zdobytym bogactwem. Za zgodą gubernatora Pedrariasa de Ávili wzięli  80 ludzi i 40 koni. I ponieśli porażkę. Pokonał ich głód, brak żywności, brak sił.
Druga ekspedycja, zorganizowana w sierpniu 1526 r., też się nie udała. Sukces przyszedł dopiero za trzecim razem. Po długich znojach i przeprawach, po prawie trzech latach w podróży, Pizarro zdobył Cusco, a w nim mnóstwo złota, srebra, drogocennych kamieni. Nie wiedział jednak, że zaledwie 112 km dalej, w "brwiach dżungli", wysoko na szczytach gór, znajduje się święte miasto-sanktuarium, a w nim niesamowite bogactwa. Nie dowiedzieli się tego też inni konkwistadorzy, którzy podbijali te rejony świata. Z wyjątkiem jednego...
Dziś Francisco Pizarro pewnie przewraca się w grobie. To, czego nie udało się odnaleźć hiszpańskim najeźdźcom, którzy na początku XVI ruszyli na podbój Ameryki Południowej i poszukiwanie zaginionych, złotych miast, padło łupem nowożytnych ekspedycji. Kilka tysięcy cennych przedmiotów wywieźli ze słynnego Machu Picchu odkrywcy tego sanktuarium Inków. 
Ucieczka przed zemstą Pizarro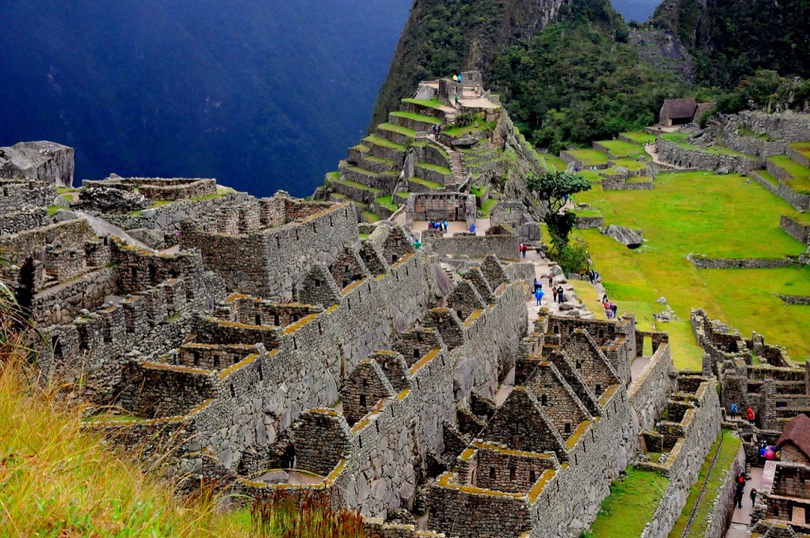 Do niedawna odkrycie Machu Picchu przypisywano amerykańskiemu profesorowi z Uniwersytetu w Yale, Hiramowi Binghamowi. Miało się to stać 24 lipca 1911. Bingham dotarł  tu z władającym językiem keczua przewodnikiem - metysem, Melchorem Arteaga. Setną rocznicę tego wydarzenia w Peru świętowano hucznie. Ale Bingham nie był pierwszą bladą twarzą, która stanęła w murach tego cudu świata.
Pierwszy pojawił się tu... znajomy Pizarra, o czym donosi kronika Don Antonia Altamirano, który opisuje między innymi obronę zajętego przez Hiszpanów Cusco, na które zaczął nacierać Manco Inca. Altamirano opisuje przygody Miguela Rufino, urodzonego w Toledo, który miał uratować przed gwałtem indiankę Acllę Gualca. Wyrwał ją z rąk żołnierzy i uciekli w góry. Według kroniki "zaprowadziła go do miejsca, które znają tylko dziewice słońca, jest ukryte przed wszystkimi, bo jest najbardziej święte ze wszystkich miast". Opisy Rufina jednoznacznie wskazują, że owym miejscem było Machu Picchu, a sam Hiszpan spędził tam pełen rok i musiał przysiąc, że nikomu nie wyjawi jego lokalizacji. On sam zginął w 1535 roku podczas powstania w Cusco, gdzie walczył po stronie Inków. Krótko po tym Machu Picchu zostało przez Indian opuszczone z niewiadomych przyczyn. Jedni badacze twierdzą, że mieszkańców zdziesiątkowała zaraza, inni, że Inkowie specjalnie niszczyli wszystkie ważne sanktuaria i ukrywali wielkie skarby, aby uchronić je przed Hiszpanami. Tak powstała legenda o zaginionym skarbie Inków, którego szuka się do dziś.
O mieście w chmurach zapomniano na wieki. Pojawiło się jeszcze tylko dwa razy w źródłach pisanych: z 1562 r w zarządzeniu wicekróla i w kronice z 1614 r.
Król tartaku kradnie skarby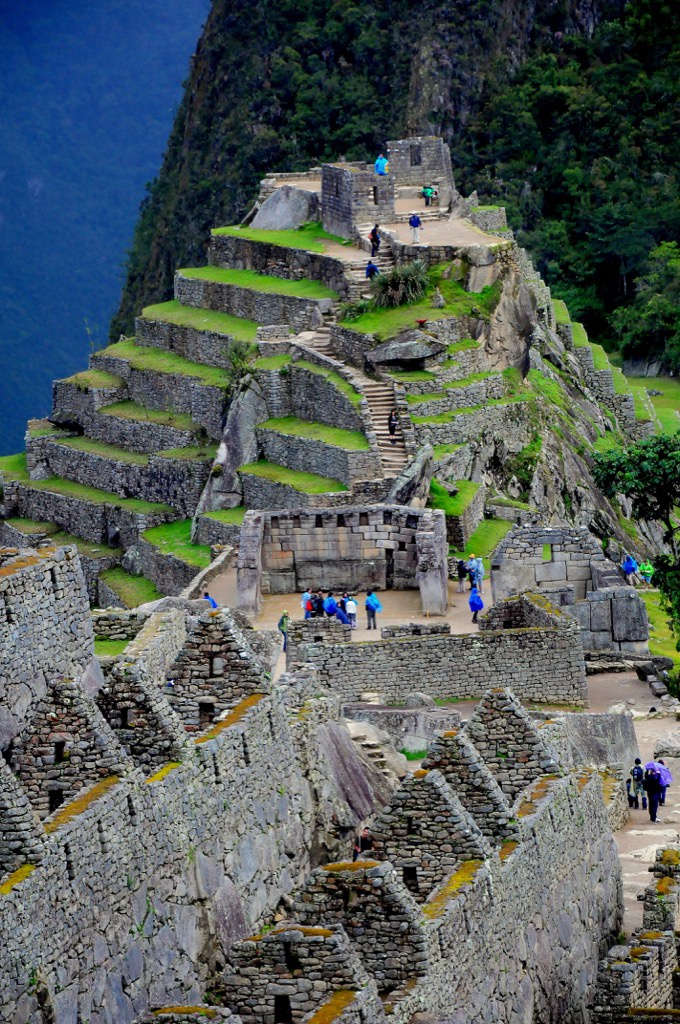 Dopiero w roku 1867 do Machu Picchu trafia kolejny Europejczyk, Augusto Berns. Ten emigrant z Niemiec robił tu interesy. Szukał kauczuku, handlował drewnem, założył tartak na stoku góry, na szczycie której znajduje się słynny dziś punkt na obowiązkowej mapie podróży każdego obieżyświata. Odkrył to w latach 70. XX wieku amerykański historyk Paolo Greer, który przeszukiwał peruwiańskie archiwa. Trafił w nich na mapy Bernsa - na jednej z nich, datowanej na 1874 rok, miasto zostało nawet zaznaczone.
Według dokumentów odnalezionych przez Greera, Berns oprócz tartaku miał też spółkę zajmującą się eksploracją grobowców i sprzedażą do Europy zabytków odnalezionych w Andach. Co ciekawe, pomagała mu miejscowa władza. Miał też ciche przyzwolenie prezydenta Andreasa Avelino Caceresa, z którym prawdopodobnie łączyły go nie do końca czyste interesy.
Umowa odnaleziona przez Amerykanina mówi, że sprytny przedsiębiorca miał skarbowi państwa oddawać zaledwie 10 proc. zysków ze sprzedaży artefaktów. Ile zabytków odnalazł i sprzedał? Prawdopodobnie kilka tysięcy, bowiem odnaleziona niedawno lista kontrahentów Niemca jest bardzo długa.
Naukowiec wywozi zabytki
"14 lipca 1902 roku do Machu Picchu dociera rolnik z Cusco, który działa na zlecenie bogatej rodziny obszarników o nazwisku Ochoa. Szuka dla niej nowych terenów uprawnych. W końcu trafia do Machu Picchu" - pisze Americo Rivas, peruwiański badacz, w książce pt. "Agustin Lizarraga: wielki odkrywca Machu Picchu". To także Lizarraga organizuje pierwszy wyjazd turystyczny do zaginionego miasta. Przyjeżdżają tu członkowie rodziny Ochoa za Paryża.
Lizarraga nie trafia jednak na pierwsze strony gazet. Tonie w rzece Vicanota w lutym 1912 r., ale jak twierdzi Rivas, zostawia po sobie na Machu Picchu ślad: napis węglem "Lizarraga 1902".
Dla świata nauki Machu Picchu odkrył dopiero 40 lat po Bernsie, w 1911 r., Hiram Bingham. Zorganizował kilka wypraw badawczych. Najważniejsza odbyła się w 1912 r, a sfinansował ją Uniwersytet Yale oraz National Geographic.
Zapiski odkrywcy wskazują, że początkowo nie był on zafascynowany swoim odkryciem. Szukał czegoś bardziej spektakularnego, dlatego już w 1911 r. zostawił bez entuzjazmu Machu Picchu i pojechał szukać innych, zaginionych miast Inków.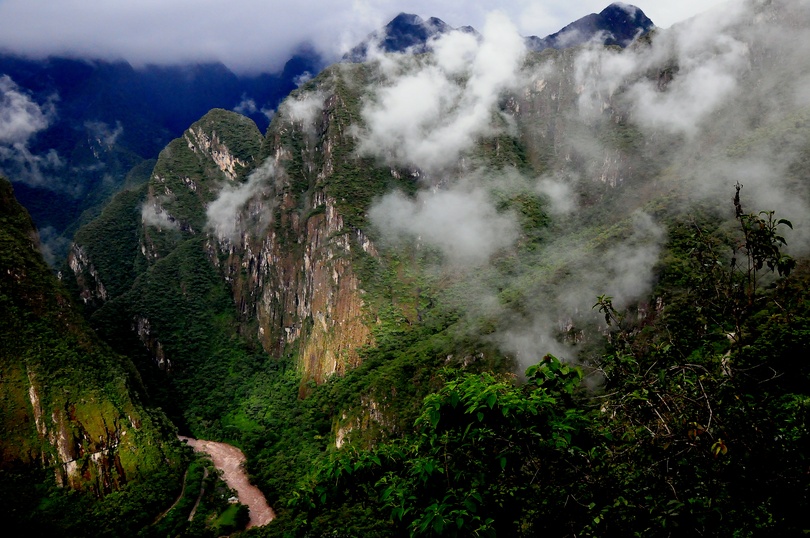 Tak naprawdę do rozpropagowania rangi jego odkrycia i samego miejsca najbardziej przyczyniała się fundacja National Geographic Society oraz niezliczone publikacje na łamach tego najbardziej znanego na świecie magazynu podróżniczego. W kwietniu 1913 r. poświęcił mu on nawet całe wydanie. Wtedy także, w niewyjaśnionych dotąd okolicznościach, miał zginąć napis zostawiony w mieście przez Lizarragę.
Dopiero w 1915 r. sam odkrywca przekonał się do ważności tego stanowiska archeologicznego. Wówczas rozpoczęło się wywożenie do Stanów Zjednoczonych Ameryki Północnej ponad czterech tysięcy najwyższej wartości zabytków odkrytych w ruinach pradawnego miasta.
Zupełnie legalnie Peru straciło setki naczyń ceramicznych, złotych i srebrnych posążków, mumii, spinek, itp. Wszystkie na długie lata trafiły do Yale, a rząd peruwiański aż do 2012 roku ostro domagał się ich zwrotu, tłumacząc, że zostały tylko wypożyczone do badań. Yale odpierał atak, twierdząc, że był to dar od Binghama. Dopiero rok temu, a dokładniej w listopadzie 2012 r., większość odnalezionych wówczas przedmiotów powróciło do miejsca, w którym je stworzono. Można je oglądać w muzeum w Cusco. Mimo że nie ma ich dziś w samym Machu Picchu, miejsce to jest jednym z najbardziej niezwykłych na ziemi.