Malaga, jak przystało na słoneczne miasto południa, temperament ma raczej gorący. Kogo więc zdziwi, że narodziny Chrystusa świętuje się tu butelką szampana, a kolacja wigilijna kończy się radosną zabawą w hotelu albo na dyskotece? Grudzień w Andaluzji to wciąż czas niekończących się wakacji, płynący z szumem południowego wiatru od strony Maroka i fal Morza Śródziemnego. Tyle tylko, że w tych dniach Malagę widać nawet z najdalszych zakątków kosmosu. Żadne inne miasto nie ma chyba takiej iluminacji. Pod koniec każdego roku ulice ozdabiają setki tysięcy cieszących się z Bożego Narodzenia latarenek. Święta nadchodzą w pełnym blasku.
Gdyby miasta miały płeć, Malaga na pewno byłaby kobietą. Nieco powolna, słodka i uwodzicielska, jest miejscem, w którym słońce świeci przez 320 dni w roku. Wino leje się tu strumieniami, w malutkich restauracyjkach na wybrzeżu zawsze można kupić owoce morza (równie smacznie, ale taniej jest w centrum), życie towarzyskie toczy do późnej nocy. Na ulicach tradycja miesza się z nowoczesnością. W drodze z lotniska do centrum można poczuć małe rozczarowanie. Dookoła zatłoczone drogi, strzeliste budynki, szare w wyrazie i jednakowe. Ale nagle, w gęstym lesie wieżowców, niemal nad samym morzem wyrasta coś w rodzaju koloseum.
To miejsce, w którym odbywają się corridy. Z lotu ptaka wygląda jak ceglane kółko wepchnięte w środek blokowiska. Nad całością czuwa Alkazba, rzymska cytadela przebudowana przez Maurów w IX wieku. Dumna budowla łączy się z zamkiem Giblarfaro, który niegdyś pełnił funkcję rezydencji arabskich emirów. To obowiązkowy punkt programu w czasie wizyty w Andaluzji, a także najlepszy punkt widokowy na miasto. Widać stąd całe wybrzeże, port, ciągnącą się wzdłuż linii morza aleję obsadzoną palmami.
Malaga wydaje się wielka, ale jej serce bije na starym mieście, koło katedry, której początki sięgają XVI wieku. Dopiero tutaj dusza i ciało poznają ducha miasta. Ciało, bo na każdym rogu kuszą winiarnie i pękate butelki z malagą. Dusza, bo piękno tutejszych zabytków, szczególnie kościołów, potrafi oszołomić każdego. Około 94 proc. mieszkańców stolicy Andaluzji to katolicy. Trudno się więc dziwić, że miastu rytm nadają święta religijne, obchodzone w niemalże barokowym stylu, choć bez zbytniego namaszczenia. Zarówno Wielkanocy, jak i Bożemu Narodzeniu, towarzyszy atmosfera zabawy oraz radości. Tutaj wszystko świętuje się, w pełnym tego słowa znaczeniu, w iście paradnym stylu.
Szampan i ciasteczka
Boże Narodzenie w Maladze to zjawisko wszechogarniające. Niezwykle popularne w Hiszpanii budowanie szopek sprawia, że sklepowe wystawy zamieniają się w świąteczny teatr, którego głównym bohaterem jest Nowo Narodzony, Jego Matka, pasterze oraz Trzej Królowie. Na ulicach aktorzy odgrywają biblijne sceny. W centrum miasta staje gigantyczna, pięknie oświetlona choinka. Migające światełka pokrywają od czubka całe drzewko, na nich zaś wiszą jeszcze ogromne gwiazdy. Choinkowe lampki nie uspokajają się nawet na chwilę, powodując, że wszystko dookoła wydaje się drgać razem z nimi. Pod choinką rozstawiane są stoliki, przy których można siedzieć pół nocy, delektując się winem.
W tym czasie większość pań wędruje na tradycyjny targ rybny Mercado de Atarazanas. Prowadzi do niego wspaniała brama, przeniesiona tu z islamskiej stoczni. To jedne z najważniejszych zakupów przed świętami, w Maladze na wigilijnym stole, obok indyka i ryb, pojawiają się bowiem również owoce morze. Ale Mercado de Atarazanas to również nie lada atrakcja turystyczna. Sprzedaż sardynek może być przecież sztuką. Wystarczy poukładać je w malownicze gwiazdy, których ramiona tworzą głowy rybek, a centrum nałożone na siebie ogonki.
Wyłożone kaflami targowisko ma już klimat nieco arabski, jakby wbrew nazwie. Jest tu mydło i powidło, wszystko jednak świeże i pachnące morzem. W pobliżu słynny Placa de la Merced, miejsce wieczornych spotkań. Młodzież często przynosi tu magnetofony, żeby bawić się i tańczyć do nocy. Tylko cierpliwi mogą liczyć na miejsce w okolicznych knajpkach, łatwiej zostać tu poczęstowanym rumem z papierowego kubka. Boże Narodzenie tylko spotęguję zabawę. A święta w Maladze, podobnie jak w całej Hiszpanii, zaczynają się już 22 grudnia. Wtedy odbywa się loteria "El Goro", jedna z największych na świecie, w której zwycięża bardzo wiele osób, co jest oczywiście dodatkowym powodem do świętowania.
Samotni w Wigilię turyści nie powinni czekać, aż ktoś im zaoferuje puste nakrycie w domu. Lepiej ruszyć w miasto. Po tradycyjnej kolacji z rodziną, Hiszpanie udają się na "misa del gallo", co można przetłumaczyć jako "msza kogucia". To po prostu pasterka, jej nazwa zaś wiąże się z opowieścią, że to pianie koguta powiadomiło świat o narodzeniu Jezusa. Przed katedrą pojawia się mnóstwo zwierząt zrobionych z lampek, oprócz zwykłych świateł, ulice pokrywają bijące blaskiem, fantazyjne kształty. Niektórzy kontynuują ten jedyny w roku wieczór, spotykając się z przyjaciółmi w restauracjach czy hotelach. Częścią obchodów Bożego Narodzenia są również koncerty muzyki i tańców vediales, które zrodziły się w Maladze i mają arabskie korzenie. Żeby zatańczyć te żywe rytmy potrzeba jest przynajmniej para tancerzy, a chętnych do zabawy w tej części świata nie brakuje.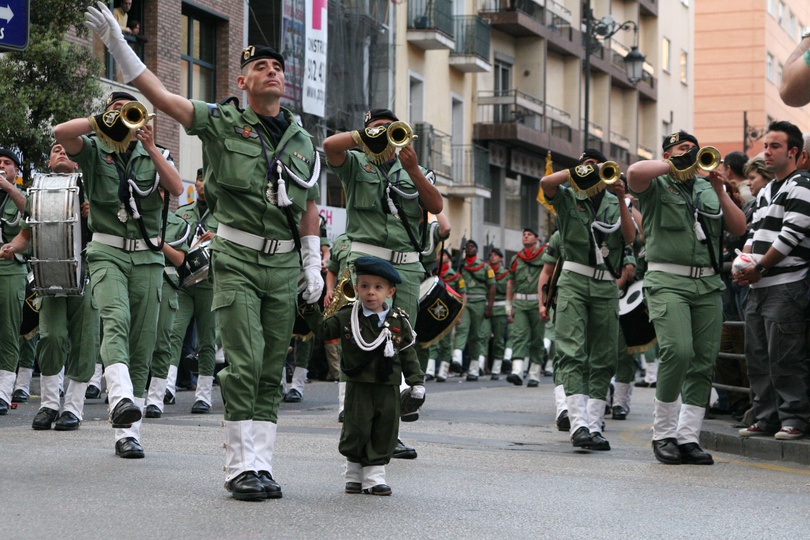 Dwanaście gron
Atmosfera zabawy trwać będzie nieprzerwanie do stycznia. W Sylwestra trzeba koniecznie włożyć czerwoną bieliznę (na szczęście) i przygotować winogrona. Ulice Malagi zapełniają się rozbawionym tłumem, na miejsce w restauracjach nie ma co liczyć. Te od miesięcy zarezerwowane są na prywatne przyjęcia. Nie ma się jednak czym martwić. Cały czas jest ciepło, a na świeżym powietrzu czekają pokazy fajerwerków. Tuż przed północą, kiedy zegary zaczynają bić dwunastą, z każdym uderzeniem Hiszpanie biorą do ust jedno grono. Ich słodki smak ma zapewnić przez cały rok niegasnące powodzenie.
Po świętach i Sylwestrze czas na wielką paradę. I choć cała Hiszpania niezwykle hucznie obchodzi Święto Trzech Króli, 6 stycznia Malaga bawi się tak, jakby reszta świata nie istniała. Miasto zamienia się w gigantyczny teatr, ulicami sunie korowód, na czele którego jadą Trzech Królowie. To także dzień, w którym można skosztować ciasteczek drożdżowych "roscon" pokrytych lukrem i galaretką, z niespodzianką w środku. Może to być moneta, może plastikowa figurka. Podobnie jak czerwone majtki w Sylwestra i winogrona o północy, znalezisko przynosi niczym nie zmącone szczęście.
Tego dnia rozdaje się też prezenty. Niegrzeczne dzieci i dorośli dostają... węgiel, tyle, że w dzisiejszych czasach słodki i jadalny. W setkach stoisk kupuje się wielkie cytryny, jedzone na surowo, kawałki kokosów, żelki, gigantyczne lizaki, ciasteczka. Kiedy ustają wielodniowe zabawy, miasto powraca do normy.
To moment, w którym warto zajść do oblężonego w czasie świąt eleganckiego hotelu Larios, pod oknami którego obowiązkowo zawsze przechodzą wszelkie parady. Można się tu napić któregoś z szesnastu odmian malagi albo obserwować ze stylowych balkoników okoliczne zaułki. A na koniec czas na obowiązki, na szczęście przyjemne. W Maladze urodził się przecież Pablo Picasso, tu też znajduje się jego muzeum. Choć nie każdy rozumie i "czuje" jego malarstwo, oglądanie dzieł Mistrza z bliska potrafi zmienić wszystko. A wieczna atmosfera radości i purpurowy napój w kieliszku znacznie wpływają na ogląd świata. Szczególnie na początku pełnego nadziei roku.