Opactwo pocysterskie w Lubiążu zostało zdewastowane najpierw przez Niemców podczas II wojny światowej, potem wyzwalającą Armię Czerwoną oraz nas samych - Polaków. Okradzione ze wspaniałych dzieł sztuki, z których sporo mogłoby do niego wrócić. Z ponad 300 sal wyremontowano dotąd zaledwie kilka, bo klasztor i pałac opata są przeklęte. Jego pech, to jego wielkość - jest zbyt monumentalne, by kogokolwiek było stać na przywrócenie tym murom ich dawnej świetności. Ale i tak to najpiękniejszy obiekt sakraly w Polsce. Odwiedźcie to miejsce razem z Tomaszem Bonkiem i jego książką, pt.: "Lubiąż. Klasztor mrocznych tajemnic".
Losy podwrocławskiego opactwa cysterskiego w Lubiążu pech prześladuje od zawsze. Dziś właścicielowi obiektu od czasu do czasu brakuje na opłacenie rachunków za prąd, nie stać go na nawet najmniejsze remonty. Fundacja, która nim zarządza, ratuje go za pieniądze sponsorów i publiczne. To jednak zaledwie wiązanie końca z końcem. Tak jest tu od lat. Obiekt, który powinien być taką atrakcją jak np. Wersal, stoi pusty, zapomniany, z dala od turystycznych szlaków. I nawet PKS go omija, a prawie każdy decydent mówi, że to nie jego problem.
Tuż po upadku komuny władze państwowe oddały zabytek w podejrzane ręce. Wcześniej agenci SB i oficerowie WSW szukali tu skarbów i niszczyli klasztorne włości koparkami. Nieprofesjonalni naukowcy dopuścili się zaniedbań. Jeszcze wcześniej dewastowała go Armia Czerwona i naziści, którzy nie wiadomo co tu tak naprawdę robili. Żal patrzeć, co stało się z dziełem Zakonu Cystersów, pierwszej korporacji finansowej, które zawładnęła na wiele stuleci Europą.
Mnisi z Lubiąża zarządzali kilkunastoma wsiami, browarami, gospodarstwami. Odgrywali ogromną rolę w życiu kulturalnym regionu. Byli znawcami Arystotelesa, mecenasami sztuki, no i politykami, którzy wpływali na wiele księstw. W pewnym momencie historii znajdowała się tu największa biblioteka w tej części Europy. To tu powstawały też najwspanialsze malarskie działa śląskiego baroku. Nawet dziś zespół obiektów pocysterskich to nadal najwspanialszy zbiór zabytków architektonicznych w Polsce.
Fundacja Lubiąż, która jest teraz właścicielem obiektu, robi co może, by ratować go przed niszczeniem. Przez lata udało się jej wymienić dach o powierzchni, bagatela, ponad dwóch boisk piłkarskich i odrestaurować najważniejsze sale opactwa. Udostępnia go też turystom i promuje, gdzie tylko i kiedy się da. A jest się czym chwalić. Jest się też czego wstydzić... Problem w tym, że sprawców tego wstydu i skandali otaczających Lubiąż było na przestrzeni dziesięcioleci tylu, że dziś nie można już wskazać jednego winnego. Mnóstwo osób przyłożyło się do tego, że takiej klasy zabytek nadal nie może odzyskać swojego dawnego blasku i nie jest perłą w polskiej koronie.
O tym przerażającym nieszczęściu, pechu i fatum prześladujących Lubiąż od wieków najdawniejszych po dzisiaj, jest książka redaktora naczelnego Tomasza Bonka, pt.: "Lubiąż. Klasztor mrocznych tajemnic". To opowieść o mrocznych dziejach lubiąskiego opactwa. Autor przedstawia, dlaczego budynek do dzisiaj stoi pusty i tylko wiatr hula po jego zamkniętych na co dzień korytarzach. Wyjaśnia, co przeraziło tu Michaela Jacksona i kilku innych potencjalnych inwestorów.
Czytelnik zostaje przeniesiony też do burzliwych lat transformacji w Polsce, by pokazać mu, jak obiekt został wmieszany w aferę Art-B oraz jak wcześniej oficer wrocławskiego SB mamił dziennikarzy opowieściami o rzekomych skarbach tu zdeponowanych i wojennych zbrodniach, jakie miały zostać popełnione w jego podziemiach. To zbudowało wokół obiektu legendę, która tylko doprowadzała go do ruiny.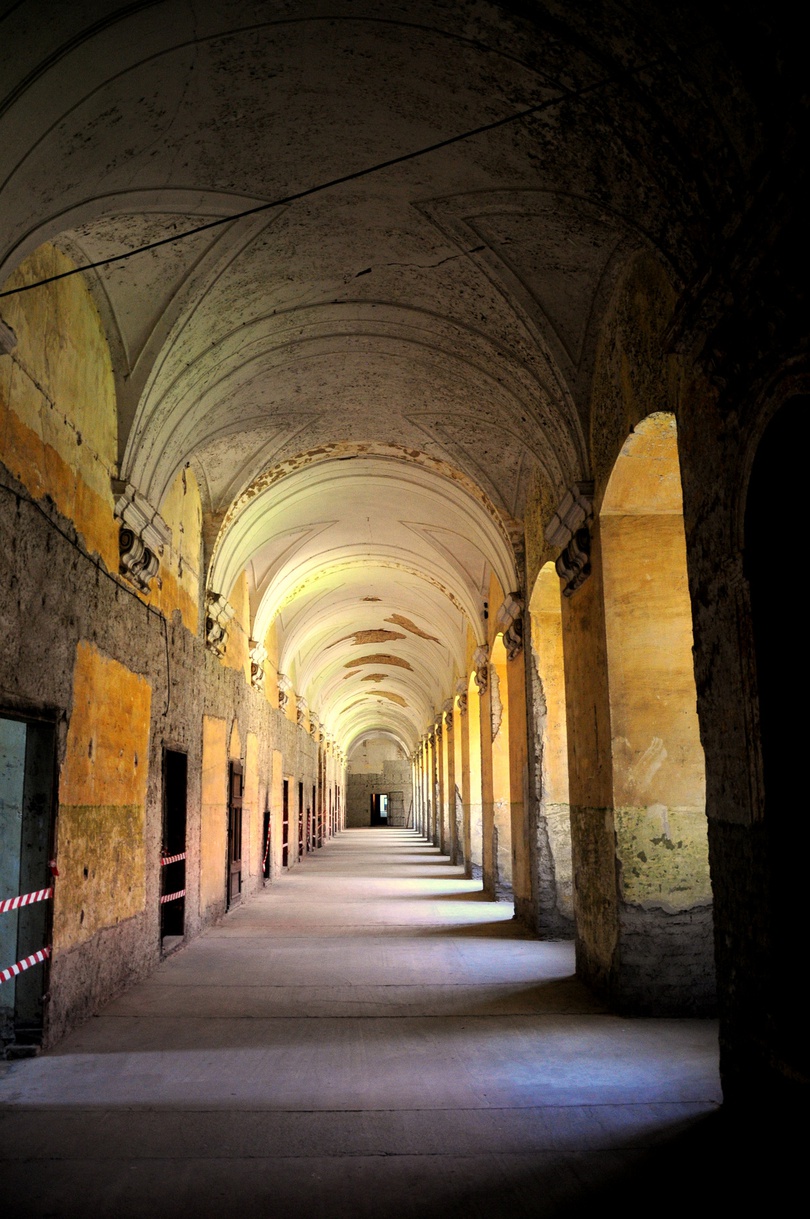 Tomasz Bonek w "Klasztorze mrocznych tajemnic" wraca do PRL-u i pokazuje gorączkę złota, jaka ogarnęła poszukiwaczy skarbów z Wojska Polskiego, SB, WSW oraz z zagranicy - wszyscy liczyli, że odnajdą tu warty miliardy dolarów depozyt banków Festung Breslau, tzw. złoto Wrocławia. Przez tę rządzę i nieodpowiedzialną zabawę w Indianę Jonesa niszczyli tu wszystko, co się dało.
Przypomina też mało znaną historię odkrycia skarbu w klasztorze i jego skandalicznej sprzedaży przez bezpiekę w zachodnich antykwariatach. Opisuje czasy II wojny światowej, kiedy to naziści stworzyli w budynkach pocysterskich fabrykę zbrojeniową i ośrodek badawczy, oddział firmy Telefunken. W końcu opowiada o czasach najdawniejszych, gdy pierwszą na świecie korporację finansową - zakon cystersów - doprowadzono do ruiny.
Odkrywa również dzieje Michała Willmanna, zwanego śląskim Rafaelem, słynnego i utalentowanego malarza baroku, który tworzył arcydzieła, a którego też dopadł pech. Jednak dopiero po śmierci.
Podczas lektury cofamy się również do wojen Husyckich i Trzydziestoletniej, kiedy to Lubiąż najpierw budował swoją potęgę, by już za chwilę popadać w ruinę i paść np. ofiarą nonszalancji arystokraty, który, ot tak sobie, podarował pałac żonie.
Pech przewija się przez te wszystkie historie. Ma jednak wspólny mianownik: zespół cysterskich obiektów przez stulecia borykał się z problemami, bo był od zawsze... za duży. I to jest właśnie jego przekleństwo. Albo uważano, że muszą się w nim znajdować niesamowite bogactwa i go nieustannie rabowano, albo nie było, i nie ma do dzisiaj, wystarczających środków na jego odrestaurowanie.
- Tą publikacją, co tu dużo mówić, wkładamy kij w mrowisko - pisze Tomasz Bonek. - Liczymy na to, że nasza praca, śledztwa dziennikarskie, których efektem jest ta książka, ponownie zwrócą uwagę władz państwowych, samorządowych, biznesu, historyków sztuki, miłośników Dolnego Śląska, na najważniejszy zabytek architektoniczny w Polsce, który może - naszym zdaniem - stać się ikoną tego regionu i całego kraju. Wierzymy, że dzięki nam wszystkim, już wkrótce, Lubiąż odzyska swój dawny blask.
Zapraszamy do lektury książki "Lubiąż. Mroczne tajemnice opactwa" - polecają Wyprawy Marzeń.