Po serii podróży po Egipcie i Izrealu zapragnąłem odmiany. Siedziałem w kraju i urlop tym razem miałem spędzić w Polsce. Zadzwonili jednak z gazety, z którą kiedyś współpracowałem i zapytali, czy w najbliższym czasie może dokądś się wybieram, bo chętnie zamówiliby sporo zdjęć podróżniczych i może jakiś reportaż. I wtedy przypomniała mi się pewna historia sprzed lat.
- Ale scenografowie poszaleli - pomyślałem, kiedy pierwszy raz zobaczyłem w kinie film Indiana Jones i ostatnia krucjata, a w nim skarbiec z jordańskiej Petry, monumentalną budowlę wykutą w skale. Coś takiego nie mogło przecież istnieć w prawdziwym świecie. Oszalałem z zachwytu, gdy parę dni po projekcji przeczytałem, chyba w Przekroju, że świątynia, w której słynny archeolog odnalazł kielich Chrystusa, istnieje naprawdę. Wiedziałem, że muszę pojechać do Jordanii i wejść do jej środka.
To był początek lat 90. XX wieku. Granice dopiero zaczęły się otwierać, samolotów z naszego kraju do Azji prawie nie było, podróżowanie cały czas stanowiło najbardziej ekskluzywną rozrywkę. Na spełnienie podróżniczych marzeń musiałem więc poczekać jakieś 10 lat. Ale w końcu dopiąłem swego i ruszałem w podróż tropem Indiego Jonesa, świętego Graala i tajemnic pustyni.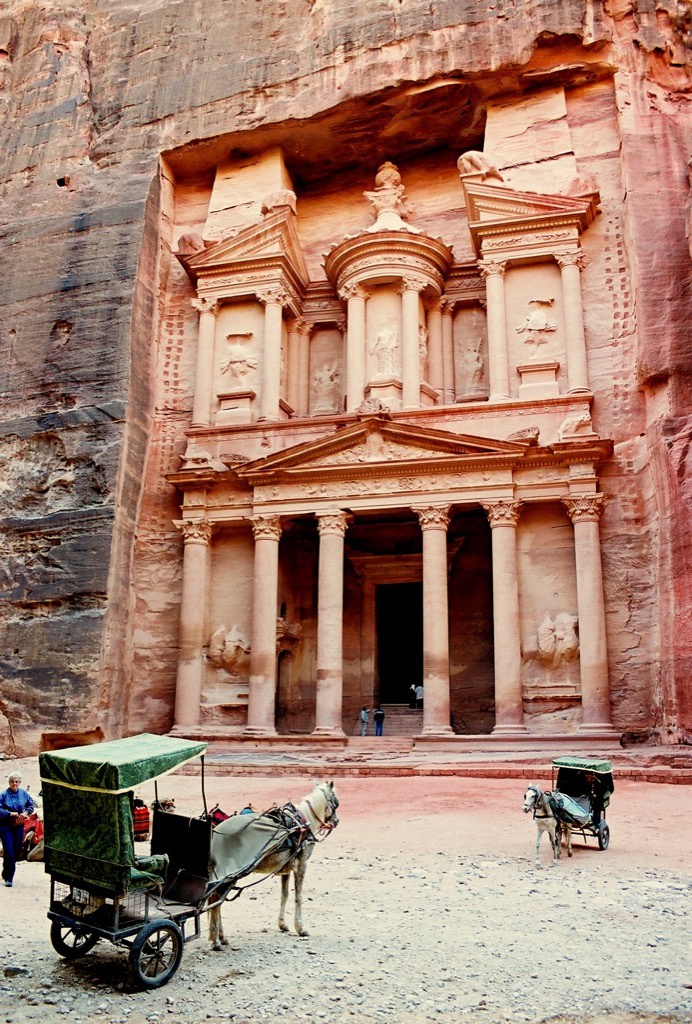 No i jednak skorzystałem z oferty zaprzyjaźnionego dziennika. Urlop nad Bałtykiem odłożyłem na później i leciałem do Jordanii. Oczywiście przez mój ukochany Egipt. Z jednej strony nie mogłem się oprzeć pokusie, by kierując się znów w tamten rejon świata nie zagościć, choć na chwilę, na placu Tahrir w Kairze i pod piramidami. Z drugiej, właśnie tą trasą było po prostu najtaniej. No i wilk był syty i owca cała.
Kupiłem więc bilet na czarter i leciałem do osławionego już wtedy Sharm el Sheikh, mekki 50-letnich turystek rzadkiej urody z Germanii i kraju Galów, zbudowanej na półwyspie Synaj, w szczerej pustyni, nad brzegiem Morza Czerwonego, gdzie jeszcze trzydzieści lat wcześniej nie chciała nawet zatrzymać się jedna karawana. Bo niby co mieliby tu robić jej uczestnicy? Przecież nie pływać w zatoce, albo pożerać - przyodziani w stroje kąpielowe - lody. Hoteli, bynajmniej, tu wówczas nie było. Ja też szybko uciekłem na parę dni do Kairu, ale wróciłem, bo tak najłatwiej było mi przedostać się przez Synaj do granicy z Izraelem w Tabie.
Dziś Sharm to jeden z największych egipskich kurortów, sztuczny - nawet palmy tu nasadzono, bo przecież zwykle nie rosną w szczerej pustyni. Ale to też wspaniała baza wypadowa na Bliski Wschód.
Jak szybko dotarłem tu z powrotem, tak już po kilku godzinach ruszyłem w kierunku Izraela, przez który miałem dostać się do Jordanii i ukrytej na środku pustyni Petry, opuszczonego miasta Nabatejczyków.
W Izraelu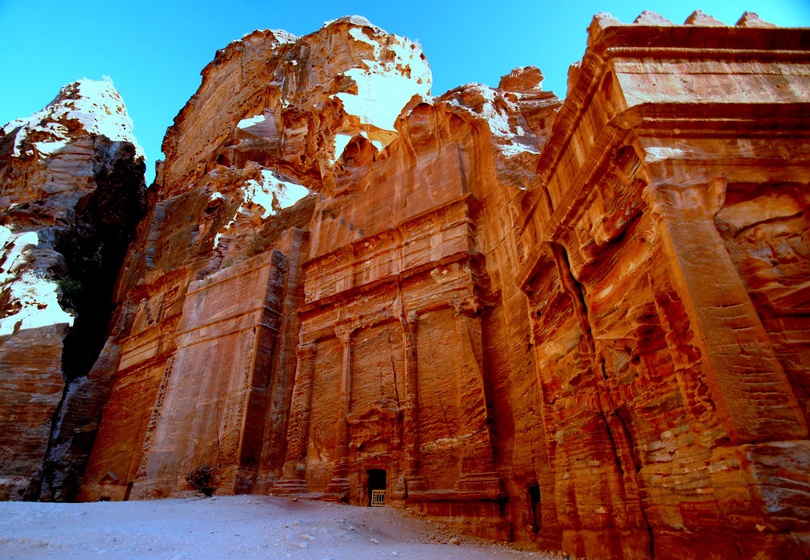 Przez izraelską granicę przeprawiałem się, jak zwykle w tym miejscu, kilka godzin. Jeśli jesteście żądni przygód, musicie przeżyć to samo. Polecam. To jest wyzwanie, nawet dla wycieczek zorganizowanych, które poruszają się z pilotem, są pod opieką biur podróży, zarówno ze swojego kraju, jak i lokalnych. Tu zawsze musi się coś wydarzyć.
Niejednokrotnie spotkałem ludzi, którzy nie zostali wpuszczeni na terytorium Izraela, mimo że na wycieczkę odkładali przez całe życie.
Podczas pierwszej podróży w ten rejon świata też spotkałem Polkę, która płakała, bo młoda celniczka - mówiła o niej: ta wredna siksa - nie pozwoliła na przekroczenie granicy. Powód: w paszporcie stempel kontroli granicznej z Syrii.
Tak, celnicy bacznie kartkują tu każdy paszport. Byłeś w krajach arabskich? Stop! Nie wjedziesz do Izraela. Wyjątkiem jest pobyt w Egipcie i Jordanii, z którymi Żydzi utrzymują w miarę poprawne stosunki.
Mnie natomiast notorycznie poddaje się na tym przejściu wszelakim kontrolom. A to wymaz z plecaka na okoliczność potencjalnej styczności z materiałami wybuchowymi. A to inwigilacja do trzech pokoleń wstecz na temat pochodzenia rodziny. - Kim był twój dziadek? Skąd pochodził? Czy kiedykolwiek twoi przodkowie przyjeżdżali do Izraela? Po co wybrałeś się w tę podróż? Czy Twoje imię to na pewno Tomasz, a może jednak Thomas? No i w końcu: dlaczego przyjeżdżasz z Egiptu? Mogłeś przylecieć do nas bezpośrednio. Co ci się podoba w tym arabskim kraju? Z kim się tam kontaktowałeś? Czy ktoś dał ci coś, abyś to przewiózł przez granicę? A, tak naprawdę, po co przyjechałeś do Izraela?
O to wszystko odpytywała mnie może 19-letnia Izraelka. Moja irytacja sięgnęła zenitu już przy piątym zagadnieniu. Następne wytrzymałem z zaciśniętymi zębami.
Czarę goryczy przelał tekst: - No nie wiem czy mówisz mi prawdę... Zwykle, w podobnej sytuacji, odszczekałbym coś babie. Tutaj jednak postanowiłem zamilknąć. I dobrze na tym wyszedłem, a nie jak Anglik, którego poniosło, nakrzyczał na dziewczynę i mimo interwencji ambasady do Izraela go nie wpuszczono. Wrócił do wspaniałego Sharm el Sheikh.
Już po czterech godzinach czekania na celników, kontrolerów bezpieczeństwa, rozmaitych urzędników, poddany drobiazgowej kontroli i przepytany na wszystkie możliwe tematy, przeszedłem na drugą stronę granicy w Tabie. Złapałem taksówkę i mknąłem do granicy z Jordanią, która znajduje się nieopodal Eljatu.
Tu, na szczęście, wszystko poszło niemalże ekspresowo. Kazano mi tylko uśmiechnąć się do kamery, zrobiono zdjęcie, pobrano opłatę za wizę i przepuszczono. W końcu jechałem do upragionej Petry, którą znałem z książek i słynnego filmu, rzecz jasna.
Wadi Rum
Jordańskie Królestwo Haszymidzkie, a właściwie Al-Mamlaka al-Urdunnijja al-Haszimijja, oglądałem przez okno wynajętej terenówki. Na pierwszy rzut oka: nic specjalnego. Widoki, jakich wiele. Droga przez pustynię i tyle. Atrakcją były tylko wielbłądy przewożone otwartymi samochodami, niczym u nas krowy na pace. Aż dojechaliśmy do bram Wadi Rum, pustynnej doliny położonej wśród granitowych i piaskowcowych skał.
Krajobraz był iście księżycowy. Nagie skały majestatycznie dominowały nad morzem piasku, a ten, który zsypywał się z ich stoków, był bajecznie kolorowy. To jedna z niewielu pustynnych dolin na świecie, w której można spotkać takie spektrum barw: od czerwieni, przez zwykłe ochry, do błękitów.
Wadi Rum rozsławił brytyjski oficer, archeolog, podróżnik i agent wywiadu Thomas Edwart Lawrence, walczący tu po stronie arabskiej w okresie antytureckiego powstania w latach 1917-1918.
Od 1914 roku pracował w kairskim sztabie wojsk brytyjskich jako oficer geograficzny. Opracowywał mapy i przewodniki dla żołnierzy. Kiedy w 1916 roku wybuchło arabskie powstanie antytureckie, przywiózł Arabom zaopatrzenie. Wówczas przekonał szarifa Mekki, aby zaatakował, inspirował go też do kolejnych walk, co powstrzymało Turków, a armia arabska w 1918 roku, wspierana przez Brytyjczyków, zajęła w końcu Damaszek.
Lawrence swoje przygody na Bliskim Wschodzie opisał i w 1922 roku wydał książkę pt. Siedem filarów mądrości (ang. Seven Pillars of Wisdom). Na jej podstawie powstał w 1962 roku film Lawrence z Arabii. Zarówno książka, jak i film, wspaniale pokazują Wadi Rum. To właśnie w sercu tej doliny znajdują się pozostałości jednej ze świątyń starożytnego ludu, Nabatejczyków, którzy zbudowali kilkadziesiąt kilometrów dalej olbrzymie miasto ukryte wśród skał - Petrę, cel mojej wyprawy.
Zatrzymałem się nieopodal tej pustynnej świątyni, w jednym z beduińskich namiotów. Wypiłem niezliczoną ilość okropnie słodkiej herbaty z miętą, potem gotowanej kawy z kardamonem. Zjadłem barani rosół zabielony suszonym jogurtem - jordański przysmak. Fuuuuu... Kupiłem trochę przedziwnych ziół mających pomagać w kłopotach żołądkowych po tej zupie i pojechałem dalej, do słynnego wąwozu, gdzie znajdowała się świątynia z Indiany Jonesa.
Pustynny lud przejmuje władzę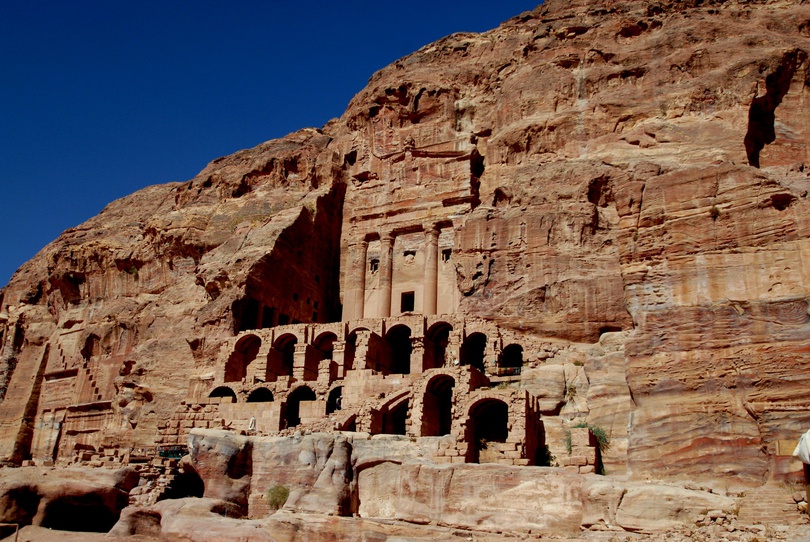 Nabatejczycy już od VI wieku p.n.e. kontrolowali prawie wszystkie szlaki handlowe biegnące z rejonu zatoki Perskiej w kierunku Morza Czerwonego oraz te prowadzące z samego południa półwyspu Arabskiego aż do Damaszku, jednego z najdłużej ciągle zamieszkałych miast na świecie.
Wszystko to było możliwe dzięki położeniu ich terytorium i zdolnościom do handlowania oraz robienia wszelkich interesów. Na przestrzeni wieków dorobili się wielkich majątków pośrednicząc w handlu między Egiptem - jednym z największych mocarstw owych czasów - państwami basenu morza Śródziemnego oraz Syrią. Właśnie z ich miast eksportowano kadzidło, mirrę, kość słoniową, złoto, miedź, żelazo, wonności, bardzo pożądane wówczas przyprawy. W te dobra, przywożone z najodleglejszych zakątków Wschodu, zaopatrywali później także Rzym i Grecję.
Posiedli jeszcze jedną bardzo ważną umiejętność: zarządzanie wodą. I to tak naprawdę zbudowało na kilka wieków ich potęgę. Po pierwsze, system kanałów irygacyjnych pozwolił im na uprawianie roślinności niemal na masową skalę. Choć warunki były tu surowe, a pustynna ziemia słaba, rosło prawie wszystko, z wyjątkiem drzew oliwnych. Zamiast nich uprawiali sezam, z którego tłoczyli olej.
Potrafili też budować na trasach karawan i w ich pobliżu olbrzymie studnie i zbiorniki na deszczówkę, które doskonale maskowali. Tak zapewniali przede wszystkim sobie dostęp do wody pitnej, co pozwalało im na prowadzenie karawan.
Te umiejętności sprawiły także, że możliwe stało się wybudowanie pierwszej stolicy nabatejskiego państwa. Za skalistym wąwozem, z ukrytą drogą, wspaniale strzeżonej i, przede wszystkim, doskonale zaopatrzonej w wodę.
Petra
Dotarłem w końcu do celu podróży. Poczułem się trochę jak Johan Ludwik Burckhardt, szwajcarski podróżnik i geograf, który 22 sierpnia 1812 roku przebrany za arabskiego szejka odkrył dla zachodniego świata opuszczone na ponad tysiąc lat ruiny Petry. Tyle, że przede mną, a po Burckhardtcie, podobnych odkrywców były już miliony. Uśmiech z twarzy trochę mi zszedł, kiedy sobie ten fakt uświadomiłem. Nie musiałem się też przebierać jak on.
Jordania jest dziś gościnna i chętnie przyjmuje turystów z całego świata. Nie to, co w XIX wieku, kiedy tylko to tylko muzułmanie mogli odwiedzać miejsca święte. Burckhard wykorzystał to i dotarł do Petry pod pretekstem pielgrzymki i chęci złożenia ofiary przy grobie Arona, brata Mojżesza, uważanych także przez islam za proroków.
Okazałem szybko międzynarodową legitymację prasową, ponegocjowałem ze strażnikami, odpędziłem kilkunastu beduińskich biznesmenów oferujących przejazd w głąb wąwozu: na koniu, w dorożce, na ośle, oraz: noszenie torby, pokazywanie drogi, sprzedaż wody, kolację pod gwiazdami.
Po godzinnym zamieszaniu w końcu wszedłem do wąwozu ciągnącego się przez 1,6 kilometra. Pierwszą rzeczą, która zwróciła moją uwagę, był system do rozprowadzania wody. Wśród skał zbudowano cysterny, tamy, gliniane rury. Wszystko to miało magazynować i doprowadzać wodę do miasta.
Po długim marszu wśród kolorowych skał mój przewodnik zaszedł mi drogę i wrzasnął: Stop! Pomyślałem w pierwszej chwili, że zażąda gotówki, okupu, dokumentów, no albo mnie uprowadzi. Nic jednak z tego... To nie miała być przygoda, jak z filmu. Kazał mi zasłonić oczy, stanąć po prawej stronie, bokiem do skał. Wziął mnie za rękę i podprowadził kilka metrów do przodu. Natchnionym głosem w końcu powiedział: - Możesz spojrzeć! Teraz!
Ujrzałem najwspanialszy widok z możliwych.
W ramce z czerwonych skał, tuż za końcem wąwozu, wyłaniała się wykuta w skale świątynia, dokładnie ta sama, w której Indi znalazł świętego Graala. Jej detale doskonale pamiętałem z filmu. Teraz mogłem ich dotknąć. Ale nie chciałem się zbliżać do budowli. Zastygłem w miejscu, pragnąłem, aby ten widok nie zszedł mi z oczu, napawałem się.
Po dobrych dwudziestu minutach ruszyłem do przodu i wlazłem, już bez tego natchnienia, do środka. No i się rozczarowałem.
Świątynie sięga zaledwie kilkanaście metrów w głąb skały. Nie ma tam płytek w podłodze z literami układającymi się w imię Boga - Jechowa, ani też przepastnych korytarzy, olbrzymich pajęczyn, zapachu palonej siarki, wypływającej lawy, tryskających źródeł, mechanizmów zabezpieczających przed nieproszonymi gośćmi. No niczego tu nie ma.
Świątynia jest pusta.
Miasto grobowców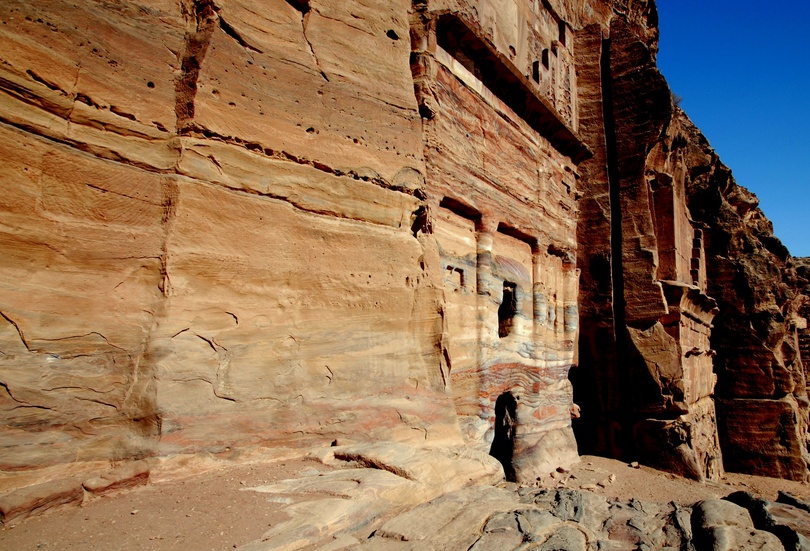 Podobnych budowli, jak świątynia dra Jonesa w Petrze jest tu kilkadziesiąt. Jedne większe, bogaciej zdobione, inne niższe, skromniejsze. Wszystkie wykute w zboczach skał, ciągną się wzdłuż głównej drogi tego opuszczonego miasta. Zachwycają naturalnymi barwami, które nadała im sama złożoność geologiczna skał, w których je budowano.
W okresie największego rozkwitu miasto przecinała jedna ulica, którą Nabatejczycy wyłożyli białymi kamieniami. Prowadziła do trzech dużych placów, które otaczały sklepy i stragany. Był też amfiteatr mogący pomieścić do 10 tysięcy osób.
Najbardziej charakterystyczne były jednak, niespotykane w takiej liczbie nigdzie indziej na świecie, budowle wykute w skale. Pałace, świątynie i grobowce konstruowano od góry. Najpierw tworzono rampę z piasku, na szczycie której instalowali się rzemieślnicy. W miarę postępu prac, jej górną część usuwano, obniżając tym samym konstrukcję i umożliwiając kucie w niższych partiach skały.
Jeśli chodzi o ich styl architektoniczny, to nie mają sobie równych. Występuje tu pełen eklektyzm, mieszający ze sobą wpływy greckie, rzymskie, egipskie, syryjskie. Wszystko to za sprawą ogromnego ruchu przybyszów z obcych krain, który tu panował. Petra była bowiem centrum handlu w tym rejonie świata.
Najbardziej okazałym zabytkiem miasta jest Khazneh, nazywany przez Beduinów i Jordańczyków skarbcem faraona. To właśnie świątynia znana z filmu o poszukiwaniach świętego Graala. Nie jest jednak jasne, w jakim celu go zbudowano.
Na pewno nie było to jednak miejsce kultu bogów, lecz - prawdopodobnie - grobowiec któregoś z władców kraju, możliwe, że Aretasa IV.
Są też tu: Deir - czyli klasztor, Kasar al Bint Faraoun - czyli pałac córki faraona, a naprawdę świątynia lokalnego bóstwa Duszary, grobowce królewskie - piękna ściana z monumentalnymi zabudowaniami, no i wspomniany już olbrzymi teatr.
Aby to wszystko zobaczyć potrzeba dobrych kilku dni. Warto je wygospodarować w planach podróży.
Ugrzązłem więc w Petrze na dłużej, a w następnych latach jeszcze kilkakrotnie do niej wracałem. Bo urzeka swoim majestatem. Kolorami. Niesamowite jest to, że o każdej porze dnia jej zabytki wyglądają inaczej. W zależności od kąta padania promieni słonecznych zmieniają barwy, ale nie jak kameleon, który chce się wtopić w tło... Te wręcz przeciwnie! Wydaje się, że ich twórcy robili wszystko, by się wyróżniały i błyszczały na tle surowych skał i pustyni.