Dwa tygodnie tułałem się po Sri Lance. Wyruszyłem z Kolombo w objazd po całej wyspie, by zobaczyć najświętsze miejsca buddyzmu w tym kraju, a wśród nich przede wszystkim słynne jaskinie w Dambulli, w których najstarsze, leżące posągi Buddy mają ponad 2100 lat. Dotarłem też do świątyni zęba w Kandy, stup w Anuradhapurze i Polonaaruwrze, później na równię Hortona i parku narodowego Yala, gdzie fotograficznie polowałem na dzikie słonie i krokodyle. Po kilkunastu dniach podróżowania zdezelowanym autokarem, spania w podrzędnych i zawilgoconych hotelach, jedzenia byle czego, byłem zresetowany maksymalnie i, co tu dużo mówić, okropnie zmęczony.  Ale to, co w miałem w zanadrzu, rekompensowało wszystkie niedogodności. Już za chwilę miałem się znaleźć w prawdziwym raju, na Malediwach, w pięciogwiazdkowym hotelu, złożonym z małych domków wybudowanych na wyspie o długości zaledwie kilometra i szerokości 500 m, gdzie oprócz nich nie ma niczego innego. 
Przylot
Już sama podróż na Malediwy robi wrażenie. Kiedy samolot zbliża się do ich terytorium, oczom podróżnych ukazują się dziesiątki małych wysp przypominających klejnoty położone na turkusowym oceanie.  
Na pokładzie zapanowuje wtedy wielkie poruszenie. Ktoś komuś wylewa na kolana wodę, inny dostaje kolanem w zęby, albo taca z posiłkiem ląduje, w najlepszym przypadku, na podłodze. Wszyscy przeciskają się do okien, fotografują ile się da i wzdychają z zachwytu nie zważając na to, czy przy okazji nie zrobili krzywdy sąsiadowi. 
Lotnisko w Male przypomina raczej Jasionkę w Rzeszowie, niż międzynarodowy port lotniczy, z tym że pas startowy znajduje się tuż przy oceanie, a fale co jakiś czas przelewają się przez jego płytę. Przy terminalu jest port, z którego łodziami motorowymi turystów odwozi się do hoteli znajdujących się na rajskich plażach. Zanim jednak wsiądzie się do nich, trzeba przejść drobiazgową kontrolę, przede wszystkim bagażu. Na Malediwy nie można wwozić alkoholu, biblii, wizerunków Buddów (ani żadnych bóstw) oraz przedmiotów kultów. Zakaz ten jest drobiazgowo egzekwowany, każda walizka jest prześwietlana przez urzędników, a wszystko co zakazane trafia do lotniskowego depozytu – można to odebrać dopiero przy wylocie, po odprawie granicznej.
Jest to państwo muzułmańskie, sunnickie, działalność misyjna chrześcijan jest tu surowo zabroniona, a ci, którzy przejdą na tę religię, automatycznie tracą obywatelstwo i są wydalani z kraju. Aaaaa... Od razu uspokajam tych, którzy na Malediwy się wybierają: alkohol można kupić w każdym hotelu – jest tu wszystko czego zapragniecie. Wszystko ma też swoją cenę - 50 ml najzwyklejszego Jasia Wędrowniczka kosztuje około 10 dolarów.
Atole 
Malediwy są małym krajem położonym na oceanie Indyjskim, 500 km na południe od półwyspu Indyjskiego. Tworzy je 1190 wysp osadzonych na 26 atolach, które wyłoniły się z raf koralowców nadbudowujących swe szkielety na paśmie wulkanicznych skał. Mieszka tu około 400 tys. osób zajmujących się przede wszystkim rybołówstwem i turystyką.
Stolica Male jest jednym z dwóch miast państwa (mniejsze to Hithadhoo), w całym kraju jest zaledwie 88 km dróg, a głównym środkiem transportu są łodzie – z roku na rok coraz częściej motorowe.
Równikowy klimat sprawie, że od grudnia do kwietnia przypada tu szczyt sezonu turystycznego – w tym czasie praktycznie nie ma opadów, a temperatura sięga 25-30 stopni Celsjusza.
Najwspanialsze na Malediwach są plaże, pokryte śnieżnobiałym piaskiem oraz bajecznie kolorowe rafy kolarowe.
To wszystko przyciąga wielu turystów z Europy, ale hotele są tak rozłożone, że praktycznie nigdzie nie ma tu tłumów i każdy może znaleźć dla siebie zaciszne miejsce nad samym brzegiem oceanu.
Raj zagrożony
Szokujące jest to, że ten prawdziwy raj na ziemi już za kilkadziesiąt lat może całkowicie zniknąć. Przyczyną katastrofy będzie globalne ocieplenie, które powoduje podnoszenie się poziomu wód w oceanach. Malediwy, jako jedne z pierwszych, najdotkliwiej dotknie ta katastrofa ekologiczna. Zdecydowana większość wysp wystaje tutaj zaledwie 90 cm powyżej poziomu wody.
Władze państwa już szykują się na taką ewentualność. Od wielu lat stolicę chroni specjalny mur-zapora wzniesiona tu przez Japończyków, która zabezpiecza miasto przed zalaniem. Podobnych nie da się jednak zbudować na wszystkich 1190 wyspach. Dlatego prezydent Mohamed Nasheed i jego poprzednik szukają na całym świecie nowego terytorium dla swoich obywateli.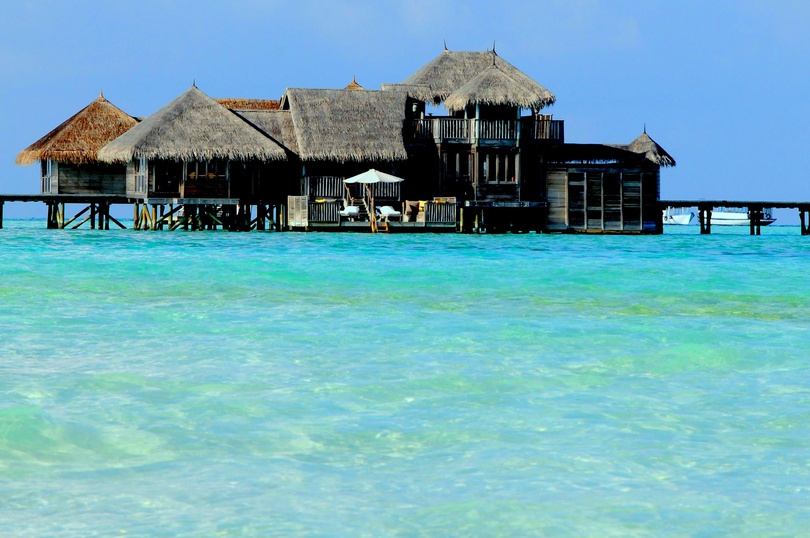 Najbardziej zaawansowane rozmowy prowadzone są z władzami Sri Lanki oraz Australii. Malediwy chcą kupić tam ziemię i przeprowadzić pierwszą w historii taką operację – przenieść całe państwo na zupełnie nowe, odległe terytorium. Jego położenie jest tak rozważane, aby zmiany były najmniej dotkliwe dla mieszkańców wysp – klimat, kuchnia, roślinność muszą być podobne do obecnych.
Walka ze zmianami klimatu
Katastrofa może dotknąć Malediwy w ciągu maksymalnie 100 lat. Jednak jego mieszkańcy i rząd nie siedzą z założonymi rękami, czekając biernie na bieg wydarzeń.  
Nowy prezydent bardzo prężnie zaangażował się w działania pro środowiskowe, zmierzające do walki z globalnym ociepleniem i podnoszeniem się poziomu wód w oceanach. Krótko po objęciu urzędu, w październiku 2009 r. zorganizował niezwykłe posiedzenie rządu - 6 metrów pod wodą.  
Wraz z 12 ministrami oraz instruktorami nurkowania, w towarzystwie ekip telewizyjnych z całego świata, podpisał wówczas na dnie oceanu dokument wzywający wszystkie państwa świata do podjęcia działań zmierzających do obniżenia emisji dwutlenku węgla do atmosfery. Ten happening zorganizowano na miesiąc przed wielkim, światowym szczytem klimatycznym w Kopenhadze.
Przeciwnicy teorii o globalnym ociepleniu twierdzą, że zmiany klimatu nie grożą wyspom, a wszelkie zamieszanie medialne w tej sprawie wywoływane jest tylko po to, by zniszczyć obecny model energetyki światowej oparty na tradycyjnych źródłach - tak uważa chociażby prof. Nils-Axel Morner z Uniwersytetu Sztokholmsiego, zagorzały oportunista naukowców dowodzących podnoszenia się poziomu mórz w skutek efektu cieplarnianego.
Malediwy mają natomiast wielkiego sprzymierzeńca – Greenpeace, największą organizację ekologiczną.
- Greenpeace domaga się, aby państwa uprzemysłowione zobowiązały się do redukcji emisji gazów cieplarnianych o co najmniej 40 proc. oraz finansowego wsparcia walki ze zmianami klimatu w krajach rozwijających się w wysokości 110 miliardów euro rocznie do roku 2020 – mówi Katarzyna Guzek, rzeczniczka prasowa kampanii Greenpeace Klimat i Energia.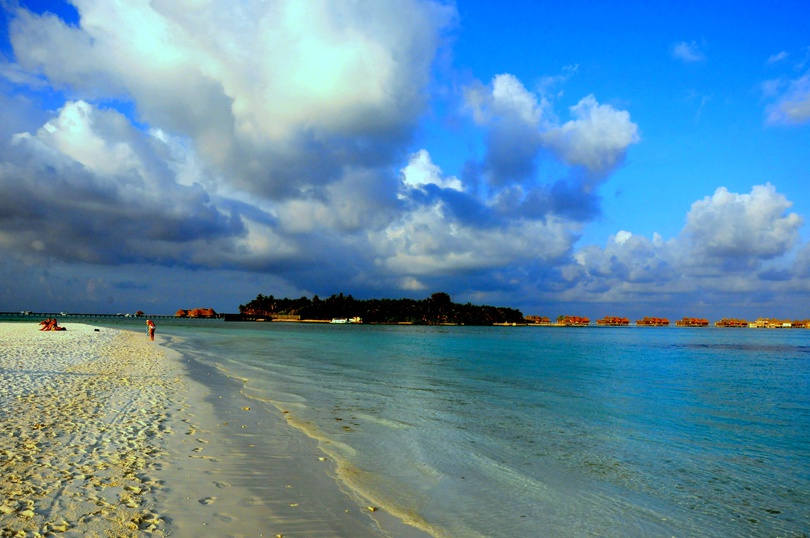 Najbardziej ekologiczne państwo świata?
Nowy prezydent Malediwów robi wszystko, aby jak najbardziej promować swój kraj. Ogłosił już, że w jego planach jest, aby do roku 2020 wyspy stały się pierwszym w świecie tzw. państwem zero emisyjnym (bez emisji CO2 do atmosfery). Zapowiedział też całkowite wycofanie z użycia hydrochlorofluorowęglowodorów, czyli tzw. freonów stosowanych w urządzeniach chłodniczych, a przyczyniających się też do wzrostu efektu cieplarnianego. Pozyskał na to nawet wielomilowe środki ze specjalnego międzynarodowego funduszu, który uruchomiono po podpisaniu tzw. protokołu montrealskiego.
Tymczasem Malediwy muszą się zmierzyć z innym, poważnym problemem. Wyspy toną w śmieciach produkowanych przez przemysł turystyczny, brakuje tu wody pitnej, zanieczyszczenia z hoteli odprowadzane są często wprost do oceanu, a rafa koralowa służy jako podstawowy budulec, bo brakuje zwykłego piasku.
Wszystko to jest skwapliwie ukrywane przed turystami. Ci na razie widzą tylko bajeczne plaże, nurkują na kolorowych rafach, udają się na ściganie delfinów o zachodzie słońca, korzystają z luksusu w najczystszej postaci oferowanego przez obsługę hotelową, często nie wiedząc nawet, że ten raj może za chwilę zniknąć już zawsze, pochłonięty najpierw przez śmieci, później przez głębię oceanu.