Każdego dnia o świcie kąpie się tu 50 tys. osób. Nad brzegiem medytują jogini, wróżbici przepowiadają przyszłość, obok ktoś pierze bieliznę. Rzeką płynie wszystko: miejskie ścieki, śmieci z restauracji i domów, maślane lampki na łódkach zrobionych z liści batelu, płatki kwiatów wrzucone przez pielgrzymów, łodzie z ciekawskimi turystami i… fragmenty trupów. W najważniejszym miejscu miasta płoną pogrzebowe stosy, których Niedotykalni przygotowują nawet 200 dziennie. Patrzą na to święte krowy.
Stanąłem jak wryty. Kilkanaście minut wcześniej wysiadłem z nowoczesnego samolotu, którym przyleciałem z nepalskiej stolicy Katmandu. Na pokładzie biznesmeni, studenci, Europejczycy zwiedzający Azję. Riksiarz zawiózł mnie nad rzekę. Przede mną kłębił się tłum kobiet w różnokolorowych sari. Obok, dwudziestu mężczyznom ubranym na biało, uliczni fryzjerzy golili głowy. Riksze, tuk-tuki (indyjskie riksze motorowe), auta, krowy i psy przeciskały się między sobą. Jakbym znalazł się w międzygwiezdnym porcie. Nie wiedziałem jak mam się poruszać, co i kogo fotografować, dokąd pójść. Zrobiłem dwa kroki w tył i usiadłem pod murem. Po raz pierwszy w życiu sceneria mnie przytłoczyła. Od tego momentu zatykało mnie regularnie, aż do końca podróży po Indiach.
Benares, dzisiaj nazywane Waranasi, to najświętsze miasto w Indiach, do którego każdego dnia przybywają tysiące pielgrzymów, aby podczas kąpieli w Gangesie zmyć grzechy. Miasto najpotężniejszego z hinduistycznych bóstw – Śiwy, stwórcy i niszczyciela o 1008 imionach. Ten hindus, który naprawdę wierzy chce umrzeć właśnie w tym mieście. Śmierć, kremacja i wsypanie prochów do świętej rzeki właśnie tu gwarantują wyzwolenie z zaklętego kręgu narodzin i śmierć, czyli wędrówki dusz zwanej Samsarą. Wyzwolenie to Moksza. Przez połączenie ze świętymi wodami Gangi można osiągnąć nirwanę. Dusza jednoczy się wówczas z bogiem wszechświata Paramatmą, dlatego do Benares tłumnie przybywają starcy, chorzy, kaleki, asceci. Czekają na śmierć.
I na tym magia miejsca się kończy. Zaczyna się przemysł.
Przygotowania za życia. Popyt reguluje cenę
Narodziny, ślub i śmierć to najważniejsze wydarzenia w życiu Hindusa. Każde z nich musi być dobrze przygotowane. Także śmierć.
Najważniejsze jest kupienie drewna. W Indiach to towar deficytowym. Przez rabunkową gospodarkę brytyjskich kolonialistów i rozwój przemysłu zniszczono większość lasów. Na dobry stos pogrzebowy trzeba około 250 kg. A to kosztuje: w Waranasi około 3000 rupii (200 zł). Potrzebny jest jeszcze całun, kilka gałęzi sandałowca, oliwa, nafta bądź spirytus, by ułatwić spalanie. To dodatkowy tysiąc rupii. Za tyle pieniędzy najbiedniejsi żyją w Indiach nawet rok, na pogrzeb zbiera się więc przez całe życie.
W innych miastach jest taniej, ale tylko tutaj można osiągnąć Mokszę. Popyt brutalnie reguluje więc cenę. Jeśli by tak nie było, miasto zmieniłoby się w wielkie krematorium.
Dla mniej zamożnych, tuż przy Gangesie, postawiono państwowe krematorium gazowe (koszt spopielenia ciała to 1500 rupii), ale mało kto z nich korzysta, bo to nie to samo co spłonięcie na świętym stosie. W Waranasi na tym obrządku zarabia kto inny, nie państwo.
Niedotykalni
W hinduskich wierzeniach wszystko co odpada od ciała jest nieczyste, także włosy, paznokcie. Martwe ciało również. Pobożny hindus nie powinien ich dotykać. Dlatego paleniem ciał zajmują się tylko Niedotykalni, nazywani Pariasami. To grupa społeczna poza systemem kastowym, dlatego tak bardzo dyskryminowana, nawet mimo oficjalnych zakazów państwowych i obowiązujących kar.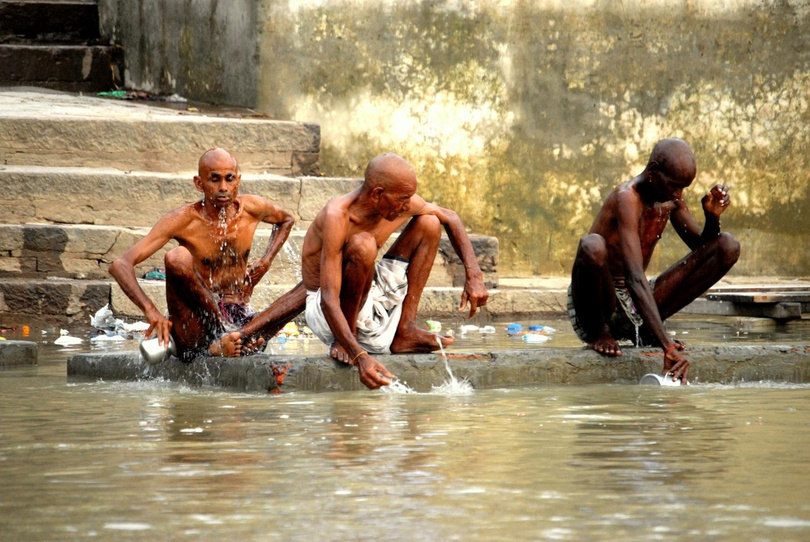 Pariasi wykonują nieczyste zawody i czynności, do których zalicza zabijanie zwierząt, usuwanie padłych krów, kontakt ze śliną, moczem, krwią, potem. Ci którzy palą zwłoki, zarabiają z pośród nich najwięcej, bo z pogrzebu odzyskują co tylko się da. Za samą kremację biorą 100 rupii, ale mają też inne profity. Dzieci Niedotykalnych, które nie ukończyły jeszcze 11 lat kradną całuny, które sprzedają następnie ulicznym handlarzom. Wygrzebują też z popiołów złoto i szlachetne kamienie z biżuterii zmarłego, a kiedy podrosną mogą już same przeprowadzać kremacje. Często odurzeni marihuaną nastoletni chłopcy obsługują kilka ceremonii dziennie. Czarni od sadzy, z poparzonymi rękami, chorobami płuc sami umierają zazwyczaj zanim skończą 30 lat.
Ceremonia
Kiedy umiera hindus powiadamia się jego całą rodzinę. Ciało zostaje w domu zazwyczaj kilkanaście godzin, aż przyjadą najważniejsi. Jest myte, skrapiane wonnymi olejami, owijane chustami, przykrywane specjalnym całunem. Kolorem żałoby jest biel, którą noszą tylko mężczyźni. Kobiety na ceremonię pogrzebową ubierają się zwyczajnie, a mężczyźni z najbliższej rodziny zmarłego golą głowy, zostawiając jedynie kosmyk włosów. Robią to u ulicznych fryzjerów.
Zwłoki układa się na bambusowych noszach i przenosi do miejsca kremacji, które nazywane jest ghatem. Tu przejmują je Niedotykalni. Najpierw układają je nad brzegiem Gangesu, tak by stopy obmyła święta woda rzeki. Następnie przenoszą na stos, który okrąża się trzy razy. Najstarszy syn udaje się do pobliskiej świątyni po święty ogień, którym podpala stos. Kapłan recytuje okolicznościowe hymny, nikt nie płacze, na twarzach żałobników nie widać cierpienia. Bo śmierć jest ludzka i nieuchronna.
Ciało spala się od trzech do siedmiu godzin. Mniej więcej po godzinie, najbliższy członek rodziny dokonuje ceremonii uwolnienia duszy – metalowym prętem rozbija czaszkę. Najbliższa rodzina może opuścić miejsce kremacji dopiero, kiedy zwłoki zostaną całkowicie spopielone. Prochy wsypane są do Gangesu dzień później.
​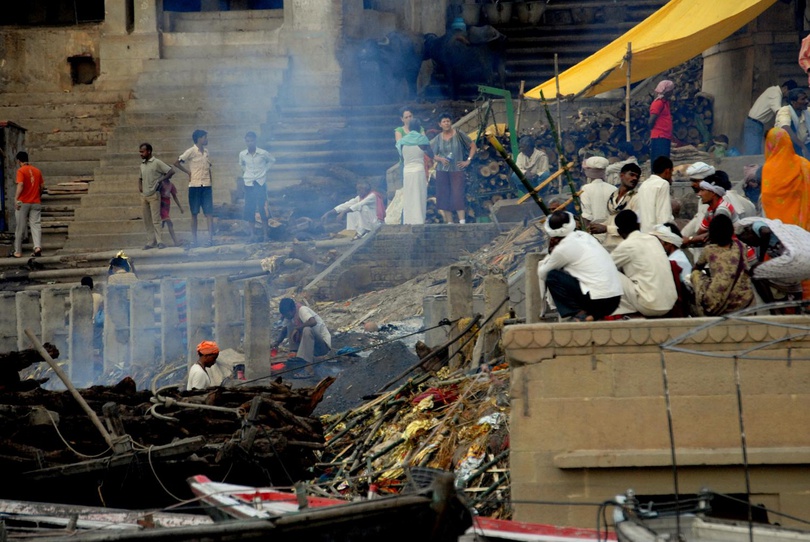 ​
Sati
Wielu hindusów uważa, że małżeństwo łączy na zawsze, a śmierć małżonka nie powinna tego związku przerywać. Do 1829 r. w Indiach rozpowszechniony był rytuał nazywany Sati. Wdowa rzucała się na stos pogrzebowy męża, unikała w ten sposób życia w ubóstwie, stawała się wzorem, a pamięć o niej przedmiotem kultu.
Sati zakazali Brytyjczycy, kiedy podbili Indie, cCo nie znaczy, że obyczaj zniknął. Do dzisiaj władze odnotowują przypadki samospalenia, choć nawet samo przyglądanie się im, albo pomoc w przeprowadzeniu są surowo karane. W sierpniu 2002 r. zginęła w ten sposób 65-letnia Kuttu Bai, która według świadków, usiadła na stosie męża, a mieszkańcy jej wioski śpiewali na jej część pochwalne hymny i spokojnie czekali aż spłonie. 18 maja 2006 r. 35-latka rzuciła się na stos pogrzebowy męża w Rari-Bujurg. 21 sierpna 2006 40-latka zrobiła to samo w Janakrani, a 11 października 2008 r. 75-letnia wdowa w Checher.
Udokumentowane przypadki mówią także o ratowanych kobietach, które umierały w wyniku ciężkich oparzeń doznanych podczas sati.
Ganges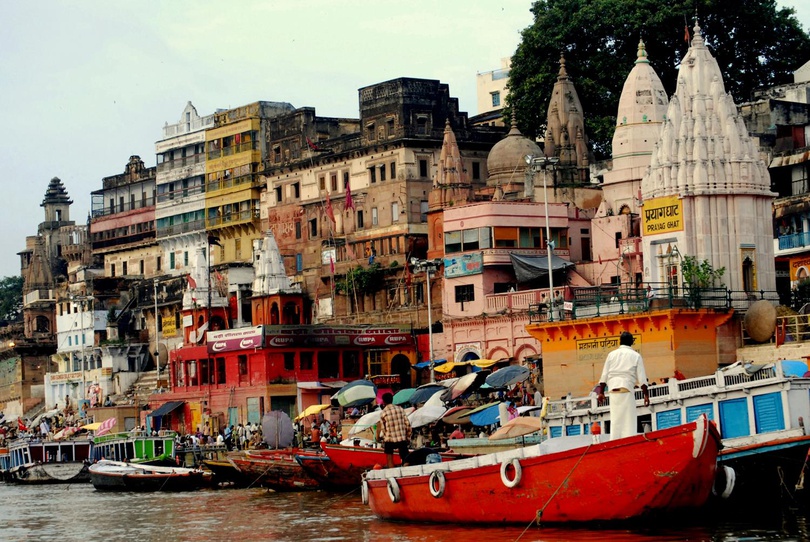 Ghaty w Waranasiu ciągną się przez 17 km, ale tylko na dwóch przeprowadzane są kremacje. Najważniejszy jest Manikarnika Ghat, przy którym bóg Śiwa miał wyłowić z rzeki złoty pierścionek swojej małżonki, bogini Parwati. Tu mogą zostać skremowani tylko hindusi. Chrześcijanie, buddyści, i wszyscy inni (także cudzoziemcy) mogą zostać spaleni na sąsiednim Harischandra Ghat.
Do spopielenia ciała potrzeba średnio 250 kg suchego drewna. Nie wszystkich jednak stać na taką ilość, która pozwoliłaby na całkowite spopielenie ciała. Zdarza się więc, że do Gangesu wrzucone zostają nie do końca skremowane szczątki, które rzeka wyrzuca na brzeg w dalszym jej biegu.
Płyną razem ze ściekami, śmieciami, mydlinami oraz wcale nie spalonymi ciałami. Według tradycji, nie kremuje się zwłok dzieci do 8 roku życia, chorych na trąd, ukąszonych przez kobrę, kobiet w ciąży. Ich ciała mogłyby zanieczyścić święty ogień. Nie spala się też świętych ascetów Sadhu – są uważani za czystych i nie potrzebują oczyszczających płomieni. Ich ciała zawija się w całuny, przywiązuje do głowy kamienie i wrzuca do Gangesu.
---
Liczba bakterii, które znajdują się w wodach Gangesu aż 1500 krotnie przekracza najwyższe dopuszczalne w Europie normy. Do dziś zdarza się, że podczas jednego sezonu, tuż po monsunie, w Indiach umiera cała wioska.