Berberzy wypasający kozy na drzewach, plany wielu hollywoodzkich produkcji, między innymi "Aleksandra Wielkiego" oraz relaks w klasycznej łaźni hammam – to wszystko czeka na turystów w Maroku. Przed wyjazdem trzeba jednak sprawdzić, w jakie rejony nie jest bezpiecznie się zapędzać oraz do jakich budynków na pewno nie wejdziemy, jeśli nie jesteśmy wyznawcami islamu. 
1.    Wizy
Turyści podróżujący z Polski nie muszą wyrabiać wizy, jeśli nie zamierzają przebywać w Maroku dłużej niż przez 90 dni. Na granicy będą musieli okazać tylko paszport (ważny jeszcze przynajmniej przez 6 miesięcy od momentu wjazdu do tego kraju) oraz sumę pieniędzy, umożliwiającą przeżycie przez cały pobyt. Polski MSZ nie podaje jednak, o jakiej sumie mowa. 
"Sahara Zachodnia jest terytorium administrowanym przez Maroko od 1975 r." – czytamy na stronie polskiego resortu spraw zagranicznych, który dodaje, że z tego względu również na ten teren można spokojnie wjechać bez wizy. Tym niemniej "dokumenty podróżnego mogą być tu kontrolowane przez siły porządku publicznego częściej niż w innych regionach Maroka". 
2.    Przekraczanie granicy 
Na granicy trzeba zgłosić sumę pieniędzy równą lub przekraczającą 100 tysięcy marokańskich dirhamów. Ponieważ jest to waluta niewymienialna, szczegółowe przepisy określają, o należy zrobić, żeby wywieźć dewizy z Maroka. Można się z nimi zapoznać na stronie polskiego MSZ. 
3.    Wymagane szczepienia i ubezpieczenie
Chociaż szczepienia nie są obowiązkowe, zaleca się, aby turyści zabezpieczyli się w ten sposób przede wszystkim przed tężcem i żółtaczką pokarmową. Ponadto w Maroku można zachorować również między innymi na dur brzuszny, amebozę, zapalenie opon mózgowych oraz zarazić się pasożytami układu pokarmowego. 
Dlatego też nie powinno się pić innej wody niż butelkowana lub przegotowana ani stołować w niewielkich lokalach, które nie zachowują podstawowych zasad higieny. 
Dość duże niebezpieczeństwo stanowią również bezdomne zwierzęta, błąkające się po okolicy. W razie ugryzienia, a nawet podrapania, należy bezzwłocznie udać się do lekarza i zaszczepić na wściekliznę (bezpłatnie!). 
"Opieka zdrowotna w Maroku jest na dobrym poziomie" – czytamy na stronie MSZ. – "Publiczne i prywatne ośrodki opieki medycznej świadczą usługi odpłatnie". Za wizytę lekarską trzeba zapłacić do 20 euro, zaś za dobę w szpitalu – do 60 euro. 
Turystom zaleca się jednak wykupienie ubezpieczenia podróżnego, najlepiej "z czynnym całodobowym centrum pomocy, które w przypadku zaistnienia nieszczęśliwego zdarzenia potwierdzi pokrycie kosztów leczenia czy też transportu".
4.    Niebezpieczeństwa
W Maroku turyści powinni przede wszystkim uważać na złodziei. Dlatego też nie należy nosić na widoku cennych przedmiotów, a dokumenty warto zostawić w hotelowym sejfie i poruszać się wyłącznie z ich kopiami. 
Po zmroku należy przemieszczać się w grupach i zdecydowanie unikać medin, czyli starych dzielnic oraz tamtejszych bazarów i slumsów. "Cudzoziemcy, którzy wybierają się na ustronne plaże lub do punktów krajobrazowych, mogą być narażeni na zaczepki i prośby o pieniądze" – dodaje MSZ. 
Natarczywi bywają także tak zwani "pseudoprzewodnicy", którzy chociaż nie mają licencji, oferują swoją pomoc w przemieszczaniu się po kraju. Nie należy jednak korzystać z ich usług, bowiem ściga ich policja turystyczna. 
Najbardziej uważać muszą kobiety, bowiem niezwykle często zdarza się, że nagabują je napotkani na ulicy mężczyźni. Turystki przestrzega się ponadto, by nie przyjmowały zaproszeń do odwiedzania domów obcych ludzi. Nie powinny również przyjeżdżać do Maroka na zaproszenie tamtejszych obywateli. "Niezalegalizowane związki, także w przypadku, gdy któreś z partnerów jest obywatelem państwa europejskiego, są w Maroku zagrożone sankcją karną" – zauważa MSZ. – "Przyjeżdżając na zaproszenie, należy zostawić rodzinie w kraju dane osoby zapraszającej, jej adres i numer telefonu, informację na temat daty powrotu oraz miejsca przekroczenia granicy Maroka".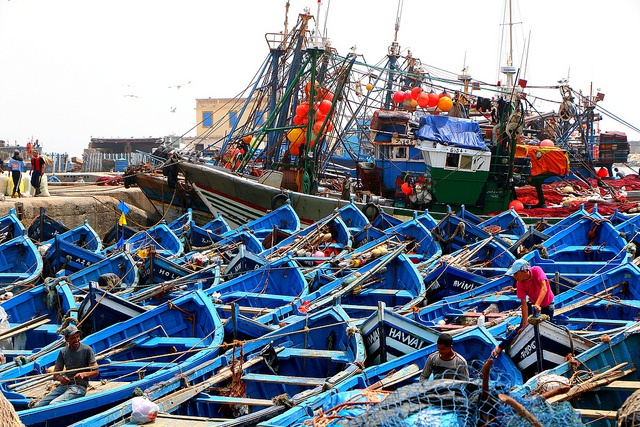 Należy również pamiętać, że jest to kraj islamski, dlatego też warto unikać mocno wykrojonych ubrań, odsłaniających na przykład dekolty i ramiona. Wyznawcy innych religii nie są również wpuszczani do meczetów (wyjątkami są meczet Hasana II w Casablance, część pomieszczeń meczetu Moulaya Ismaila w Meknesie, mauzolea Mohammeda V w Rabacie oraz Moulaya Alego Cherifa w Rissani – instruuje MSZ). Nie wolno nawet robić zdjęć, stojąc w progu. W czasie ramadanu należy unikać publicznego palenia papierosów i picia alkoholu, gdyż można się narazić na nieprzyjemności. 
Niektóre rejony kraju (jego północ oraz okolice Nadoru i Oujdy) to miejsca handlu narkotykami. Tu trzeba szczególnie uważać, bowiem zdarza się, że ludzie zamieszani w ten proceder włamują się do samochodów lub zatrzymują poruszające się maszyny, tak, aby dostać się do nich i ukryć w nich nielegalny towar lub zmusić pasażerów do jego kupna.
Maroko uważane jest również za kraj zagrożony atakami terrorystycznymi (ostatni miał miejsce w 2011 roku, zginęło wówczas 16 osób, w większości turystów) oraz trzęsieniami ziemi (ostatnie było stosunkowo dawno, bo w 2004 roku, śmierć poniosło wówczas jednak ponad 600 osób).
5.    Przemieszczanie się
Przemieszczając się po kraju należy szczególnie uważać przy granicy z Mauretanią i nie schodzić z wyznaczonych tras, bowiem poza nimi wciąż można trafić na miny. 
W Maroku można korzystać z pociągów, autokarów (które jednak stosunkowo często ulegają wypadkom, głownie ze względu na brawurę kierowców i zły stan pojazdów), małych taksówek (w granicach miast) i dużych (również poza granicami miast), autobusów i tramwajów.
Samochodem można jeździć posługując się polskim prawem jazdy, chociaż posiadanie międzynarodowego jest "mile widziane". Koniecznie trzeba zaś wykupić zieloną kartę.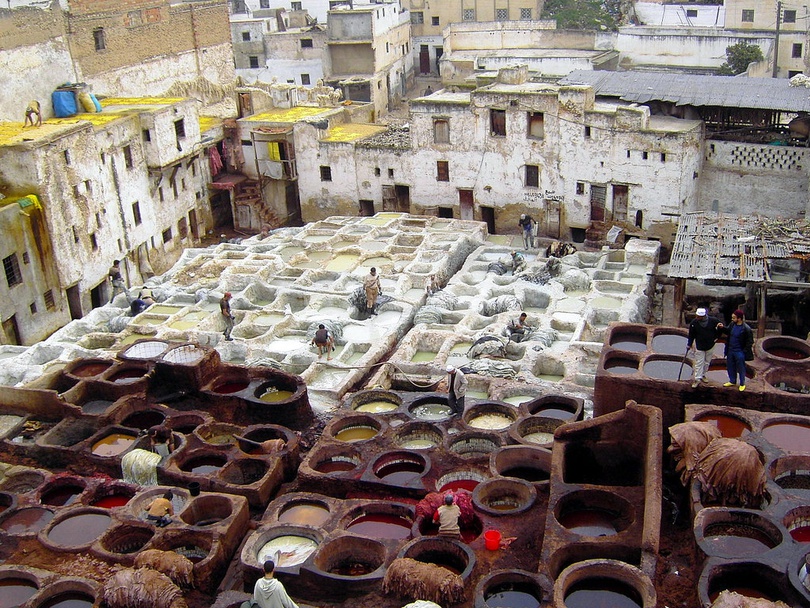 6.    Niezbędne dane kontaktowe
Polska ambasada znajduje się w Rabacie. 
Maroko, Rabat, 23, rue Oqbah, BP 425
Tel.: +212 537 77 11 73 
Tel.: +212 537 77 17 91 
Tel. dyżurny: +212 672 41 99 33
Ponadto w tym kraju mieszczą się również dwa Konsulaty Honorowe.
Konsulat Honorowy Rzeczypospolitej Polskiej w Agadirze
Maroko, Agadir, Budynek Maiouhel, aleja Hassana II, Agadir
Tel.: +212 528 84 17 91 
Tel.: +212661144669
Konsulat Honorowy Rzeczypospolitej Polskiej w Casablance
Maroko, Casablanca, 25, Bd Al Massira Al Khadra, Imm. Carida, 2 piętro, 20100 Casablanca
Tel.: +212 600 060 066 
Tel.: +212 661 191 100
---
Materiał powstał w oparciu o informacje zamieszczone na stronie polskiego MSZ. Przed wyruszeniem w podróż zaleca się sprawdzenie aktualnych informacji na stronie resortu.