Tajlandia przyciąga turystów między innymi świątyniami poświęconymi Buddzie, kultowym mostem na rzece Kwai oraz Bangkokiem, najbardziej erotycznym miastem świata. Przed wyjazdem warto jednak sprawdzić, czego nie wolno wwozić do tego kraju oraz które rejony są szczególnie niebezpieczne.
1.    Wizy
Turyści podróżujący z Polski nie muszą wyrabiać wiz, jeśli nie zamierzają przebywać w tym kraju dłużej niż przez 30 dni. Na granicy trzeba jednak będzie przedstawić paszport, ważny jeszcze przez sześć miesięcy oraz przynajmniej 10 tysięcy bahtów tajskich na osobę. Zdarza się, że celnicy proszą również o przedstawienie dowodu na rezerwację noclegu w miejscowym hotelu lub planu podróży. Uwaga! "Osoby o niedbałym i nieestetycznym wyglądzie mogą nie uzyskać zgody na wjazd" – ostrzega polski resort spraw zagranicznych.
Jeśli podróżuje się lotem transferowym, konieczne jest uregulowanie opłaty lotniskowej, która wynosi od 50 bahtów tajskich do 700, w zależności o trasy. 
W Tajlandii trzeba się zameldować i to jeszcze przed przekroczeniem granicy. Trzeba więc uzupełnić kartę wjazdu i podać adres, pod jakim turysta będzie osiągalny. 
2.    Przekraczanie granicy
Do Tajlandii kategorycznie nie wolno wwozić pornografii, narkotyków, broni palnej oraz niektórych roślin i zwierząt, przed wyjazdem warto więc zapoznać się w ambasadzie ze szczegółowymi regulacjami tego dotyczącymi.
Poza tym granicę można przekroczyć, bez składania deklaracji, z sumą pieniędzy, która nie przekracza 20 tysięcy dolarów, jak również z przedmiotami, których wartość także nie przekracza tej liczby. W przeciwnym razie turystom grozi nawet konfiskata mienia. "W ramach bezcłowych limitów można wwieźć do 1l alkoholu, 200 szt. papierosów lub 250g. tytoniu" – instruuje polski resort spraw zagranicznych. 
Z Tajlandii kategorycznie nie wolno wywozić wizerunków Buddy, jeśli nie posiada się stosownego zezwolenia, wydanego przez Ministerstwo Sztuki. Przepis ten dotyczy jednak wyłącznie dzieł większej wartości – figurki sprzedawane na straganach nie są nim objęte. 
"Zakup niektórych towarów w Tajlandii podlega procedurze zwrotu podatku VAT przy wylocie z kraju (zakupy na kwotę min. 2000 THB)" – dodaje MSZ. – "Warunkiem tego jest wcześniejsze uzyskanie odpowiedniego zaświadczenia w miejscu zakupu towaru". 
3.    Wymagane szczepienia i ubezpieczenie
Szczepienia nie są obowiązkowe, trzeba jednak mieć na uwadze, że w Tajlandii można zachorować na przykład na dengę. Ponieważ w ostatnim czasie zdarzały się tutaj również przypadki zachorowania na Zika, MSZ radzi, aby przed wyjazdem zapoznać się z zaleceniami GIS-u, w których mowa między innymi o używaniu środków odstraszających komary, zabezpieczaniu okien i drzwi siatkami oraz zakładaniu dłuższych ubrań, chroniących ciało przed ukąszeniami.
Alergicy i cierpiący na choroby układu oddechowego powinni unikać zapuszczania się w okolice Chiang Mai od lutego do kwietnia, ponieważ w tym czasie miejscowi rolnicy wypalają duże połacie traw i związane z tym zadymienie może być bardzo uciążliwe. 
Opieka medyczna jest na wysokim poziomie, jednak dość droga. Za wizytę u lekarza nierzadko trzeba zapłacić 1800 bahtów tajskich, czyli ponad 190 złotych. Doba w szpitalu to niekiedy aż 20 tysięcy bahtów tajskich, czyli ponad 2 tysiące złotych. Dlatego też polski resort spraw zagranicznych zaleca, aby przed wyjazdem wykupić ubezpieczenie. "Uznawane są polisy tych polskich towarzystw ubezpieczeniowych, które zawarły umowy z innymi firmami zachodnimi, posiadającymi przedstawicieli w Tajlandii" – dodaje. 
4.    Niebezpieczeństwa
W ostatnim czasie poziom bezpieczeństwa w Tajlandii zmniejszył się. Coraz częściej dochodzi tu do kradzieży i napadów na turystów. Stosunkowo częste są również oszustwa i wyłudzenia, między innymi polegające na zawyżaniu cen i sprzedaży wątpliwej jakości biżuterii. Zdarza się również, że przybysze zza granicy są częstowani produktami zawierającymi narkotyki. Tymczasem posiadanie nawet niewielkiej ilości tego rodzaju produktów może skutkować zatrzymaniem przez policję. Ponadto trzeba mieć na uwadze, że w Tajlandii przestępstwa narkotykowe są obłożone surowymi karami, nawet śmierci. 
Szczególnie należy uważać podczas podróży, ponieważ w tym kraju dochodzi do wyjątkowo wielu wypadków drogowych, również tych, kończących się śmiercią. 
Jeśli chodzi o obyczajowość, turyści muszą pamiętać, by z szacunkiem mówić o rodzinie królewskiej, ponieważ jest ona niezwykle ważna dla miejscowych. Poza tym nie wolno dotykać głowy Tajów (nawet dziecka), gdyż ta część ciała uznawana jest za świętą. W okolicach miejsc kultu powinno się nosić stosowną odzież, która nie odsłania zbyt wiele ciała.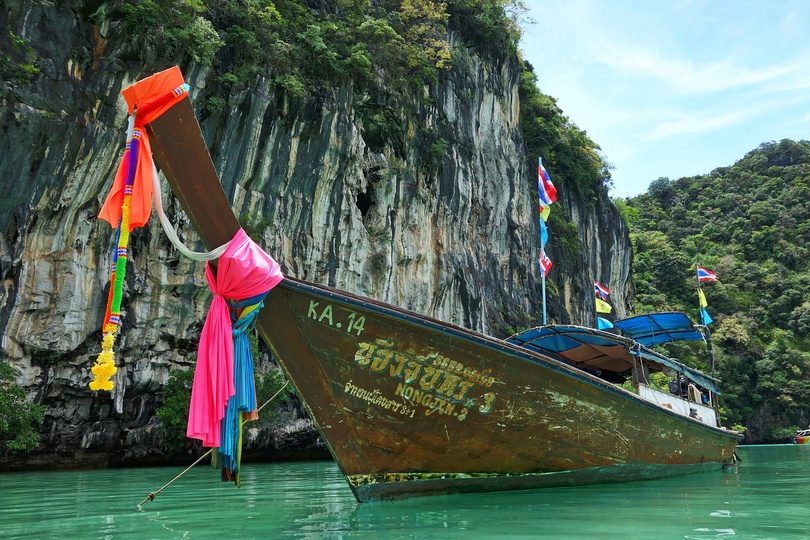 5.    Przemieszczanie się
MSZ odradza podróżowanie w kilka rejonów:
- do świątyni Preah Vihear (Khao Phra Vihaan), ponieważ w jej sąsiedztwie dość często dochodzi do starć wojsk należących do Kambodży oraz Tajlandii,
- do kompleksu świątyń Ta Krabey (Ta Muan), ponieważ tu również dochodzi do starć wspomnianych wyżej wojsk,
- do prowincji Yala, Songkhla, Narathiwat i Pattani, ponieważ dochodzi w tych rejonach do zamachów terrorystycznych.
Jakikolwiek pojazd można samodzielnie prowadzić, posługując się międzynarodowym albo miejscowym prawem jazdy. Trzeba jednak pamiętać, że w Tajlandii obowiązuje ruch lewostronny. "Osoby chcące wjechać na teren Tajlandii własnym pojazdem muszą wcześniej uzyskać specjalne zezwolenie" – dodaje MSZ.
Przy wypożyczaniu pojazdów na miejscu należy bardzo uważać, ponieważ zdarza się, że właściciele firm wymagają zdeponowania paszportu. Ten zaś może z łatwością zostać skradziony. 
6.    Niezbędne dane kontaktowe
Polska ambasada mieści się w stolicy kraju, Bangkoku.
Tajlandia, Bangkok, Unit 605-607, 6th Floor, Athenee Tower, Wireless Road, Lumpini, Pathumwan, 10330
Tel. dyżurny: +66 (2) 079 7300 
Ponadto można w tym kraju również skorzystać z usług Konsulatu Honorowego. 
Tajlandia, Phuket, Avantika Boutique Hotel, 4/1 Thaweewong Road, Patong, Kathu, 83150
Tel.: (00-66-7) 629-28-01 do 5 
---
Materiał powstał w oparciu o informacje zamieszczone na stronie polskiego MSZ. Przed wyruszeniem w podróż zaleca się sprawdzenie aktualnych informacji na stronie resortu.